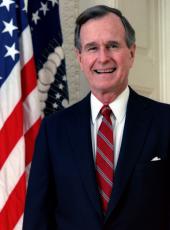 Remarks on Signing the Executive Order on Historically Black Colleges and Universities
First, my respects to our two Secretaries here today, Secretary Cavazos, our Secretary of Education; Secretary Sullivan of HHS; and to our special guests, all of you fit that description; and particularly to the presidents and supporters of a noble educational tradition who honor us with their presence this afternoon. All of you, welcome to the Rose Garden.
Graduations are coming up, and I know you're looking forward to the free advice you'll get from the parents. I suggest the response of one English schoolmaster: "If you promise not to believe everything your child says happens at this school, I'll promise not to believe everything he says happens at home." [Laughter]
For over 100 years, the historically black colleges and universities have been a special part of our heritage. At a time when many schools barred their doors to black Americans, these colleges offered the best, and often the only opportunity for a higher education. And today, thank heavens, most of those barriers have been brought down by the law. And yet historically black colleges and universities still represent a vital component of American higher education, enriching a great tradition of educational choice and diversity in this country. As one educator put it: "We must see that every child has an equal opportunity to become different, to realize their unique potential of body, mind, and spirit."
Nine days before I became President, a number of you met with me across the way in the EOB to discuss new ways to ensure that every black child has that chance. Several of your colleagues -- Gloria Scott and Van Payton, Leroy Keith come to mind. They asked that, first and foremost, the administration establish an advisory committee to make sure that your voices continue to be heard. It was a sound idea and one that I am pleased to put into effect in a few moments when the new Executive order I'm signing creates the President's Board of Advisors on Historically Black Colleges and Universities. Staffed by the Department of Education, this new board will assist Secretary Cavazos in developing annual plans to increase participation by your schools in federally sponsored programs. It also guarantees that each of you, every president of a historically black college or university, be given an opportunity to comment on these plans before they reach my desk in the Oval Office. We will continue to listen. Your voices must and will be heard.
As many here have requested, today's order also incorporates the most useful provisions of its predecessor. But more importantly, it contains new initiatives that will increase the private sector role in ensuring the long-term viability of the distinctive institutions that you represent. Now, that's just bureaucratese for the volunteer spirit, a tradition of helping one's neighbors well-known to black Americans. This tradition was perhaps best exemplified by Bill and Camille Cosby's singular gift to Spellman last fall. The New York Times called the Cosby donation "as much a challenge as a gift." Well, we're trying to sweeten that challenge. Some of you reminded me in January that perhaps the most important support that the Government can provide is through incentives to increase endowments. And that's why we have requested a total of $60 million during the next 4 years over and above the existing programs for endowment matching grants for the special schools you represent.
They say the universities usual state can be summed up by the lady who noted, "I have enough money to last me the rest of my life, unless I buy something." Well, the new endowments program represents a commitment to the long-term. It's not a quick fix, and it's flexible, producing new contributions and ultimately new income, permitting each of your schools to decide where its money is best spent. These budget proposals, like the new advisory committee, our support for the crimes bill, and the appointment of capable officials like Lauro Cavazos and Lou Sullivan, are but another part of this administration's commitment to see that the promise of the civil rights movement -- a fair society for all Americans -- becomes real.
In that regard, I know that Dick Thornburgh, our Attorney General, and our nominee to head the Civil Rights Division, Bill Lucas, are unshakeable in their commitment to equal rights and to the vigorous enforcement of the laws which guarantee those rights to all Americans.
And finally, it doesn't do much good to educate our young people if they can't get good jobs when they get out. They need work opportunities while still students, which can also provide another way to help finance their education. By this order, we also direct that the Office of Personnel Management, working together with Secretary Cavazos and Secretary Dole, our Secretary of Labor, develop a program to improve recruitment of your students for part-time and summer positions in the Federal Government. America needs and wants their creativity, their talent, their diversity.
We've just returned from a journey across this great country, from Florida, North Dakota, to Texas -- California, Virginia -- something like 7,500 miles in less than 4 days. And as we circled the continent, I thought of the coming commencements at the schools across our land. And it is a time of new beginnings for those kids -- new dreams. And they are exciting times for all young Americans, and especially, I think, for those black Americans -- those young kids that you have nurtured with a wonderful education. Out of a century that began with their people still bound by the remnants of slavery, this generation is emerging into a time rich with opportunities unimaginable to their grandparents. And you and the teachers -- oh, God bless the teachers that work with you -- are the fulfillers of your students' dreams and of your nation's destiny.
And so, bless you in your mission. And now, with great pleasure and really a great sense of personal pride, I want to sign this Executive order to launch these new initiatives, recognizing it is only a beginning. I think it's a good one. I want to work with you. God bless you all.
Note: The President spoke at 2:10 p.m. in the Rose Garden at the White House. In his remarks, he referred to Gloria Scott, president of Bennett College, in Greensboro, NC; Benjamin F. Payton, president of Tuskegee Institute, in Tuskegee AL; and Leroy Keith, president of Morehouse College, in Atlanta, GA. The Executive order is listed in Appendix E at the end of this volume.
George Bush, Remarks on Signing the Executive Order on Historically Black Colleges and Universities Online by Gerhard Peters and John T. Woolley, The American Presidency Project https://www.presidency.ucsb.edu/node/263320