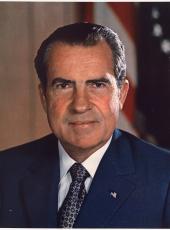 Remarks on Signing the Drug Abuse office and Treatment Act of 1972
I regret that I am a little late for this ceremony, because I know that there is a very large bipartisan representation from the House and Senate here for this particular signing of this bill, but I think it is quite significant to note that the reason that I am late has something to do with this program.
I have just completed a meeting with the Prime Minister of Turkey. As I told him I was coming over to sign this bill, he said, "You can assure the Members of the House and the Senate, and all those gathered here, and those who may be listening or hearing on television or radio, that the present Turkish Government is totally committed to stopping all growing of the opium poppy, and also totally committed to stop smuggling through Turkey in any way that will add to the drug problem in the United States of America."
This, incidentally, is a major tribute to our State Department people and our Ambassador and others who have worked on this problem. It is also certainly a major tribute to our great friends and allies in the Turkish Government who have taken this step, and who, despite the fact that this is a very profitable crop, one that has been grown for hundreds and hundreds of years by farmers in their country, despite the fact that it is a difficult political issue for them, they, on the basis of the program that we have worked out, are cooperating with us in dealing with what is a bigger problem, and that is the destruction of the lives of people who become addicts to heroin.
Now, in signing the bill, as you know, it is a rather unusual bill in one sense. There wasn't a vote against it in either the House or the Senate. There are not many that I sign that are that type, or that any President has the opportunity to sign. The fact that it is bipartisan, that it has total support, indicates the enormous interest in the country in moving forward in this field.
To give you an indication of what this bill deals with and why it is so essential, let me tell you what happened yesterday in New York. I met with eight undercover agents from the law enforcement side and with the Federal Government, who on a daily basis go out--undercover agents go out on the streets in New York and buy heroin to see what the situation is, and also to set up the necessary procedures for arrest of those who may be violating the law.
The eight agents said that in the last 4 days, when a new program has been initiated, a stronger program of law enforcement in New York City and across the country, that they noted that the price of heroin had gone up, and that the quality had gone down.
To show you that that is not simply an isolated incident, we also checked with the Washington, D.C., Police Department. The same thing has happened here: The price of heroin has gone up, and the quality has gone down.
What this means is that on the law enforcement side, stopping the source of supply through arrangements that we have like the one with the Government of Turkey, criminal penalties which will be strongly enforced, and on the law enforcement side we are having some success. But, on the other hand, we can see what can happen unless we take action in treating the addicts because as the price goes up and the quality goes down, someone who is hopelessly addicted to drugs will inevitably do what is necessary to obtain them. And that is, it must mean that he will or she will indulge in criminal activities in order to serve the habit.
This is where this office comes in. There are so many who think of some simplistic answer to every problem, and particularly in this field. There are many who feel, rightly, that we should have strong criminal penalties against the pushers and against those who are engaged in the drug traffic. We do have such penalties, and they should be enforced.
On the other hand, a program of law enforcement alone is not enough, because, as we succeed in the law enforcement side, we may increase crime, increase crime because of the inability of those who are unable to obtain drugs to feed their habit, and so this means that on the treatment of addicts we must go parallel with the program which was strong in this field, and here is where the Jaffe office, as we now call it, comes into play and this bill comes into play.
As we increase our efforts in law enforcement, as we reduce the supply, what we must do is to increase our efforts to treat the addicts, to treat them and also to reduce the demand, through a program of education and prevention across this country. We feel that a lot of progress has already been made in this field, but with this legislation now funding what we have been doing previously from other funds that we had to scratch to find from time to time, it means that this office can go forward in a major program across the country where we can make some new breakthroughs in treating drug addiction.
I simply want to say in conclusion that the country owes a debt of gratitude to all the Members of the Congress, and particularly the members of the committee who have worked for this legislation and who have helped to get it to the President's desk.
Now the task goes to Dr. Jaffe.
One final thought: Why do we have him here, and why do we have this office in the White House?
The reason is that this particular program of drug abuse, and the particular program, also, on the side of enforcing the law against those who violate it in terms of trafficking and arrest, has the direct interest in and the President assumes direct responsibility for it.
There is another reason for it. When Dr. Jaffe took over this office, I asked him to find out how many Government agencies were involved in these programs. He said there were nine. I asked him yesterday how many Government agencies he had found were involved in it, and he said, "I was wrong. There were 13." In other words, there were 13 Government agencies, all of which had a bit or a piece of the drug prevention program.
Now this doesn't mean this was necessarily bad, because in some instances the agencies were working together. But in other instances the inevitable had happened: Petty bureaucrats seeking credit, empire building, were more interested in what they were doing in terms of building up their bureau than in dealing with the problem.
I have given Dr. Jaffe--when I made the appointment of him for this office-the responsibility of knocking the heads together, and unless the people in this Government and all of the agencies--and all of them are represented here today-are willing to cooperate and work together, then instead of the heads being knocked together, the heads will roll. That is his responsibility.
The reason we do that is that this is a cause that is bigger than who is going to get the credit, bigger than whether this agency or that agency is going to be the more important agency. This is a cause we have all got to work on together, and under Dr. Jaffe's leadership and his coordination, I am sure that this bill will provide the means for us to do it and make a major breakthrough in this area.
Thank you.
Now, as is usually the custom, I will sign this with one pen, but in spite of the fact that this is one of the larger groups for a signing ceremony, I have pens for everybody who is here, and particularly pens for the Members of the House and the Senate who are here, just to remind them that when they support a bill, they get a pen.
Dr. Jaffe, if I could hand you your pen now.
Note: The President spoke at 12:45 p.m. in the East Room at the White House. He spoke without referring to notes.
As enacted, the bill (S. 2097) is Public Law 92-255 (86 Stat. 65).
Following the President's remarks, Dr. Jaffe spoke briefly as follows:
I don't think I can add very much to what the President said. I believe with this hill we have laid the groundwork for truly coordinated national effort. We have recognized over the years that law enforcement is not enough; treatment is not enough. Both sides have to work together. I am confident that under your leadership, sir, the various agencies will work together and we will make some progress in bringing this very serious problem--perhaps the most serious of our national health problems-under control.
Richard Nixon, Remarks on Signing the Drug Abuse office and Treatment Act of 1972 Online by Gerhard Peters and John T. Woolley, The American Presidency Project https://www.presidency.ucsb.edu/node/255211