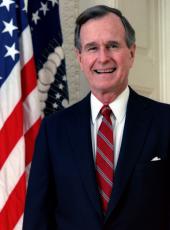 Remarks on Signing the Disaster Assistance Act of 1989
Well, all of you, welcome to the White House. And I want to salute Bob Dole, a driving force behind this bill; of course, Senator Bond, Kit Bond, helping so much; and Governor Hayden, Congressman Stenholm from Texas; and our outstanding Secretary of Agriculture, Clayt Yeutter -- all of whom have played a key role in bringing this important relief to farm families hit by the extreme weather. And let me give a special welcome to the representatives of the American farm community that are here with us today.
I'm sure some of you heard the story of Mark Twain and his friend Howells, William Dean Howells, walking together when a thunderstorm broke out. Howells looked up to the clouds and he said, "Do you think it'll stop?" Mark Twain looked at him and says, "Well, it always does." And Twain may have been many things, but he wasn't a farmer. [Laughter]
And the farmer is at the mercy of the forces of nature, and sometimes nature fails him. And I know, Bob and Mike, that Kansas was hit especially hard -- this year's winter wheat crop is less than half of normal levels. In a number of States -- from the Dakotas to the Texas Panhandle, and in the mid-Atlantic States as well -- farmers have indeed suffered.
And this bill provides relief: Disaster payments totaling approximately $900 million to compensate farmers for the wheat, soybeans, cotton, and other crops they lost due to damaging weather conditions this year. And this act will help farmers recover after damaging rain and wind and will see others through a year when they've had to stand by and watch their crops fail.
All of us know that the prevailing climate here in Washington is one of fiscal restraint, and money's tight. And that's why it is good news that the cost of the disaster relief that I'm authorizing today is reasonable; it'll provide relief only to those farmers hardest hit by adverse weather. And it wisely rewards those who took the prudent step of purchasing crop insurance.
We've seen a dramatic reduction in agricultural surpluses over the past years -- in part, unfortunately, due to the drought, but even more, due to the resurgence of America's farming and a sharp increase in ag exports. And that's meant higher prices for the farmers, it's meant lower budget costs, and it's meant a better balance of trade for our nation. And that's a trend that certainly I want to help see that that continues. With Clayton Yeutter in the lead, we're working to keep world markets open for American agriculture.
And in addition to disaster relief, this law loosens some of the controls that limit what farmers can plant, leaving more farmers free then to choose the crops they grow and to diversify agricultural production. It's a provision I'm pleased to see that's included in this act.
The farmer is one of the original American entrepreneurs -- men and women whose phenomenal productivity feeds America and indeed the rest of the world -- risk-takers who start from scratch each season, staking their fortunes on the new year's harvest. And disaster can strike, and this year it did. And that's why I'm pleased to show our country's appreciation and support for farmers by authorizing the Disaster Assistance Act of 1989.
So thank you very much for coming. And now we will get on with the signing.
Note: The President spoke at 11:40 a.m. in the Roosevelt Room at the White House. In his remarks, he referred to Gov. Mike Hayden of Kansas. H.R. 2467, approved August 14, was assigned Public Law No. 101 - 82.
George Bush, Remarks on Signing the Disaster Assistance Act of 1989 Online by Gerhard Peters and John T. Woolley, The American Presidency Project https://www.presidency.ucsb.edu/node/263471