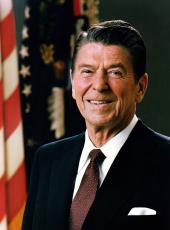 Remarks on Signing the Bill Designating the Centennial Year of Liberty in the United States
Three very nice young people. I will speak about them in a few moments. Lee Iacocca, chairman of the Statue of Liberty-Ellis Island Foundation, honored guests, and ladies and gentlemen, on this date in 1886, President Grover Cleveland stood on an island in New York Harbor to dedicate a statue entitled "Liberty Enlightening the World." Ninety-nine years later, the statue is known by a more familiar affectionate name, the Statue of Liberty or simply Miss Liberty. She's cherished across America, and the torch that she bears is recognized throughout the world as a symbol of human freedom.
The Statue of Liberty was conceived and created by the French sculptor Frederic Bartholdi. Legend has it that as he worked, he modeled the statue's face—that face of utter calm and nobility—on the features of his own mother. Completed, the statue rose more than 150 feet and was constructed of 200,000 pounds of hand-hammered copper sheathing hung on an iron frame engineered by Gustav Eiffel, who later designed the Eiffel Tower. On July 4th, 1884, the statue was presented to the American Ambassador to France. Built using funds donated by the French people, she was then dismantled and shipped to the United States. Then, she was rebuilt using funds donated by the American people, including money raised by schoolchildren. Ever since, she's stood on her island in that great harbor lighting the way to freedom.
Just a few hundred yards away, there's a second island, Ellis Island. Between 1892 and 1954, nearly 17 million immigrants to the New World passed through the Ellis Island checkpoint. Most immigrants moved through the checkpoint in a few hours to begin their new lives in America and freedom. And I like to picture the scene as a boatload of immigrants leaving Ellis Island for New York, they pass Miss Liberty and crowd the rails to gaze. Someone on board knows English, he reads and translates the inscription that the statue bears, words that have proclaimed the meaning of America for millions of immigrants, for shiploads of returning soldiers in two great wars, for every family that has ever visited that glorious statue. And those words: "Give me your tired, your poor, your huddled masses yearning to breathe free, the wretched refuse of your teeming shore. Send these, the homeless, tempest-tost, to me. I lift my lamp beside the Golden Door." Well, many of those immigrants remain at the rails until Miss Liberty is lost in the fog. It would be no surprise if some shed tears of joy.
In recent years, it became all too apparent that Ellis Island and Miss Liberty, herself, were being ravaged by the passing of decades. Nearly half of all Americans can trace their ancestry to someone who passed through the Ellis Island checkpoint. But that island, which should be a proud memorial to our forbearers, had instead become a sad and ramshackled place. Miss Liberty, for her part, had been badly corroded by decades of salt air; her iron supports had weakened; in places, she'd become pocked with jagged, rusty holes.
Well, then, in 1982 the Statue of Liberty-Ellis Island Foundation was formed to restore Miss Liberty and rebuild Ellis Island, and to do so with private funds. This effort has become one of the largest private sector initiatives in American history. Across America, everyone is lending a hand; major corporations are making contributions; small businesses are helping out. And I'm pleased to say that just as schoolchildren helped raise the money to build her pedestal and install Miss Liberty back in the 1880's, today, a century later, they're holding bake sales and car washes to see to it that she gets the restoration she needs.
Let me give you just three of many stirring examples. Michael Haverly, of Indianapolis, Indiana, has raised over $5,000 for the statue by going door to door with an appeal to help Miss Liberty. Well, I'm proud to be in Michael's company here in the Rose Garden today. And then, there is Amy Nessler, of West Deptford Township, New Jersey, who brought a jar of 365 pennies into her first-grade class to help raise money for the Statue of Liberty. The pennies had been collected 15 years earlier by Amy's mother, who, day by day, put one into a jar to mark the time that her fiancé was in Vietnam. And now, after all these years, they felt it was only appropriate to give these special coins to Lady Liberty, who symbolizes what Amy's dad fought for freedom. Well, I'm very happy that Amy, her mother, and father are here with us today. And finally, there is Donna Daley, a 13-year-old from Ridgeland, South Carolina. When Donna's hometown learned that she was losing her sight to an incurable eye disease, they pitched in to raise money to send her and her family to visit the Statue of Liberty. However, Donna, in the spirit of generosity, donated part of this contribution to the Liberty Restoration Project. And, Donna, you're a fine example to us all.
So far, this private sector initiative has raised more than $170 million, well on its way to its goal of 230 million. Today Miss Liberty and Ellis Island are surrounded by scaffolding; workers are on the sites 24 hours a day. Among countless other repairs, they're giving the statue new iron supports and fitting her pedestal with the tallest hydraulic elevator in America. On Ellis Island, they're giving the main building a new roof, replacing the copper towers, and completely restoring the interiors. Much has been accomplished, but there's still a great deal to be done in order to reopen Ellis Island and the Statue of Liberty by the only appropriate date—the Fourth of July, 1986.
And mindful of this need, the Congress has passed a resolution which it is my honor to sign today. The resolution reads in part: "Whereas, the nation will celebrate the Statue of Liberty's 100th anniversary through commemorative events scheduled to take place during the Fourth of July weekend in 1986, and on October 28, 1986; now therefore be it resolved—that the 12-month period ending on October 28, 1986, is designated as the centennial year of liberty..."
Well, I'm looking forward to attending the Liberty Weekend celebration next July and the hundredth anniversary a year from today. David Wolper, who is producing the Liberty Weekend activities, has promised to outdo himself, which won't be easy, after seeing the superb job he did with the 1976 bicentennial and the 1984 Olympics. And Ambassador Mosbacher has planned quite a display himself with the tall ships of Operation Sail.
Throughout this Centennial Year of Liberty, let us join in the great work of restoring the Statue of Liberty and Ellis Island, perhaps our nation's most moving and powerful symbols of freedom. And drawing inspiration from these symbols, let us rededicate ourselves to the great cause of human liberty throughout the world.
I thank you, and God bless you. And now I'm going to sign that resolution.
Note: The President spoke at 2 p.m. in the Rose Garden at the White House. H.J. Res. 407, approved October 28, was assigned Public Law No. 99-136.
Ronald Reagan, Remarks on Signing the Bill Designating the Centennial Year of Liberty in the United States Online by Gerhard Peters and John T. Woolley, The American Presidency Project https://www.presidency.ucsb.edu/node/259392