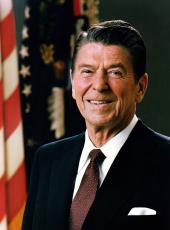 Remarks on Signing the Berne Convention Implementation Act of 1988
If I'd had this kind of a supporting cast, I never would have left Hollywood. [Laughter] Well, good morning. And today we celebrate victory in the name of a right as old as the Union itself and as central to our Union as any: the right all Americans have to protect their property. We're here to sign into law the Berne Convention Implementation Act of 1988. It will enable the United States to adhere to the Berne convention for the protection of literary and artistic works. The Berne convention, which was originally concluded in 1886 and approved by our Senate earlier this month, provides for the protection of copyrighted works from international pirates who make their living by stealing and then selling the creative accomplishments of others.
With 77 countries as members, including most of our trading partners, the Berne convention features the highest internationally recognized standards for the protection of works of authorship. Our membership will automatically grant the United States copyright relations with 24 new countries and will secure the highest available level of international copyright protection for U.S. artists, authors, and copyright holders. This is especially significant because American works protected by copyright—books, recordings, movies, computer software prominent among them—have been at risk because of differences between U.S. law and the Berne convention.
The cost to Americans has been substantial, not only in terms of the violation of the property rights of Americans but in terms of our trade balance as well. We've been running a trade surplus of over $1 billion annually in copyrighted goods, and it would have been much larger had it not been for the pirating of American copyright work. In 1986 alone, the entertainment industry may have lost more than $2 billion in potential revenue, and our computer and software industries more than $4 billion in potential revenue. That's why adherence to the Berne convention has been such an important goal of the administration and why this occasion marks a watershed for us.
As Ambassador Clayton Yeutter has said, joining the Berne convention will also boost U.S. efforts to strengthen intellectual property protection in multilateral negotiations. In 1986 we succeeded in placing the issue on the agenda of the Uruguay round of multilateral trade negotiations and committed the General Agreement on Tariffs and Trade to address the relationship between trade and intellectual property rights. When trade ministers meet in Montreal in December for the midterm review of the Uruguay round, they must direct negotiators to commence substantive negotiations.
Officials in our administration worked closely with many key Members of Congress, such as Senator Pete Wilson and Congressman Carlos Moorhead, to get this bill passed in Congress. And we must also remember our good friend and former Secretary of Commerce, the late Malcolm Baldrige, who led the charge on this legislation.
And now, with great pleasure and great pride, I will sign the Berne Convention Implementation Act into law.
Note: The President spoke at 10:58 a.m. in the International Ballroom at the Beverly Hilton Hotel in Los Angeles, CA. H.R. 4262, approved October 31, was assigned Public Law No. 100-568.
Ronald Reagan, Remarks on Signing the Berne Convention Implementation Act of 1988 Online by Gerhard Peters and John T. Woolley, The American Presidency Project https://www.presidency.ucsb.edu/node/252555