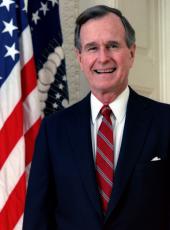 Remarks on Signing the Asian/Pacific American Heritage Week Proclamation
Welcome to the Rose Garden, ladies and gentlemen and fellow Americans. You know, an Asian proverb says: "Intelligence consists in recognizing opportunity." Well, if that's true, it's clear that we are recognizing opportunity in putting the flag back where it belongs. [Laughter] No, intelligence consists in recognizing opportunity, and it's clear that you may be one of the most intelligent groups that we've welcomed to the White House, for you've recognized opportunity and seized it. And I am just delighted to be with you.
I'd like to welcome a very special visitor, President Hammer DeRoburt of Nauru out in the Pacific -- a friend of the United States. Welcome, sir. And I think it's appropriate he's here, head of an island state in the Pacific -- most appropriate that you join us here today, sir. Thank you.
We gather in a special week: Asian/Pacific American Heritage Week. And yesterday marked the 146th anniversary of the day the first Japanese immigrated to America; and Wednesday celebrates the 120th birthday of an event that Chinese-Americans made possible, the driving of the golden spike to complete the first transcontinental railroad. And we meet, too, as special friends. And in particular, I want to thank three people: Jeanie Jew, who created the idea for this week and is the granddaughter of a Chinese pioneer who helped build that railroad; Frank Horton, the chief sponsor of the Heritage Week legislation; and Ruby Moy, chairman of the Congressional Asia/Pacific American Heritage Week Caucus. Perhaps most of all, we assemble here for a special reason -- to salute the millions of refugees and immigrants from Asia and the Pacific who braved the unknown and ventured to our shores, and to salute a community which has enriched America's community socially, culturally, economically, spiritually.
Ladies and gentlemen, as we proclaim this Asian/Pacific American Heritage Week let me observe that you have earned this recognition. You've done it through excellence, with the value of your lives. Those values are, of course, discipline and self-sacrifice, humility and compassion, an abiding belief in work, a soaring love of freedom -- values which brought your parents, your grandparents, and some of you right here to America -- values which are now uplifting America.
I think, for example, of pioneers like Gerald Tsai, Jr.; or Jenlane Gee, the California Teacher of the Year; or Henry Tang and I.M. Pei; of our own Sichan Siv, who fled the killing fields of Cambodia and a daring escape -- now at work right here in the White House. Let me mention my trusted adviser, Lehmann Li, who's been at my side for a long time. You talk about a bright individual -- he's a walking encyclopedia.
My friends, they -- you -- are building a better America and creating new jobs. You're enhancing our medical schools, the law, our small and large businesses -- in short, honoring your heritage by the lives you lead; and for that I congratulate you.
And in a personal sense, I want to thank you, too, for as Chief of the United States Liaison Office in China, I came with Barbara to love that heritage and, in countless ways, with countless friends, to see and share what lies at its center: the family. Ten weeks ago on a trip back to Asia and to the Pacific Rim, Barbara and I visited the nondenominational church that we'd attended in Beijing. And it's different now -- it's bigger; but the values, the heritage, are the same, and the memories are even better. And I'll never forget when our own daughter was baptized right there in China.
Yes, the Asian/Pacific community has a special place in my heart, and so does an old Chinese proverb which I've often cited. It goes: "One generation plants the trees, another gets the shade." For decades, Asian Americans have planted the trees of prosperity, opportunity, and human dignity. And in coming years, more than ever, I know that my children, America's children, will thank you for the shade.
And finally, before I sign this proclamation declaring this week as Asia/Pacific American Heritage Week, it gives me great pleasure to announce two nominations that I will submit to the Senate for confirmation to positions within my administration. I'll be sending the name of Julia Chang Bloch to the Senate to be the next -- [applause] -- United States Ambassador -- please -- [laughter and applause] -- the next United States Ambassador to Nepal, and the name of Kyo Jhin to be Chief Counsel -- Kyo -- Chief Counsel for Advocacy in the SBA [Small Business Administration]. And I salute, also, Katherine Chang Dress, sworn in today as an Assistant Secretary of the Interior. We are so lucky. And we welcome these qualified, capable individuals to our team.
God bless all of you. Thank you for coming here to Washington on this beautiful day. And now, let's sign this proclamation. Thank you very much.
Note: The President spoke at 10:15 a.m. in the Rose Garden at the White House. In his remarks, he referred to Gerald Tsai, Jr., member of the board of directors of Primerica; Henry Tang, vice president of Solomon Brothers; I.M. Pei, architect; and Sichan Siv, Deputy Assistant to the President for Public Liaison. The proclamation is listed in Appendix E at the end of this volume.
George Bush, Remarks on Signing the Asian/Pacific American Heritage Week Proclamation Online by Gerhard Peters and John T. Woolley, The American Presidency Project https://www.presidency.ucsb.edu/node/263427