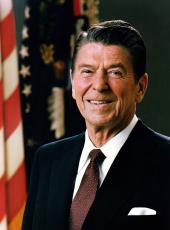 Remarks on Signing the Anti-Drug Abuse Act of 1988
Members of the Congress, distinguished guests, and ladies and gentlemen: Welcome to the White House. This is a very special occasion for everyone here, especially Nancy.
For 8 years she's led the fight to not only rid our society of drugs but banish any lingering tolerance of the false image that drugs are somehow "cool" or "hip." As a nation we now acknowledge what Nancy has been saying over the past several years—that drugs give a false high. They feel good only long enough to weave a web of addiction. And once trapped, the user is drawn into an existence from which nothing good could come.
As many of you know firsthand, Nancy is the cocaptain in our crusade for a drug-free America. She has had help. All across this country, millions of decent Americans have stood up and joined her. In every corner of our society, people are fighting the purveyors of this evil and are just saying no. And the numbers are encouraging. One in particular gives us great hope: Cocaine use by our nation's high school seniors dropped by one-third last year, from 6.2 percent in 1986 to 4.3 percent in 1987. And that's the lowest level in a decade. And the total number of users has leveled off.
This bill helps us close rank on those who continue to provide drugs. Arrests, convictions, and prison sentences of sellers and abusers are rising to record levels.
Several months ago here at the White House, we honored those heroes who gave their lives in this battle. Heroes like DEA Special Agent Enrique Camarena Salazar and a young rookie cop from New York named Eddie Byrne. With us today are Matthew and Ann Byrne, who join us as we give their son's comrades the valuable tools they need to carry forth the fight for which young Eddie so valiantly gave his life. We salute Eddie Byrne. We salute his family for their determination that his death will not have been in vain.
This bill is the product of a bipartisan effort. And I'm obliged to note that several provisions of the bill purporting to require international negotiations must be construed and applied consistent with my constitutional authority to conduct such negotiations. I'm also very concerned that the congressionally mandated changes in our zero tolerance policy at and around our nation's borders could greatly hamper our drug interdiction effort.
In addition, important language was dropped from the final version, most notably the easing of the exclusionary rule and random drug testing. Fortunately, the Department of Transportation has been able to proceed with proposals for random drug testing where drug abuse endangers the public safety. While the language that was dropped would have provided effective methods to enhance drug enforcement, the final product nevertheless strikes a balance between tough law enforcement and protection of victims' rights with the constitutional guarantees of the rights of criminals.
The provision providing the death penalty for narcotics kingpins and drug-related murderers, along with tough new provisions dealing with everything from money laundering to international interdiction and State and local drug enforcement are just the weapons Eddie and Enrique's comrades in arms need to fight an effective war.
This bill also addresses the demand side of drug abuse, authorizing $1 1/2 billion for expanded drug treatment and prevention programs and nearly half a billion dollars for drug education programs.
Also included in the bill are harsh new laws to deter the greedy and heartless who sell or distribute obscene material or child pornography. With fines up to $100,000 and prison terms of 20 years, we hope to put these people out of business for good.
Tragically, this legislation comes too late for Dixie Gallery, who is also with us today. Her daughter, Linda, was kidnaped, drugged, repeatedly raped, and then brutally murdered. Who could do such evil things? Three men working for a pornographer. The pornographer was making a movie and, in his words, told those three to "use a blond." Well, simply because she happened to be in the wrong place at the wrong time, she was killed. Well, Linda is now in the Lord's hands. Just try to tell her mother that pornography is a victimless crime.
Our battles aren't fought by any single person nor can they be won by a single bill, but with the measures we have taken over the past 8 years and the significant additions made today, we are one step closer to an America free of the degrading and dehumanizing effect of obscene material and child pornography and an America that is drug free.
Eight years ago we set a course. We stuck to it. And the path we blazed is marked by the success of our accomplishments. Our ultimate destination: a drug-free America. And now in the eleventh hour of this Presidency, we give a new sword and shield to those whose daily business it is to eliminate from America's streets and towns the scourge of illicit drugs.
Before I sign the bill, I want to take a moment to thank a very special person. A moment ago I referred to her as the cocaptain. Because of her personal commitment at a time when many others simply chose to ignore the world's drug-abuse problems, we were able to begin turning the tide. Her campaign to raise our nation's and the world's consciousness about illegal drug use has won her the respect and admiration of people the world over.
Nancy, for your tireless efforts on behalf of all of us and the love you've shown the children in your Just Say No program, I thank you and personally dedicate this bill to you.
And with great pleasure, I will now sign the Anti-Drug Abuse Act of 1988.
Note: The President spoke at 2:35 p.m. in the East Room at the White House. H.R. 5210, approved November 18, was assigned Public Law 100-690.
Ronald Reagan, Remarks on Signing the Anti-Drug Abuse Act of 1988 Online by Gerhard Peters and John T. Woolley, The American Presidency Project https://www.presidency.ucsb.edu/node/253020