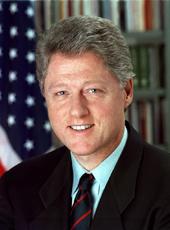 Remarks on Signing the Adoption and Safe Families Act of 1997
Thank you, Sue Ann. Thank you, Aaron. And I want to thank the Badeau family for showing up. I think it's fair to say it was a greater effort for them than for anyone else here. [Laughter] I appreciate the rest of your presence. It was easier for me than anybody; I just had to come downstairs. [Laughter] But I'm grateful that they're here.
Secretary Shalala, I thank you and your staff for your remarkable work on this. And I thank the members of the White House staff, all the Members of Congress who are present here. And especially I thank Senators Rockefeller and Chafee and Congressmen Camp and Kennelly for their work and for what they said here.
Congratulations to the Adoption 2002 Excellence Award winners. I thank all the advocates who are here. And I say a special word of thanks, along with all the others who have said it, to the First Lady, who has been passionately committed to this issue for at least 25 years now that I know. Thank you, Governor Romer, for coming. And thank you, Dave Thomas, for what you've done.
Again let me say to all the Members of Congress who are here, Republicans and Democrats alike, I am very grateful for what you've done. This, after all is what we got in public life for, isn't it? [Applause]
Before I make my brief remarks, if you'll forgive me and understand, I have to make one public statement today about the situation in Iraq.
As I have said before, I prefer to resolve this situation peacefully, with our friends and allies, and I am working hard to do just that. But I want to be clear again about the necessary objective of any diplomacy now underway. Iraq must comply with the unanimous will of the international community and let the weapons inspectors resume their work to prevent Iraq from developing an arsenal of nuclear, chemical, and biological weapons. The inspectors must be able to do so without interference. That's our top line; that's our bottom line. I want to achieve it diplomatically. But we're taking every step to make sure we are prepared to pursue whatever options are necessary.
I do not want these children we are trying to put in stable homes to grow up into a world where they are threatened by terrorists with biological and chemical weapons. It is not right.
It's hard to believe now, but it was just a little less than a year ago when I directed our administration to develop a plan to double the number of children we move from foster care to adoptive homes by the year 2002. We know that foster parents provide safe and caring families for children. But the children should not be trapped in them forever, especially when there are open arms waiting to welcome them into permanent homes.
The Adoption and Safe Families Act, which I am about to sign, is consistent with the work of the 2002 report and our goals. It fundamentally alters our Nation's approach to foster care and adoption. And fundamentally, it will improve the well-being of hundreds of thousands of our most vulnerable children. The new legislation makes it clear that children's health and safety are the paramount concerns of our public child welfare system. It makes it clear that good foster care provides important safe havens for our children, but it is by definition a temporary, not a permanent, setting.
The new law will help us to speed children out of foster care into permanent families by setting meaningful time limits for child welfare decisions, by clarifying which family situations call for reasonable reunification efforts and which simply do not. It will provide States with financial incentives to increase the number of children adopted each year. It will ensure that adopted children with special needs never lose their health coverage—a big issue. Thank you, Congress, for doing that. It will reauthorize Federal funding for timely services to alleviate crises before they become serious, that aid the reunification of families, that help to meet post-adoption needs.
With these measures we help families stay together where reunification is possible and help find safe homes for children much more quickly when it is not. We've come together in an extraordinary example of bipartisan cooperation to meet the urgent needs of children at risk. We put our differences aside and put our children first.
This landmark legislation builds on other action taken in the last few years by Congress: the adoption tax credit I signed into law last August to make adopting children more affordable for families, especially those who adopt children with special needs; the Multiethnic Placement Act, enacted 2 years ago, ensuring that adoption is free from discrimination and delay, based on race, culture, or ethnicity; and the very first law I signed as President, the Family and Medical Leave Act of 1993, which enables parents to take time off to adopt a child without losing their jobs or their health insurance.
We have put in place here the building blocks of giving all of our children what should be their fundamental right—a chance at a decent, safe home; an honorable, orderly, positive upbringing; a chance to live out their dreams and fulfill their God-given capacities.
Now as we approach Thanksgiving, when families all across our country come together to give thanks for their blessings, I would like to encourage more families to consider opening their homes and their hearts to children who need loving homes. You may not want to go as far as the Badeaus have—[laughter]—but they are a shining example of how we grow— they are a shining example of how we grow when we give, how we can be blessed in return many times over. We thank them and all—all of the adoptive parents in the country.
For those who are now or have been foster or adoptive parents, I'd like to say thank you on behalf of a grateful Nation, and again say at Thanksgiving, let us thank God for our blessings and resolve to give more of our children the blessings they deserve.
Thank you very much.
NOTE: The President spoke at 1:53 p.m. in the East Room at the White House. In his remarks, he referred to Sue Ann Badeau, who introduced the President, and her adopted brother Aaron, 2 of 19 children adopted by parents Sue and Hector Badeau; Gov. Roy Romer of Colorado; Dave Thomas, founder and senior chairman of the board of directors, Wendy's International, Inc. H.R. 867, approved November 19, was assigned Public Law No. 105-89.
William J. Clinton, Remarks on Signing the Adoption and Safe Families Act of 1997 Online by Gerhard Peters and John T. Woolley, The American Presidency Project https://www.presidency.ucsb.edu/node/223491