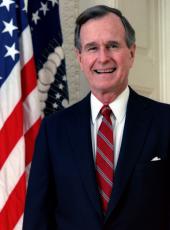 Remarks on Signing Soviet-United States Bilateral Agreements
President Bush. President Gorbachev, again, welcome to the White House. Mr. President, you and I set a course 6 months ago off the island nation of Malta. And at that time we agreed on an agenda, much of which was completed for this week's summit. Of course, our Malta agenda remains unfinished, but we've made great progress in the last 6 months and in the last 2 days.
We're about to sign agreements concerning many areas of vital interest to our countries and to the world, and to record specific understandings in joint statements that are being published today.
First, we'll sign a bilateral agreement that will, for the first time, eliminate the great majority of the chemical weapons that our countries have stockpiled over the years. And let this landmark agreement quickly lead to a global ban on chemical weapons.
Secondly, we will be signing protocols on limiting nuclear testing. After long, sometimes arduous negotiations, we both agreed on unprecedented improvements for on-site verification of the Threshold Test Ban Treaty and the Peaceful Nuclear Explosions Treaty.
Third, we will sign a major new agreement that updates and expands our 1973 agreement on the peaceful uses of atomic energy. This new agreement provides for substantial U.S.-Soviet cooperation in atomic energy research and civilian nuclear safety.
In addition, President Gorbachev and I are issuing a joint statement recording major agreed provisions of a strategic arms reduction treaty as well as a joint statement in which we agree to future negotiations on nuclear and space arms designed to enhance stability and reduce the risk of war. We're also issuing a statement on the conventional armed forces in Europe, committing us to intensify the pace of the Vienna negotiations and to reach rapid agreement on all outstanding issues. You see, we agree that a CFE treaty is an indispensable foundation for the future of European security.
There are many other agreements the United States and the Soviet Union are signing or announcing during this summit, agreements that represent hard work and a lasting achievement not just by our governments but also for the peoples. For example, an agreement to establish a U.S.-Soviet park across the Bering Strait. This park will preserve the unique natural, environmental, and cultural heritage of the Bering Sea region of Alaska and Siberia. Just as a bridge of land once joined our two continents, so let a bridge of hope now reach across the water to join our two peoples in this spirit of peaceful cooperation.
In this same spirit, President Gorbachev and I will sign an agreement that realizes our Malta objective of expanding undergraduate exchanges by 1,000 students on both sides, allowing more of our young people to experience firsthand each other's culture and politics, to live as friends. And out of simple acts of friendship, a profound revelation eventually arises: the people of the world have more in common than they have in conflict.
In just a few moments, Secretary of State Baker and Foreign Minister Shevardnadze will also sign four important new agreements concerning maritime boundaries, ocean studies, civil aviation, and a long-term grains agreement. Minister Shevardnadze and Transportation Secretary Skinner will sign a fifth agreement on maritime transportation. President Gorbachev and I are also signing a commercial agreement and are looking forward to the passage of a Soviet emigration law.
President Gorbachev, I am very gratified by what we've accomplished over the last few days and determined to build on this solid foundation. The agreements we record today and those yet to come will advance the cause of peace -- agreements in the best interests of both our nations and all nations.
Not long ago, some believed that the weight of history condemned our two great countries, our two great peoples to permanent confrontation. Well, you and I must challenge history, make new strides, build a relationship of enduring cooperation. We may not agree on everything, and indeed we don't agree on everything, but we believe in one great truth: the world has waited long enough; the cold war must end. And so, today with gratitude in my heart for all those on the Soviet side and the United States side that worked so hard at all levels to bring these agreements to fruition, I say let's renew our pledge and build a more peaceful world.
President Gorbachev. Mr. President, ladies and gentlemen, comrades, first of all, I would like to thank President George Bush for presenting so well the results of our work that we've been doing over these days in Washington. So, I have a problem: What shall I talk about? [Laughter] So, I think that I will do some thinking aloud in this context.
I would say that maybe this room has seen many important events and many agreements signed, but I think that what is happening now and what you have listed as the results of our work together represents an event of momentous importance not only for our two countries but for the world.
President Franklin D. Roosevelt half a century ago spoke of a world in which four essential freedoms will triumph: freedom of speech, freedom of worship, freedom from want, and freedom from fear. And this ideal has not yet been attained in the world, and it could not be attained in the world of animosity and confrontation. And therefore, while liberating the world from fear, we are making steps towards a new world; and this is the important work of our two nations, of our two peoples.
What is very important, I think, is that we do not just declare our commitment to moving toward a healthier international environment, toward better international relations, toward a nonviolent world; we are taking practical steps in that direction. And what you have just listed and what we'll be signing during this visit, I think, is a confirmation that both our declarations are right in that they seek to justify the hopes of our peoples and that we're also taking those practical steps. The important steps that we are taking today illustrate the degree of agreement between our two countries, despite the fact that -- and here I quite agree with you -- that there are things on which we disagree and there are differing views that we have on certain questions. But that area of disagreement is being narrowed in the course of our work together. What we will be signing, I think, is the best demonstration that we are ready to participate at the level of our responsibility in building a new civilization.
There are still many difficult challenges awaiting us. It is evident that to dismantle that monumental artifact of the cold war, the accumulated arsenals of mutual destruction, is not at all a simple or even an entirely safe thing to do. The slightest imbalance and due haste or lack of equilibrium in this process may dangerously destabilize the overall international situation. But I'm sure that if we take a balanced and responsible approach, if we take into account the concerns and positions of each other even when we disagree, if we do all that, I'm sure that we will be able to move ahead more resolutely and more vigorously.
Mr. President, you have just mentioned Malta. Mr. President, I'm pleased to note that the turbulent developments of recent months after Malta have not led us astray from the goal we set together. So, I believe that we have passed the first test.
Mr. President, let me reaffirm here something that I've been saying to you during our one-on-one talks. We have had many such talks during this summit, and I welcome this style of negotiating. But let me reaffirm to both of our peoples that the Soviet Union is committed to the objective set at Malta: completing before the end of this year the preparation of the START treaty. I believe that this goal is attainable even though it is difficult.
I also can confirm what you have said: that we have agreed during our talks that this year we will seek to sign a treaty at the Vienna talks. And of course, we believe that in that case that will be the CSCE European security summit meeting. I think we already have good results and a good potential to work.
I believe that this is all possible as a result of the efforts of both sides over the past few years, including the efforts in which you, sir, have participated vigorously and actively and with great foresight in order to expand our relationship and to build on the capital of trust in our relations.
It would seem that I've said even more than I intended to say. I think it means that I'm human in the sense that I'm emotional. I would like to say that we've done a great deal in order to assure the success, and I would like to congratulate our two nations. And I would like also to shake your hand, Mr. President, so that we congratulate each other.
Note: The President spoke at 6:13 p.m. in the East Room at the White House. President Gorbachev spoke in Russian, and his remarks were translated by an interpreter.
George Bush, Remarks on Signing Soviet-United States Bilateral Agreements Online by Gerhard Peters and John T. Woolley, The American Presidency Project https://www.presidency.ucsb.edu/node/263938