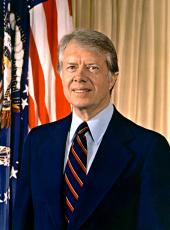 Remarks on Signing Into Law the Mental Health Systems Act
THE PRESIDENT. Senator Kennedy and Congressman Waxman, Congressman Harris, Congressman Fisher, Secretary Harris, and all of you who are so interested in this particular aspect of American life:
This is indeed a thrilling occasion for me and for my wife, Rosalynn, and I know for all of you. It's also an historic occasion, and I was particularly glad to come here to the Woodburn Center to have this ceremony to commemorate where people are served a new opportunity for service by us all.
Woodburn Center has served citizens for more than 30 years, and I'm particularly delighted to have with me today two Members of the Congress who serve this particular area, Congressman Joe Fisher and Congressman Herb Harris. We're grateful that you've come to be with us.
I've been looking forward to this day for a long time. And those of the audience and those on the stage with me who've worked on this legislation so persistently know what I mean by saying that. As you know, my wife, Rosalynn, has been very instrumental in helping to develop this legislation, and while mental health is of importance to all of us, it has a special significance to me, above many issues with which I have to deal, because of my wife's intense involvement. Today I want to make clear the depth of my personal commitment to assuring that our Nation, so full of opportunity for so many of us, offers greater opportunity for decent care to those with mental and emotional difficulties.
Rosalynn and I became interested in mental health as a public service in Georgia. We observed lives wasted because of needs which were long unmet. When I was Governor we worked to increase and to improve those services and to bring into the awareness of Georgia people the special faults and failures that existed then in the care or lack of care for those suffering with mental problems.
When I came to Washington we also recognized a new opportunity to assess the standard of care and prevention of mental illness from the perspective of the White House. And less than a month after I took office I issued an Executive order creating the President's Commission on Mental Health. I asked Rosalynn to serve as Honorary Chairman, which she did, and under the leadership of Dr. Tom Bryant the Commission studied the mental health needs of the Nation for more than a year. In April of 1978 they presented their recommendations, which have served as a blueprint for this act which will be signed today.
The legislation was submitted to the Congress in May of 1979 and was further developed through the dedicated efforts of Senator Kennedy and Senator Schweiker, Congressman Waxman, and Congressman Dr. Carter. Without their persistent efforts to shepherd it through the Congress we would not be here today.
The Mental Health Systems Act I'm signing this afternoon is designed to provide vital services to the most underserved group in this Nation, a group that has not been served well even by those who've dedicated their lives, as you have, to their care. The States, which have long borne the major burden of care for chronic mental illness, will be able now to provide better services to all.
This is the most important piece of Federal mental health legislation since President John Kennedy signed the Community Mental Health and Mental Retardation Facilities Act 17 years ago. I'm proud that my family and his family, personified by Ted Kennedy, my good friend, and also by other members of his family-Mrs. Shriver, who's here—have been able to work harmoniously and in a partnership on this far-reaching legislation.
I would particularly like to express my thanks to the Kennedy family. Outside of government, with the Special Olympics effort and many other things to which they've devoted their lives, they have indeed been an inspiration to the world, and I'm greatly indebted to them as President, representing the 220 million Americans who admire and appreciate what they've done.
I'd like to ask Mrs. Shriver to stand up. Eunice, would you stand?
As a matter of fact, the first time that the Kennedy family and we became well acquainted was while I was Governor, when Eunice and Mrs. Robert Kennedy and others came down on the Special Olympics program, took my wife away from me for literally weeks at a time, and formed that close partnership then.
Despite advances in research, increases in the number of mental health personnel, and the dramatic shift from inpatient to community-based care, many of our citizens still do not have access to high-quality mental health care at a reasonable cost. This act is specifically aimed at addressing the problems of underserved groups-minorities, people who live in rural areas, the poor—and it targets new funds for services to severely disturbed children, to adolescents, and to the elderly.
Special emphasis is placed on the care and treatment of chronic mental illness to ensure that mental health support and aftercare services are available at the community level. The act also provides Federal grants for the first time for projects to prevent mental illness and to promote mental health care. It also includes grants to initiate advocacy programs to protect the rights, the legal and other rights, of the mentally ill.
In the past a lack of flexibility in Federal funding of community-based services has prevented some communities from providing any services at all and has limited programs for underserved populations and others. This act creates significant new opportunities for communities to address the most pressing needs first and forges a more flexible partnership between the Federal and State governments so that they can chart a new course that is comprehensive and responsive to the needs of all our people.
One of the great benefits of this act must be and will be the improved care of emotionally disturbed within families, especially when handicapped persons such as mentally retarded individuals are involved. We've come a long way since the days when handicapped and disturbed people, especially children and the elderly, were routinely separated from their families and shut away from society. We know how important the love and support of the family can be to those who are most vulnerable among us. But too often families have not had readily at hand the help and the services they need. I'm convinced this act will reduce the suffering of millions of Americans who are robbed of satisfying lives by mental illness.
This act expands our national commitment to mental health with the ultimate aim that all who need mental health services receive prompt care by qualified people, whatever their need, wherever they may live, however they might come into the system.
So, to summarize briefly, this provides help for those who are most in need, who've been most underserved in the past. It gives the States a greater role for assuming their administrative responsibilities with a minimum of interference from the Federal Government. It provides much more flexibility than the past laws have permitted. It emphasizes prevention of mental illness and it protects patients' rights. Those goals have been met very well in this legislation.
And now I'd like to introduce to you the Chairman of the President's Commission on Mental Health, Rosalynn Carter.
MRS. CARTER. Thank you. The Honorary Chairperson of the President's Commission on Mental Health Health. They wouldn't let me be Chairman.
I've looked forward to this day for a long time too. And I'm very grateful, and there are so many people I want to thank—first, Jimmy, because he encouraged me from the very beginning; Senator Kennedy and Congressman Waxman, who never wavered in their support and their efforts to guide the legislation through Congress. I want to thank Senator Schweiker and Dr. Tim Lee Carter also, because they demonstrated that mental health is not a partisan issue, that it is a bipartisan issue.
I want to thank Dr. Tom Bryant and all the members of the President's Commission on Mental Health and the members of the task panels and so many people who worked on the report. I see so many of you here today who worked very hard, and there were literally hundreds of people who worked to develop the report of the President's Commission on Mental Health and then to develop the legislation.
The past 3 1/2 years have been extraordinary and fulfilling. There were some frustrating moments but now the Mental Health Systems Act is law, or will be as soon as Jimmy's signature is on that bill. And it's an exciting day for me and for all of us, but especially for those people who need help and who need care. It represents a great victory for the vulnerable people in our society, those who are struggling with mental and emotional difficulties, and also it represents a victory for those people all over our country, dedicated professionals and private citizens who work every day to try to provide comprehensive, humane care for those who are vulnerable in our society.
So, I'm very proud today, and this is landmark legislation. Someone told me the other day that there are going to be reports written about it for years. I'm very proud of it, and I want to again thank all who made it possible.
Thank you very much.
THE PRESIDENT. I've already said a few words about the next speaker, who represents a great family—the Kennedy family. But he also represents the quality of leadership in the United States Senate that's indeed inspirational to those who observe him in his leadership role. He's a man of compassion and sensitivity, whose heart has always been filled with love for those who need help most in our community. He's never forgotten them, and they never forget him. And it's with a great deal of friendship, admiration, and appreciation that I introduce to you now for a few words about legislation which he helped to evolve and bring to consummation, Senator Edward Kennedy.
SENATOR KENNEDY. Thank you very much.
Mr. President and Mrs. Carter and Secretary Harris, my colleagues in the Congress:
Last January Mrs. Carter was asked about her New Year's resolutions. And she listed four New Year's resolutions. She said that first of all that she wanted the Mental Health Systems Act passed into law. Secondly, she wanted the equal rights amendment achieved. Third, she wanted her husband renominated and reelected as President of the United States. And fourth, she wanted to keep her diary up. [Laughter] And now it is just the question of keeping her diary up— [laughter] —I'm for all four of those.
Well, this is a proud day for her and for all of us, and it's an important day for the cause of mental health. This bill is the most significant step forward in this area since 1963, and at that time, as President Carter mentioned, President Kennedy, in sending a special message to the Congress on mental illness and mental retardation pointed to the national neglect of the mentally ill and mentally retarded. And President Kennedy said of that neglect, "It has been tolerated too long, it has troubled our national conscience, but only as a problem unpleasant to mention, easy to postpone and despairing of solution." And today millions of Americans, the very young and the very old, the urban poor and the migrant farmworker, the mentally retarded and the chronically mentally ill, black and Hispanic Americans still lack essential mental health services. For them the system of mental health care remains a nonsystem and a job yet to be done. This legislation represents new and important progress towards making such care a right for all those who need it.
This bill emphasizes the programs for those of all ages suffering from chronic mental illness, the severely disturbed children and adolescents, the elderly, for the minority who are not white and the majority who are women. This bill emphasizes prevention, and it continues our commitment to a national network of community health centers and will create a landmark advocacy program for the mentally ill. My sister Eunice, who has been a leader in the national fight to improve the quality of life for the mentally retarded, many of whose needs are effectively addressed by this legislation, joins me in offering the special note of thanks to the First Lady.
This Mental Health Systems Act emerged from the recommendations of the President's Commission on Mental Health. In a large measure the effectiveness of that Commission, indeed its very existence, are due to the energy and skill, the dedication and compassion of its Honorary Chairperson, Mrs. Carter.
As the first lady of Georgia, she volunteered 1 day a week to work with patients and families at the State Mental Health Hospital. She participated in the International Special Olympic Games for the mentally retarded; an active member of the Georgia Mental Health Association, she helped Governor Carter develop and implement the State health programs.
Now, as the First Lady of the United States, she's been instrumental in helping President Carter focus the national attention on the plight of the mentally ill. Her commitment is deeply felt and personal. The legislation President Carter signs today is a living monument to her commitment and to her concern, and I'm proud that all of us—Jimmy Carter, Henry Waxman, Dick Schweiker, Tim Lee Carter, and I—helped you, Mrs. Carter, to pass this bill. Thank you.
THE PRESIDENT. It's difficult enough in the Senate with a hundred Members to get a complicated and controversial bill like this passed, but the House has 435 Members, and there it takes an extraordinary degree of tenacity and leadership in order to have the success that has been achieved by Chairman Henry Waxman. He did create in the House a bipartisan approach recruiting Republicans to help him in this noble endeavor. He's a very fine and cooperative Congressman with ideas of his own, yes. But he's the kind of person that all those with disparate views can go to for the consolidation of those views into achievable legislation. And I'm grateful to him for the contribution that he has made in making this day possible.
Now Congressman Henry Waxman from California.
REPRESENTATIVE WAXMAN. Thank you very much, Mr. President, for those kind words of introduction. It's been an honor for me to have worked with your administration in seeing this legislation come to this point where it's about to be signed into law. I want to join in paying tribute to, I think, the one person to whom this legislation stands as a monument, and that is the First Lady, Rosalynn Carter.
She may have been the Honorary Chairman of this Commission, but she took her duties very seriously. And every step of the way in the legislative process it was clear to me—it was clear to everyone involved—that her compassion, her concern, her dedication was all focused on this legislation. She wanted this to become law. She wanted the recommendations of the President's Commission to be followed through, particularly when she saw, as she had us see, the gaps in our mental health system which allow the chronically mentally ill to be dumped from State hospitals without having available to them community services so that they can live and function in the community, to see that the elderly who could so benefit from the outpatient services of the community health center didn't have available to them such a center, and the disturbed children and adolescents who are looking for some guidance, for some help, also had nowhere else to turn despite the fact that we had a law, a pledge for a program for community mental health centers around the country.
What she proposed and the Commission recommended was that we set up a way of focusing in on those priority populations, a way of working a relationship between the Federal Government and the State and local governments to work together to fill in those gaps, to see that all people who were in need of mental health services had them available to them, not just in expensive institutions, but in the community level, where people live, are able to function, are able to be with their loved ones and their neighbors if they have that extra help that a community mental health centers program could give them.
So, I'm just delighted to be here personally and very proud to have worked with the President and his administration, particularly the First Lady and Senator Kennedy in fashioning the bill that is now before us and will, with the stroke of a pen in a minute, become law. Thank you very much.
THE PRESIDENT. And now I'd like to introduce the person who has to carry this tremendous responsibility and opportunity on her shoulders in the months and years ahead.
Pat Harris is a superb administrator. When I became President, the Department of Housing and Urban Development had a very bad, I think, well-deserved reputation. It was not a Department of which the Nation could be proud. She made it a source of pride to me and of outstanding service to this country and cemented the relationships between the Federal Government and local officials that had been sadly lacking. When a vacancy occurred in the Department of Health, Education, and Welfare I didn't have to think very long before I came to the conclusion that Pat Harris would be the best Secretary there. She was reluctant to take on the job. But I asked her to, and she decided to do so.
Now Education is separate and Health and Human Services is her responsibility. She administers the third largest budget in the world. It's less only than the entire Federal Government of the United States, the Government of the Soviet Union budget, and that's all. She does it with competence, with strict enforcement of efficiency in that for a given level of personnel staffing and a given level of money available, the services are highest quality. That's the best definition of efficiency.
She will now be charged with the responsibility of administering the Mental Health Act of 1980, and I'm very grateful that she is here to assume that responsibility. I have no doubt that those with mental problems will now be served by the Mental Health Systems Act through the utmost degree commensurate with the opportunities that we offer her.
Ladies and gentlemen, Secretary of Health and Human Services Patricia Harris.
SECRETARY HARRIS. Mr. President and Mrs. Carter, Senator Kennedy, Congressman Waxman, Congressman Harris, and Congressman Fisher:
This day has been a long time in coming. It has taken a long time for the Mental Health Systems Act to travel from proposal into law, but it has taken even longer to bring the subject of mental health out of the shadows and into the sunshine.
Throughout most of our history, the mentally ill have been bound up in dark suspicion, victims of fear and ignorance, confined to institutions and trapped by popular stereotypes. The mentally ill have been isolated, demeaned, ignored, and misunderstood. Dorothea Dix, crusader for prison and asylum reform, was once told that the mentally ill don't need any heat, because they don't have any feeling. And too often our society has behaved as if the mentally ill do not have feelings, as if they do not have rights or talents or hopes for the future. The Mental Health Systems Act will not change these attitudes or those conditions overnight, but it is an essential beginning.
This far-reaching act will give us greater flexibility in helping States and communities meet the mental health needs of our citizens. It will emphasize health for children, adolescents, and the elderly. It will strengthen services for the poor in rural areas and in inner-city neighborhoods. This act has been a labor of love for many people, but it is appropriate today to single out the steadfast support Mrs. Carter has given this cause for more than a decade.
Her advocacy and leadership in the area of mental health has been instrumental in making this day possible, and I know her commitment will result in further progress in years ahead. And one of the first conferences I had after I became Secretary of Health, Education, and Welfare, was with Mrs. Carter on the Mental Health Systems Act.
Mr. President, this is a proud beginning. I join you in expressing determination that the Mental Health Systems Act be quickly implemented and that we build on its foundation a new, more just and humane mental health policy in the years to come. The Department of Health and Human Services is ready.
[At this point, the President signed the bill.]
THE PRESIDENT. You might be interested in knowing that all during the spring campaign, when Senator Kennedy and I were communicating through the media— [laughter] —quite often I would come in and find Rosalynn and him communicating very intimately about the Mental Health Systems Act. So, it kind of bridged the gap during the political campaign, and I'm very grateful that all of us have been able to share in this delightful and exhilarating and gratifying experience.
Thank you all for being part of a historic occasion.
Note: The President spoke at 2:35 p.m. in the Woodburn Center for Community Mental Health in Annandale, Va.
As enacted, S. 1177 is Public Law 96-398, approved October 7.
Jimmy Carter, Remarks on Signing Into Law the Mental Health Systems Act Online by Gerhard Peters and John T. Woolley, The American Presidency Project https://www.presidency.ucsb.edu/node/250743