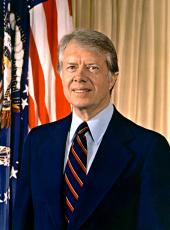 Remarks on Signing Into Law the Department of Energy Organization Act and Bill Amending the Small Business Administration Act
THE PRESIDENT. I have two legislative acts that have now been passed by the Congress, which I intend to sign this morning. One is a bill that has been very important to me. It's concerning changes in the Small Business Administration to make it more feasible for myself, as President, and for the executive branch of Government to deal with victims of catastrophe such as floods, tornadoes.
And this legislation has been sponsored by the Senators from West Virginia and others. It makes it possible for lower interest loans for people whose homes have been destroyed, whose businesses have been destroyed, and more direct and instant assistance.
I'm particularly grateful that the majority leader, Senator Byrd, and Senator Jennings Randolph and the congressional delegation from West Virginia took the leadership in this legislation.
This is House of Representatives act 692, and it is with a great deal of pleasure that I sign this bill.
[At this point, the President signed H.R. 692 into law.]
I might point out that because of the great influence of these two gentlemen that I've just recognized, in the Senate the bill passed with a voice vote; in the House the vote was unanimous, 392 to 0.
For the first time in 11 years, a Cabinet level department is now being created. The impending crisis of energy shortages has brought about an unprecedented quick action by the Congress in establishing the new Department of Energy.
This in some ways has been controversial legislation because many agencies of Government are now being brought together under one roof, about 50 different agencies. And in the future, the head of this Department will be a person working directly under the President, who can be identified for those who want to work together in our Nation to at least alleviate the consequences of inevitable shortages of oil and gas and other energy supplies.
Senator Ribicoff in the Senate, Congressman Jack Brooks in the House, and others who have worked closely with them--Senator Jackson, Senator Percy, Congressman Horton, and others that I could name--have done extraordinarily good work in bringing this legislation to completion. In only about 5 months this extremely complicated effort has been realized.
I want to point out that the Department can now, I think, begin to deal in a much more aggressive and effective way not only with the needs of suppliers to increase the production of oil, gas, coal, solar, nuclear powers, but also to make sure that consumers of our country are treated fairly, that prices are adequate and not excessive.
It can also work with the State Department and others in relationships with foreign countries. I'm very proud of this accomplishment by the Congress, and I'd like now to sign into law the Senate bill 826, which establishes the new Department of Energy.
[At this point, the President signed S. 826 into law.]
Of course, the next problem that we face is the selection of a person to head up the new Department of Energy. This has been a matter that's been of great concern to me for the last few months. I've decided to establish a search committee [laughter] to choose a Secretary, and I have asked Dr. James Schlesinger to head up the search committee. And at his request, the membership of the committee will be limited to one person. [Laughter]
I think that everyone who serves in the executive or legislative branches of our Government knows that because of his preeminent knowledge and stature and his sound judgment and, I think, political awareness and the trust of the American people in him, that he is a natural leader for this tremendous undertaking. And without waiting for his recommendation, I would like to ask if he would serve as the Secretary of the Department of Energy, and I would like to sign now a nomination request to the Senate of the United States, nominating James R. Schlesinger of Virginia to be Secretary of Energy, which is a new position in our Government.
Jim, would you like to say a word?
MR. SCHLESINGER. I'd just say that I'm delighted to be here and want to congratulate you on the Department of Energy that the House and Senate worked together to achieve, with the help of your own administration. And I hope that it will light the way to a better energy solution for this Nation.
REPRESENTATIVE BROOKS. Mr. President, organization is really policy. You have a great energy program, but it is absolutely essential that you have in place an organization that can make it work.
Under your leadership and that of Dr. Schlesinger, I am confident that we will start on the solution of all our energy problems.
THE PRESIDENT. We've got a long way to go on the energy policy, but I want to express my thanks at this moment to the House and Senate for the superb work they are already doing in this difficult area.
I believe that before the Congress adjourns, hopefully in October, that we will have an energy policy to make our Nation proud. And I want to express my thanks to you, Senator Byrd, and to others.
Note: The President spoke at 9: 24 a.m. at the signing ceremony in the Rose Garden at the White House. As enacted, H.R. 692 is Public Law 95-89, and S. 826 is Public Law 95-91, both approved August 4.
Jimmy Carter, Remarks on Signing Into Law the Department of Energy Organization Act and Bill Amending the Small Business Administration Act Online by Gerhard Peters and John T. Woolley, The American Presidency Project https://www.presidency.ucsb.edu/node/243686