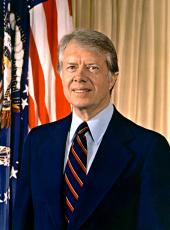 Remarks on Signing Into Law the Comprehensive Environmental Response, Compensation, and Liability Act of 1980
THE PRESIDENT. Although it's impossible to single out all of the people who've been responsible for this legislation, I would like particularly to thank the ones who were responsible for its drafting and later call on a few to say a word after I finish with the signing ceremony.
Congressman Jim Florio, Senator Jennings Randolph, Senator Bob Stafford, and many others worked on this important bill in its drafting phase, and those others that I'll mention later on worked in a very concerted and effective way in getting the legislation through the Congress.
I would like to express my thanks to Howard Baker, to John Rhodes, on both sides of the Hill, of the Capitol, for making this a bipartisan project, succeeding in their effort even after the election of this year. And if I had time I would thank all eight committees who were responsible for the legislation— [laughter] —three committees in the Senate and five committees in the House who had direct responsibility over terms of this legislation itself. And, of course, Senator Bill Bradley and Congressman Mario Biaggi, Congressman Biz Johnson, although I stole him from the Senate later on, former Senator Ed Muskie, Congressman Gore, and in the public sector I would like particularly to thank Irving Shapiro, who, on behalf of the leaders of the free enterprise system of our country, were instrumental in pushing this bill to a final conclusion. This directly affects the chemical industry, and the enlightened attitude of the executives of that industry was a very constructive element.
Almost 1 1/2 years ago I sent to the Congress the original proposal for this landmark legislation, landmark in its scope and in its impact on preserving the environmental quality of our country. It was known as a superfund bill, which began a massive and a needed cleanup of hazardous wastes in our country, a problem that had been neglected for decades or even generations. It fills a major gap in the existing laws of our country and also will tend to focus the attention of the public on this very crucial problem that must be resolved. It provides adequate funding, coming primarily from industry, but also from government, and it establishes certain standards for liability if toxic chemicals are damaging to people or to property.
We responded directly and quickly to some of the highly publicized problems with toxic wastes that are just representative of many similar challenges and problems throughout the country. Love Canal and Valley of the Drums come to my memory right this moment. They are stark reminders of the neglect in our society to deal with a growing problem.
We've created in this country great prosperity and a leadership in the entire world with our chemical industry and with the energy industries, but we had neglected to pay part of the cost of that development. And now, of course, we must face that responsibility. The result here is a bill that substantially meets the criteria that I set out in the original proposal that I made to the Congress a year and a half ago. Most important, it enables the Government to recover from responsible parties the costs of their actions in the disposal of toxic wastes. While it does not deal with oil pollution in the way that I did propose, I understand that the Congress intends to act on a comprehensive oil pollution superfund similar to this in scope next year.
In my 4 years as President I think everyone who knows me understands that one of my greatest pleasures has been to strengthen the protection of our environment. Along with the Alaska lands bill and other major legislation, this superfund bill represents a fine achievement for the Congress and for my own administration and for the whole Nation.
I now take great pleasure in signing into law H.R. 7020, and I'm proud that the Congress and my administration have come together to produce this timely and urgently needed response. Following the signature I'd like to ask Congressman Florio to speak first, and I'll call on a few others to follow him.
[At this point, the President signed the bill.]
SENATOR RANDOLPH. Why don't we cheer you, Mr. President, while you sign? [Applause]
REPRESENTATIVE FLORIO. I appreciate that applause. [Laughter]
Let me just say that I and the other Members of the Congress, as well as the President and this administration, I think can all be very proud of what we've done in this very crucial area, not just this legislation but really to address the whole problem of the inappropriate disposal of toxic materials. Really, that's a two-part problem. Prospectively we have a new regulatory system which is just going into effect now, the Resource Conservation and Recovery Act, and therefore we should have no new Love Canals being created. And this bill, of course, is the second part, which is to go back and clean up what, unfortunately, has been done over the last number of years.
So, this is a very important piece of legislation. The administration should be very proud—and I know they are—of what they've done to bring to the public's attention this problem and the remedial actions that we're taking. I'm very pleased to be part of it as well.
THE PRESIDENT. Thank you, Jim. Senator Randolph?
I'd like to say just a word before Senator Randolph speaks, not because he led the applause for me but [laughter] . Over a 4-year period, the term of any President, there is a series of achievements of which a President and a nation can be proud. And it's an extraordinary thing for me, as I look back on my own administration here, to recall the unbelievably large number of times when basic legislation like this has been sponsored by and supported by and husbanded through the Congress by Jennings Randolph.
A lot of these problems that arose, he very early—long before I got involved in politics at all—could see the threat to our country, and to see the culmination of his longstanding effort is indeed an inspiration to a President and also an inspiration to all those who admire you. Senator Randolph.
SENATOR RANDOLPH. Thank you very much, Mr. President.
You have been innovative, you've been creative, you've been well reasoned in what you have done so many times as President of the United States. You were very supportive; in fact you brought in a sense this legislation to the Hill. I will say for our committee—and I mention not by name but all members of our committee on Environment and Public Works-I thank them all, many who are here today, because we have never permitted in that committee the so-called mere partisanship and politics to surface. We've had our differences, to be sure, but we have worked together, and we believe that that's necessary.
So, I thank Bob Stafford, I thank all of the members, and Bob, of course, is moving up. [Laughter]
THE PRESIDENT. Because of that I want him to speak in a minute. [Laughter]
SENATOR RANDOLPH. I don't have this opportunity often enough—captive audiences. [Laughter] But I want to thank all the Members on the Hill and Doug Costle—here's Doug—and all of the people who are here that have been so helpful as individuals and through their organizations to bringing this good day. It is a good day.
I wish to add this, that for a long time we've been at this in our committee. We started 3 years ago, and we began to work and churn our way through the many problems that seemed unsolvable, at least in part. Now what you, Mr. President, and others have done is to bring to fruition not the final conclusion, but certainly a bold step forward in this effort to clean up the waste materials, the hazardous waste materials of this country that have afflicted the body politic and made our life less than the quality we hope will sometime come into being.
And so, I'd like to add this: We've been very haphazard over the years, as the American people, in handling and in the disposition of these hazardous wastes. So, again, I'm just so grateful for your words and for the opportunity to have worked with you and all others, all in this room, working towards something that calls for the best from the American people.
THE PRESIDENT. Well, I'd like to call now on the man who helped to resurrect this bill when we thought it might be doomed after the election returns came in, but, Senator Stafford, if you would say a few words.
SENATOR STAFFORD. Thank you very much, Mr. President.
A few months ago I didn't really think that we could achieve this moment, and getting this bill passed reminded me often of something like the "Perils of Pauline" as we tried to steer it from one crisis to another. But thanks to your help and everybody on the committees on both sides of the aisle, we now, I think, have an effective way of coping with the toxic releases in this country. And I'm just elated, as all of us are, that we've been able together to reach this point.
Thank you, sir.
THE PRESIDENT. Thank you.
There are many others on the various committees that I should designate for deserved recognition, but I'd like to call on Al Gore, who I think as far as the leadership in the House, really came to the forefront in the last few days, and on Rules Committee influence and others he performed a very notable function. Would you say a word, Congressman Gore?
REPRESENTATIVE GORE. Thank you very much, Mr. President.
Just briefly I'd like to personally thank you for those who worked hard on this legislation. It was of invaluable assistance to have the President of the United States on the telephone personally calling Members of the House and Senate, bending their ear on a regular basis, saying, "Vote for this legislation." It wouldn't have been passed without your help. I'd also like to thank the enthusiastic men and women that you brought to this city who worked tirelessly to get this legislation enacted, and they're in the Justice Department and in the EPA and on the White House staff. We couldn't have done it without them either.
Thank you, Mr. President.
THE PRESIDENT. Thank you.
And finally, I rarely call on any of my own Cabinet officers or agency heads to make a comment, but I would particularly like for Doug Costle to say a word or two. He doesn't know I'm going to call on him but—
MR. COSTLE. Thank you, Mr. President.
I think this bill is, in fact, very strong testimony to what has been a truly bipartisan effort in the last year, and I feel really undeserving to be here. The people who've done the work at EPA and on the Hill, the Members of the Congress, who have, in the face of a lot of pressures to go a different direction, who've stuck with it it just takes an enormous amount of effort and energy to get something like this to happen, and I just feel very moved this morning that it finally came to pass. Thank you, Mr. President.
THE PRESIDENT. I'd like to say one other word before I leave, and that is that I've noticed some analyses in the press and otherwise that the so-called lameduck Congress has not been productive. The legislation that has been passed in this last month has been truly extraordinary.
When I went down the list of key bills that I wanted to see put into law before I leave this office, back early in November, the list included things that we thought were highly doubtful: The reconciliation legislation, that not only saves more than $8 billion in deficits but also sets a precedent for the future, the paperwork bill, that I signed a few minutes ago, the Alaska lands bill, this bill on superfund, and others is a real testimony to a dynamic, hardworking, and very effective 96th Congress. And on behalf of my administration and the entire Nation, I want to express both my admiration for you and my appreciation to all the Members of the Congress for a superb achievement.
Thank you very much.
Note: The President spoke at 9:45 a.m. at the signing ceremony in the Cabinet Room at the White House.
As enacted, H.R. 7020 is Public 96-510, approved December 11.
Jimmy Carter, Remarks on Signing Into Law the Comprehensive Environmental Response, Compensation, and Liability Act of 1980 Online by Gerhard Peters and John T. Woolley, The American Presidency Project https://www.presidency.ucsb.edu/node/250524