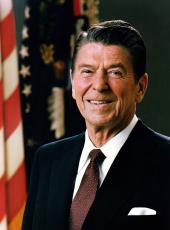 Remarks on Signing Executive Order 12360, Establishing the President's Task Force on Victims of Crime
The President. Ladies and gentlemen, I'd like to present first the Chairman of our task force on the matter that brings us here today, Lois Herrington.
Ms. Herrington. Thank you, Mr. President, Mr. Meese, and all the rest.
Today the President is creating a task force to study the problems of those who are victimized by crime. He is doing so because of his deep concern for these often forgotten citizens.
We give a great deal of attention to those who break the law, but the system often neglects those whose harm forms the very basis for the system's existence. This President wants to end that neglect. He cares about the problems of victims. Proclaiming Victims Week and creating this task force are certainly signs of the priority he has placed on meeting their needs.
Crime is a problem of major concern in America. We confront a situation in which people are afraid to be on the streets, and they are afraid in their homes where they expect to feel safe. The problems of crime and the victims left in its wake exist in every community and cut across every age, ethnic, and economic line. We must find a practical, effective, and humane way to deal with this crippling problem. It's clearly one which has many dimensions and which must be addressed in many different prospectives.
It will be the focus of this task force to study the problems of the victims. These victims include the most vulnerable and the least able to help themselves—the elderly, our children, the handicapped. They include the frightened, the homeowner who feels his home not to be a safe haven, the teacher and the student who find their schools unsafe, the owner of the small business, such as the small grocery store who's such a target for the armed robbers. They include those trapped and without options living in the most dangerous areas of our cities.
We will also consider the manner in which society itself is victimized, the changes this threat has forced on the way we live our lives, and the hidden costs in everything we buy imposed to cover theft and the protection against it.
After looking at these and a variety of other areas, we will prepare a report outlining the scope of the problems we find, as well as those solutions which public and private institutions can provide. And in conducting our investigation we will, of course, speak to all those in the system: the judges and the attorneys; the police; probation, correction officers.
But mostly, we want to hear from those who are our chief concern: the victims of the crime. Determining how best to deal with the victims and helping them through the first shock of the attack, protecting and guiding them through an often impersonal and threatening court system, ensuring that they have a chance to be heard, and helping to ensure they won't be harmed again is an enormous task and enormous challenge.
We may not be able to prevent this from being a country in which the innocent are victimized, but we can reduce the number of victims and ensure that those victims who remain are treated with care and concern.

Thank you. Thank you, Mr. President.

The President. Lois, thank you.
Well, as Lois has just told us, the innocent victims of crime have frequently been overlooked by our criminal justice system, and their pleas for justice have gone unheeded and their wounds—personal, emotional, and financial—have gone unattended. So, I'm signing today an Executive order establishing the President's Task Force on Victims of Crime.
This task force, which will involve both government officials and distinguished private citizens, will conduct a thorough review of national, State, and local policies and programs that affect victims of crime. It'll report later this year to me and to the Attorney General on how we can expand and improve our efforts at all levels of government to assist and protect our fellow citizens who are victimized by lawlessness.
I think it especially appropriate that this task force is being established during Crime Victims Week. In proclaiming Crime Victims Week, I stated that our commitment to criminal justice goes far deeper than our desire to punish the guilty or to deter those considering a lawless course. Our laws represent the collective moral voice of a free society—a voice that articulates our shared beliefs about the rules of civilized behavior. Both the observance of Crime Victims Week and the creation of this task force are entirely consistent with principles that lie at the heart of our nation's belief in freedom under law.
Those principles will lose their meaning and our citizens will lose faith in them if we concentrate solely on punishing criminals and ignore the suffering of those upon whom the criminals prey. They should not be treated as ciphers on a statistician's chart. They are our fellow citizens—human beings who have experienced the tragedies of grievous personal injury, lost homes, ruined businesses, stolen belongings, and even the death of loved ones because some among us choose in cruel and violent ways to defy the rule of law.
Our concern for crime victims rests on far more than simple recognition that it could happen to any of us. It's also rooted in the realization that regardless of who is victimized or the extent to which any one of us may personally be threatened, all of us have an interest in seeing that justice is done not only to the criminal but also for those who suffer the consequences of his crime.
In creating this task force, I have no naive or Pollyanna view of the scope of the problem that we face on—or the ease with which sound practical solutions can be developed and put into practice. But I am convinced both that we should and that we can achieve more than has been accomplished in the past.
This problem causes personal hardships that those who have not suffered directly at the hands of criminals can scarcely imagine. It merits our most serious attention. Moving closer to a solution will demand the best coordinated efforts of concerned private citizens and of responsible public officials at the Federal, State, and local levels. The task force is intended to help bring that about.
The Constitution that I'm sworn to uphold speaks in its first sentence of the importance of ensuring domestic tranquillity for our citizens. Consistent with that responsibility, I'm committed to elevating and improving our efforts on behalf of victims of crime. This task force is designed not simply to demonstrate our concern but to make a swift, serious, and substantial contribution to solving the problem.
I know that its members, under the chairmanship of Lois Herrington, will meet the challenge. I would only emphasize, as they begin their task, that all of us in the administration stand behind them, eager to contribute and assist in any way.

And now I shall sign the Executive order.
[The President signed the Executive order.]
Mission accomplished.
Reporter. Mr. President, are you going to see Francis Pym today—the Foreign Secretary, sir?
The President. It's a nice day. We'll talk about that later. [Laughter]
Note: The President spoke at 12:10 p.m. to reporters assembled in the Rose Garden at the White House.
Ronald Reagan, Remarks on Signing Executive Order 12360, Establishing the President's Task Force on Victims of Crime Online by Gerhard Peters and John T. Woolley, The American Presidency Project https://www.presidency.ucsb.edu/node/245268