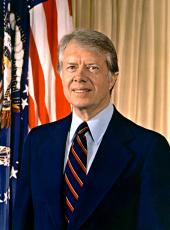 Remarks on Signing Executive Order 12153 on Price Controls on Heavy Crude Oil
To implement a program to reduce our excessive dependence on foreign oil is absolutely necessary to secure and to preserve our own Nation's security. We must at this time minimize both divisive debates and any further delay.
Our goals are, first of all, to encourage conservation to eliminate the waste of energy and, secondly, to increase production of energy in all forms in our own country. The Congress and, indeed, every single American must act both boldly and as soon as possible to carry out these two goals.
Today, as President, I'm taking action that will significantly increase production of American crude oil reserves, lifting price controls on heavy crude oil. This Executive order, which f will sign in a minute, coupled with other related actions, will increase crude oil production in our country by 1990 by about 500,000 barrels per day. Much of this increase will occur much earlier, between now and 1985, and, therefore, will make an immediate contribution to our Nation's security.
Our Nation is blessed with approximately 10 billion barrels of crude oil reserves which are heavy oil. Much of it's in California; other substantial reserves are in Mississippi, Louisiana, Texas, and Wyoming. However, this very thick, heavy oil is expensive to produce, because it's so difficult to extract from the ground and to transport to the refineries. The combination of high cost of the production and transportation, plus the previously existing price controls, have, indeed, impeded development of this important source of American energy.
Today's action will end this problem. Finally we'll be able to take advantage of a domestic energy source which can be the equivalent of all the oil that we know of in Alaska's Prudhoe Bay reserves. Heavy crude oil is one fuel which we can provide with important production incentives without having an adverse impact on inflation. The more domestic oil we produce, the less our Nation must depend on uncertain and extremely expensive foreign sources of oil.
With this action, I have taken all of the major steps on which I can act alone to accelerate domestic production. It's now up to Congress to act on the other proposals which I made to cut our import dependence.
Pending before Congress are a number of vitally important measures that can cut our dependence on foreign oil more than half by the year 1990. The most important of these, and the basis for all the others, is the windfall profits tax. The issue is simple—who will benefit from the increased prices of oil caused by decontrol, the oil companies or the American people? I'm determined that the American people will be the ones to benefit.
As I've emphasized over and over again, we need the revenues from the windfall profits tax to increase the production of synthetic fuels, to harness solar energy, to provide the means to spur energy conservation, to develop mass transit, and to help our poorest citizens to cope with rising energy prices.
The Senate Finance Committee, however, is currently considering some very broad exemptions to the tax, loopholes big' enough to sail an oiltanker through. In many cases, these exemptions will not increase American production at all. In some other cases, the exemptions or loopholes will increase American production a very small amount. The cost of that increased production will be enormous to the American people.
I've made my position clear on what should be done about energy. My proposals have been made both to the American people and to the Congress. As I travel through the heartland of America this coming week on kind of a working vacation, I intend to explain to the American people the magnitude of the choices which now are before the Congress. I'm confident that they will share my conviction that we need an effective windfall profits tax without major' exceptions and without unwarranted loopholes. Only then can our Nation be assured of the resources for genuine energy security for the United States.
Thank you very much.
Note: The President spoke at 1:03 p.m. to reporters assembled in the Oval Office at the White House.
Jimmy Carter, Remarks on Signing Executive Order 12153 on Price Controls on Heavy Crude Oil Online by Gerhard Peters and John T. Woolley, The American Presidency Project https://www.presidency.ucsb.edu/node/250354