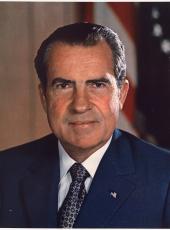 Remarks on Signing Bill Establishing the Lincoln Home National Historic Site in Springfield, Illinois
Governor Ogilvie, Congressman Findley, and our very distinguished guests on this historic occasion:
I am most honored to be here for the purpose of signing a bill which will continue a long tradition of the State of Illinois, the Land of Lincoln, of reminding the American people of this precious heritage. In signing that bill, I would like to pay tribute to all who helped to, first, propose it, and then to get it through the Congress, and particularly to Congressman Findley, your Congressman from this area. And to you, Governor Ogilvie, and to all of the people of both parties in this State of Illinois may I express the gratitude of a very grateful nation for what Illinois has done to preserve the Lincoln heritage.
I think, of course, of the Lincoln Tomb. I think of the Lincoln law office. We think, of course, today of the Lincoln Home--the only home, it is said, he really had and that he owned; where he lived for 17 years; where three of his sons were born, and one died. We think, of course, of this chamber--a restoration of the place where Lincoln spoke as a member of the Illinois Legislature--this chamber where so many years ago, perhaps before his Presidency his most famous speech was made, the "House Divided" speech, the one which may have led to his nomination and later his election to the Presidency of the United States.
So the Nation is grateful that the State of Illinois and the people of Illinois through the years, have done so much to preserve the Lincoln heritage so that hundreds of thousands, millions of people, particularly young Americans, can come here and see where this great man lived, where he worked, and to see, also, the people that he loved--because I think one of the most moving passages of Sandburg's "Life of Lincoln" was his quotation from one of Lincoln's last statements just before he left Springfield to go to Washington when he said, "I love the people here. To them, their kindness, their generosity, I owe everything that I am."
He spoke to them because he had lived among them, and I speak to you today as one who knows the people here, who knows this is the heartland of America, not just geographically but also because of so much that it represents in the history of our country.
Now, on this occasion, I would like also to relate the Lincoln legacy to the problems of the present.
In the White House we have many, many visitors from abroad. In fact, since I have been President of the United States, 50 heads of government or heads of state have visited Washington, and they have walked through the rooms of the White House, many of them for the first time. They know our history, many of them better than we know it.
Many of them have views with regard to who were the great Presidents. But if a vote were to be taken of all those that I have met, both here and abroad, I would say the overwhelming majority would vote that Abraham Lincoln was the greatest, the most revered of all of the American Presidents.
Why did they say that? Sometimes I have asked them why. They say, "Because he was such a good man. He was a kind man. He was a compassionate man. He was a man who was a leader in war who deeply believed in peace. He was an idealistic man who believed deeply in opportunity for all Americans, all people on this earth, regardless of their background and race or creed or color."
Because he stood for these things and lived for these things and died for these things, Lincoln is revered in America and revered in capitals around the world, I can assure you--in Africa, in Asia, in Latin America--wherever you may travel abroad.
That is not the whole Lincoln story, and that is not particularly the time that relates to the problems of today. What we must also remember is that Lincoln, while he was very kind and very compassionate, was a very strong man. He was a very competitive man. He argued almost 200 cases in the Supreme Court of the State of Illinois, and he always argued to win. He lost elections, and came back to win for the Presidency of the United States. He never gave up.
In his contests with the various generals, Lincoln, while he was always kind in handling them, could not accept or resign himself to temerity or timidity. After the great victory at Gettysburg, General Meade was dismissed, not because he had lost--because he had not-but because he did not follow up. Lincoln wanted to follow up and end the war. So we see this man, kind and compassionate and considerate on the one hand, but strong and competitive on the other.
Lincoln also had a very profound sense of destiny about the United States of America--what it was, what it meant to its own people, and what it meant to the world. We all remember what he said: that the United States of America was man's last, best hope on earth. But listen to when he said it. America then was far from being the strongest nation in the world; it was far from being the richest nation in the world; and it was sorely stricken and divided by a civil war, the most brutal war, perhaps, of the 19th century in terms of the casualties that were suffered.
Yet Lincoln, this man who could see beyond war and beyond strife and beyond weakness to the periods ahead, stood tall and said America is man's last, best hope on earth.
So the lesson for us becomes quite clear. This Nation, at this time when it is the strongest and the richest nation in the world, when the responsibility does lie upon us as to whether we grow up in a world of peace, whether we have a generation of peace, or whether we continue to have, as we have had every generation of this century, war after war--this Nation needs to remember the Lincoln legacy. It needs to revitalize in ourselves, in our young people, that sense of destiny that he had, and it needs that competitive spirit which he had in such enormous degree.
Let me address myself briefly to that point in relation to a statement I made just a couple of days ago. I spoke to the Nation about some actions that we were taking with regard to the American economy: the need to revalue the currencies of the world, to have a monetary system that would be more stable, the need also, on a temporary basis, to provide a surcharge on imports from abroad of 10 percent.
Some who read my remarks, and heard them, interpreted them incorrectly along these lines: "Well, finally America is going to build a wall around itself. We have got these competitors abroad, but we are really not able to compete with them, and so we will erect a wall around this country so that we can still go on, not competing, not trying quite as hard, not producing quite as much."
I can tell you that could be a very popular theme unless we thought as Lincoln would have thought. For this great Nation, at this time, to build a wall around itself; for it to withdraw from the competition of the world; for the United States of America to quit trying to be number one would be a very grave error, not because being number one in itself is a goal that we try to achieve, but because once an individual or once a nation ceases to try to do its best, to be number one, then that individual or that nation ceases to be a great individual, a great nation. It ceases to realize its total capabilities.
At this time in our history if the United States of America is to be able to provide the world leadership, to have the strength that we will need in the last quarter of this century, to keep the peace that we all want, it means that America must continue to have the economic strength and the economic power on which that military and diplomatic strength is based.
It also means that the United States of America and the American people must not resign ourselves at this time--must not take that easy way of saying that now that we have other great peoples in the world who were not our competitors 25 years ago, but now that they are competing with us, we will withdraw from the race; we will build a wall around ourselves and live as an island in the world community.
Let us remember: That would serve, perhaps, the moment; it would not be worthy of the destiny of this country that Lincoln spoke of so eloquently during his Presidency and before as well. Beyond that, let us also remember that the United States of America, at this time in history, not because we wanted it, not because we sought it, but because of the accident of history, is the only nation in the free world that has the potential capability and strength to provide the leadership that will build a world of peace, a world in which we can have peaceful competition.
What does this require of each of us? It requires a sense of destiny about America. It requires a renewal of the competitive spirit of this country. It requires that each of us give more of ourselves in whatever job that we have, whatever calling we have, to do our best, not just enough to get by. And in doing that we will have a realization and a satisfaction for ourselves that we would never have by having America, at this time, resigning itself to be second or third or fourth, 10, 15, or 25 years from now.
I am rather sure that if Abraham Lincoln were standing again in this place, as he stood here 110 years ago, he would perhaps say some of the things I have tried to say. I am sure that he would say, as I will now say, that we can, at this point in our history, nobly save or meanly lose man's last, best hope on earth.
I am confident that from the heartland of America will come the spirit that America needs that will say to the whole world, "We shall nobly save man's last, best hope on earth."
Thank you.
Note: The President spoke at 12:17 p.m. in the Old Capitol Building.
As enacted, the bill (H.R. 9798) is Public Law 92-127 (85 Stat. 347).
On the same day, the White House released an announcement of the bill signing and a fact sheet detailing the history of the Lincoln home, plans for its restoration, and places of historic interest located nearby.
Richard Nixon, Remarks on Signing Bill Establishing the Lincoln Home National Historic Site in Springfield, Illinois Online by Gerhard Peters and John T. Woolley, The American Presidency Project https://www.presidency.ucsb.edu/node/240614