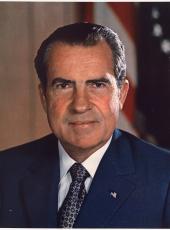 Remarks on Signing a Bill Amending the Federal Crop Insurance Act
I just want to say to the Future Farmers of America--and this is your meeting-that on several occasions during the time I have been in office over the past 3 years, I have welcomed delegations from the Future Farmers at the White House, usually your leaders, either in my Oval Office or in the Cabinet Room. This is a larger group. I did meet one of the larger groups, a group about this size, I think it was in 1971.
Each time I have had the occasion to extend greetings to you, say the things that we usually say to young Americans and particularly to young Americans who are leaders, as you are, in your communities across this country. But today, I told my staff that I thought we ought to try to do something different.
Now, when you ask for something different, of course, you just can't make it up, but we found there was something that could be done today that was very significant, very significant that tied in directly to the Future Farmers of America, and this brings me to the occasion that you will now witness, an occasion of some historical importance, but an occasion which is very important to you and your future.
Generally, when bills are signed, they are signed by the President in his office. Often, however, a bill is considered to be so important to the national interest that it is signed in public before the television cameras and the newspapermen and the others, with Members of the House and the Senate who have been instrumental in getting the legislation through, in this case, of course, Senator Dole and Congressman Mathias and Congressman Poage, who is the chairman of the Agriculture Committee in the House of Representatives.
Now the Federal Crop Insurance Act is one that would not normally be a bill that would be signed in the presence of television cameras, because it is one that has almost unanimous support in the House and the Senate. It is a very important piece of legislation, but not being controversial, it isn't one that really makes news. But this year something different happened, and that brings me to you.
When this bill was up for consideration on the floor of the Senate, Senator Dole, reflecting on a letter he had received from one of his constituents, told this story.
An application had been made for Federal crop insurance by a Kansas farmer [Gary Atkinson]. The Kansas farmer completely complied with every requirement of the law. He was a good risk, he was entitled to the insurance, but he was turned down. He was turned down for only one reason. He was only 19 years of age.
And Senator Dole pointed out that this was unfair, that if an individual completely complied with all the requirements to get crop insurance he should not be turned down simply because of his age and particularly in view of the fact that we had had the historic action taken last year of reducing the voting age to 18.
So, Senator Dole, responding to the letter he had received from Gary Atkinson, who is standing on my right--and his fiancé on the right of Senator Dole, who is separating the two at the moment-but in any event, Senator Dole introduced an amendment in the Senate and that amendment was passed.
As a result of that amendment being passed, it is now in this bill that I am going to sign.
Now that story, it seems to me, tells us three things that are very' important to you and important to the country. First, it shows you that your Government is responsive. It doesn't mean that every time you write a Senator or Congressman you are going to get what you want, but it does mean if you have got a good case, you write to your Senator or your Congressman and he can get it into law. It happened. Gary Atkinson knows and all of you know, being below 21 years of age, that now if you are farmers that you and other young people in the future can apply for crop insurance.
The second thing that it tells us is that there is really a future, a great future for young people in farming. I had not realized, except for meeting with groups like this, how important that future was. But I can certainly say that having met you, having realized that here was a young farmer who could apply for and receive crop insurance, that this indicates that that future is indeed a bright one.
When we hear that only the old people are in farming, that no young people are coming in, all they have to do is to look at this group of young people and you know that farming has a future in America.
The point, of course, is that this shows, finally, that your Government has faith in young people. We believe you are a good risk. We believe you can help to build a better America--not just a better farming community, but a better America for all of us.
That is what this signing ceremony is going to indicate and that is why in this very historic room, the State Dining Room of the White House, we are glad to welcome you, representing the leadership of the Future Farmers of America. Because on this day, by the action that we take, we are demonstrating your Government is responsive, we are demonstrating your Government has confidence and faith in young Americans, and we are demonstrating that farming has a future, a great future.
It is in that spirit that I now will sign the bill and after signing it, I will give the two signing pens, one to Senator Dole and the other to Gary Atkinson, but since there are so many here, and also several other distinguished Members of the Congress, I found that we just have enough pens to go around to every one of you when I finish the signing.
[At this point, the President signed the bill. He then turned to Gary Atkinson and his finance, Dianne Ryff, and resumed speaking.]
Is there a minister in the house? I just thought you might as well get married now.
Well in any event, we congratulate you in advance and we want all of you to know that you are always welcome in this house, because this house belongs to all the American people and particularly to the young people of America, because in this house is your future.
Thank you.
NOTE: The President spoke at 12:14 p.m. in the State Dining Room at the White House. He spoke without referring to notes.
As enacted, the bill (S. 1139) is Public Law 92-357 (86 Stat. 501).
A summary of the highlights of the bill, released the same day by the White House, is printed in the Weekly Compilation of Presidential Documents (vol. 8, p. 1186).
Richard Nixon, Remarks on Signing a Bill Amending the Federal Crop Insurance Act Online by Gerhard Peters and John T. Woolley, The American Presidency Project https://www.presidency.ucsb.edu/node/254674