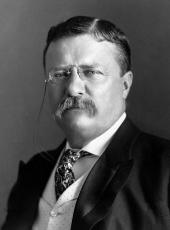 Remarks in Sharpsburg, Iowa
My friends and fellow citizens:
I wish to say what a pleasure it is to me to greet you this morning and how I appreciate your coming to see me— the men and the small folks. I am an expert in those for I have six myself, and as I believe in your stock I want to see it kept up. It is a great pleasure to me to come through your beautiful state and to see your prosperity, a prosperity due in part to your soil and climate, but due mainly to the character of your men and women. That is the all important factor in determining the upgrowth of any state of the Union. We need good laws, we need good, honest and fearless administration of the laws, and we need to have the laws administered without respect to persons so that whether a man be rich or poor, whether he be in one occupation or another, he shall be held to accountability under the law and protected by the law. In the long run, as I said, it is the character of the individual man or individual woman that counts most in the making up of a state. Exactly as in the army, I care not what the training is, or what the weapons are, you can get but little fight out of the army if the average soldier has not the fight in him. So it is in citizenship. There are other nations which have copied our constitution and our laws, but the result has been wholly different because they did not have the type of citizen behind the law. As in battle it is the man behind the gun that counts, so in a community it is the men back of the law that count most. Upon them must we rely for proper results under our constitution and our laws. I greet you, I believe in you with all my heart. I think that Iowa's future will be even greater than her past. I wish you good luck.
Theodore Roosevelt, Remarks in Sharpsburg, Iowa Online by Gerhard Peters and John T. Woolley, The American Presidency Project https://www.presidency.ucsb.edu/node/343429