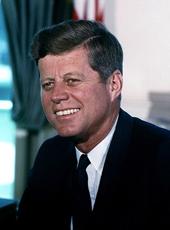 Remarks of Senator John F. Kennedy, York County Fair, York, PA
Senator KENNEDY. Thank you very much. I want to express my great appreciation for a very nice introduction by a distinguished son of the great State of Pennsylvania, former Governor Leader. I appreciate that very much, indeed.
I am delighted to be here with Governor Lawrence, who has traveled with me through this State today. I must say that the Pennsylvania Dutch have been very generous since early morning.
I come as the standard bearer for the Democratic Party which is, as you know, the oldest political party in the history of this country, dating back all the way to Thomas Jefferson and Andrew Jackson. Our roots are deep in the soil of the United States. We represent the only national party in this country. We represent farmers in Maine, steelworkers in Pennsylvania, and farmers in Pennsylvania. We represent farmers and pioneers in the State of Alaska and ranchers in Texas. I think the great contribution which the Democratic Party has made since its earliest inception has been its sense of looking forward to the new, of breaking new ground. Jefferson did it. Jackson did it. Cleveland did it. Woodrow Wilson stood for the New Freedom, Franklin Roosevelt for the New Deal, Harry Truman for the Fair Deal, Adlai Stevenson for the New America, and now I run on a platform which I call the New Frontier. [Applause.]
No Democratic President in this century has run on a plank or a platform or a program which can be entitled as McKinley's was, "Stand Pat With McKinley." No Democratic President kept cool with Coolidge or returned to normalcy with Harding or had enough in 1946 or today, "You never had it so good." I think this country has not had it so good. I am not pleased as an American, nor do I feel secure as a citizen of the free world, to see the power and prestige and the influence from the United States declining in relation to that of the Communist world, because there are no second chances in this life; there are no chances that we can turn to other powers to defend our interests, as in World War I and World War II when other countries turned to help us. We stand as the last thin line between the spread of communism and a free world. If we fail here, if we don't fulfill our potential, if our society is not expanding and developing, then we fail not only ourselves but we fail the cause of freedom.
I don't think since the time of Athens, 2,000 years ago, has any people had placed upon them the same burden of responsibilities that we have placed here. Until we build a strong country here, until we have full employment in the United States, until our economy is expanding, until there is a sense of vitality here in this country in our life, then our influence will spread, or if it does not it won't spread.
Latin America, Africa, and Asia stand today on a thin line of decision, attempting to determine which way the future lies. Does it lie with Khrushchev and Peking or does it lie with us? I think it lies with us, but I think it must be made to lie with us by our own efforts and our own exertions. I don't run for the office of the Presidency promising an easy life, and I don't run for the office of the Presidency promising that if I am elected the problems of this country will be over. They won't be over. I think our life will be hazardous in the 1960's and 1970's. But I think if we remain strong here, if we have a defense second to none, if our economy is expanding, then I think the world will determine that the future lies with us. If we ever stayed second to the Soviet Union or the Chinese, if our economy is on a plateau, if we are not moving ahead in this country, then we won't move ahead around the world.
In the next 10 years the United States is going to have to find 25,000 new jobs a week if we are going to maintain full employment for our population. I don't think the Republican Party in the last 8 years or in this century has been willing to take this country and move it forward as Franklin Roosevelt and Wilson did in their day. I think we have a great opportunity for service. I ask your help in this campaign. I ask you to join with me in a journey into the 1960's, whereby we will mold our strength and become first again, not "first, if," not "first, but," and not "first, when," but "first." And I want the people of the world to wake up and wonder not what Mr. Khrushchev is doing or what the Chinese Communists are doing, but I want them to wonder what the United States is doing. I ask your help in this campaign. Thank you. [Applause.]
John F. Kennedy, Remarks of Senator John F. Kennedy, York County Fair, York, PA Online by Gerhard Peters and John T. Woolley, The American Presidency Project https://www.presidency.ucsb.edu/node/274741