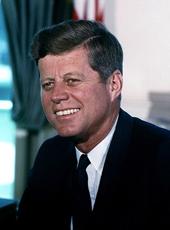 Remarks of Senator John F. Kennedy, Westward Ho Hotel Democratic Breakfast, Phoenix, AZ
Senator KENNEDY. My friend and colleague in the House, whom I am confident will be the next Congressman from this district, Congressman Harless, Congressman Stewart Udall, Lee Ackerman [applause] - Lee Ackerman to be the Governor of the great State of Arizona [applause] - there is not any doubt that it is possible to assemble a group of Democrats in Arizona at any hour of the day or night. Myself and other candidates are delighted to be here at 3 o'clock in the morning or at 9 o'clock in the morning because we are here for a good cause. I understand that Senator Goldwater sent a wire to Nelson Rockefeller a few days ago saying Arizona is in the bag. Well, it seems to me it is a mighty thin bag.
I was not aware that there had been an election here. Votes are not going to be counted until Tuesday, November 8. Mr. Nixon has not got any votes yet, and neither do I, and I believe that in the next 4 or 5 days, if we can keep working, if we can keep emphasizing how important it is for Arizona and the country that the United States look forward and move forward in the sixties, we will just take it right out of Barry Goldwater's bag. [Applause.]
In any case, we will make it easy for him to be a candidate in 1964. That is the least we can do for a favorite son. [Laughter.]
I am informed that time is short. Let me just say that this has been a long and somewhat arduous campaign, but as time has gone on, and I have had a chance to listen in more detail to the views expounded by Mr. Nixon as the leader of his party, as the leader of the Republican Party, I become more convinced than ever that it is important that we win this one. This is an important election. It involves the future of this country. The Presidency is a key office, holding great power and influence, given to it by the Constitution, and also given to it by the course of events. We cannot possibly afford in these difficult times, when the President of the United States must set before the American people the unfinished business of our society, we cannot possibly afford to put the chief responsibility upon those who look back. I come to Arizona, which is a State which has gained from looking ahead, which has seen its resources prosper by those willing to commit themselves to future investment, which has seen its country grow, and I come here to Arizona which has an overwhelming Democratic majority to tell you that on this occasion we led a national Democratic Party that is moving forward, that is moving across the country, and I want to see Arizona commit itself with the rest of the United States to this kind of Democratic Party. [Applause.] I think it would be wonderful for all concerned if the Arizona Republic had to print across the front of its pages Wednesday morning, November 9, "Kennedy Carries Arizona".
John F. Kennedy, Remarks of Senator John F. Kennedy, Westward Ho Hotel Democratic Breakfast, Phoenix, AZ Online by Gerhard Peters and John T. Woolley, The American Presidency Project https://www.presidency.ucsb.edu/node/274270