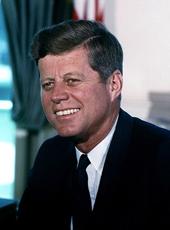 Remarks of Senator John F. Kennedy, War Memorial Auditorium Steps, Nashville, TN - (Advance Release Text)
Today I stand on ground hallowed by a first citizen of Nashville, of Tennessee, and of America - Andrew Jackson. I come here as the standard bearer of the party which he helped to build - and as the latest in the long line of those who have worked to carry on in his tradition - to build a more abundant, a stronger, and a greater nation.
Nearly 150 years ago from the Hermitage only a few miles away - Andrew Jackson issued a proclamation to rouse the citizens of Tennessee against the threat from abroad which was to become the War of 1812. Volunteer to Arms he called that proclamation, and in it he reminded the men of Tennessee that they were different from "the titled slaves of George II" and the "frozen peasants" of Russia. "We are freeborn sons", he said, "We are going to fight for the reestablishment of our national character."
Today we too are faced with a threat from abroad - today we too must be aroused to the struggle. And today the Democratic Party is again preparing to fight for the reestablishment of our national character.
That is what the New Frontier is all about - the challenge to all Americans to rebuild our national strength - to strive toward new heights of greatness - to start America moving again.
Andrew Jackson is a symbol of that challenge. But he is not Tennessee's only symbol. For here the Tennessee Valley Authority stands as a monument to the courage and capacity and imagination of the American people - and as a reminder that the past 8 years have seen stagnation and retreat in nearly all the aspects of our national life.
To the people of the Tennessee Valley, the initials TVA stand for far more than Tennessee Valley Authority. They stand for more business, more jobs, richer farms - and a better life for all your people. They have meant the difference between hardship and opportunity, between stagnation and advance. They mean aluminum and chemicals and textiles. And today they mean Oak Ridge where the secrets of atomic energy are being harnessed for the benefit of a future America - and your great university medical center working toward the control of cancer.
But TVA is not only a symbol of a more fruitful life to all your people - it is a symbol and a challenge for all Americans. For here under the New Deal of Franklin Roosevelt -Americans proved that they could think and act in large terms; that they could deal with the Nation's urgent problems with boldness and imagination and on a scale undreamt of in modern history. George Norris, one of the founders of TVA, was not a citizen of Tennessee. He came from Nebraska. But he saw beyond the borders of Nebraska - beyond the Midwest - to an America of abundance and hope for all its people.
The Republicans of today have lost the vision of George Norris. They have failed to grasp the meaning and importance of TVA for all America. During the 20 Democratic years of Franklin Roosevelt and Harry Truman, 20 new dams were built into the TVA system. During the past 8 years work has begun on only one dam - and that was started only because a Democratic Senate, led by Senator Gore and Senator Kefauver, fought for action over Republican Opposition. Dams such as the Cordell Hull Dam near Carthage, and the Barkley Dam near the Kentucky line have already had the approval of a Democratic Congress - but have not been started because of Republican reaction. The Percy Priest Dam, near Nashville, only awaits the establishment of a cost ratio before being built.
Beginning in 1960 we will return to the vigor and leadership of the Roosevelt administration. We will reverse the disastrous Republican record of no new starts - not only the no new starts in the Tennessee Valley, but throughout this Nation, wherever great rivers flow unharnessed to the sea where growing population and industry increase their need for power and water.
We pledge ourselves to a dynamic program for resource development, not as a party which speaks of TVA as a "magnificent experiment" down here, but as "creeping socialism" in Washington. But as a party which has always believed in TVA and in developing all the resources of our great land - the Democratic Party of Andrew Jackson.
And the development of our resources is not only important to America at home - it is vital to the cause of peace throughout the world. All over the globe new and struggling nations are working to eliminate poverty and misery - to emerge from their economic backwardness into the 20th century.
They are looking for leadership and help in this effort. The great issue of our time is whether they will look to Moscow for this leadership - or whether they will look to America.
Only an America which is developing its own resources - only an America with a growing and vital economy - only an America which is meeting the needs of its own people - only such an America can prove that the road to progress is freedom's road, and provide the leadership which can check the spread of communism, and begin the spread of freedom to all corners of the globe.
John F. Kennedy, Remarks of Senator John F. Kennedy, War Memorial Auditorium Steps, Nashville, TN - (Advance Release Text) Online by Gerhard Peters and John T. Woolley, The American Presidency Project https://www.presidency.ucsb.edu/node/274420