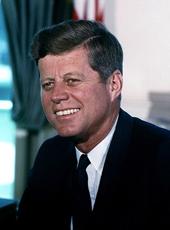 Remarks of Senator John F. Kennedy, Troy, NY
Senator KENNEDY. Mr. Mayor ladies and gentlemen, first of all, I would like to have you meet Congressman O'Brien from this district. [Applause.] Stick with O'Brien and Kennedy. We want you to go all the way with us. [Applause.]
I want to express my thanks to all of you. I run for the office of the Presidency in a difficult time. About 15 miles from here the independence of the United States was saved at the Battle of Saratoga. Now, as every generation of Americans has had its responsibility to maintain freedom in its time, I think the most serious challenge comes in our generation. Here in the United States we are defending not only ourselves, but we also defend the case of freedom. If we build a strong and vital country here, we affect not only our own independence and those directly allied with us; we also affect the security of all those who wish to follow in the same road that we take. Therefore, I think this generation of Americans has special responsibilities and special obligations. My own feeling is that it is incumbent upon us to build a strong and vigorous economic society here in the United States. If we are maintaining full employment, if we are using our productive capacity to the fullest, if we are building a better society here, then it reflects itself around the globe.
I think our obligation is to concern ourselves with our country here, and then hold out the hand of friendship to all those who wish to follow on our road. [Applause.]
I think that in the administration of the next President of the United States, particularly if he is reelected, we will begin to see the world move, either in the direction of freedom or in the direction of Russia and China, and I think this decision can be made in the next 10 years. I think it is possible for us to reestablish ourselves as a strong and vital country, to demonstrate that our capacity for leadership is still unfilled, to show the people of Africa and Latin America and Asia, who look at Mr. Khrushchev now and look at Castro, and wonder whether they represent the new way to the future. I don't believe they do. I think we do. But I think it is up to us to demonstrate that we have vitality. I think the people of the world should wonder what the President of the United States is doing, not what Mr. Khrushchev is doing. [Applause.)
So I come here to Troy and ask your support. The name of Troy goes back in history. Therefore, in this city you connect the old with the new but the cause is still the same, the maintenance of freedom, the maintenance of self-government, at a time when it is under far more serious challenges than the city of ancient Troy ever faced. I come to Troy and ask your help in this campaign. [Applause.] Does anybody have any questions for 1 or 2 minutes, and then we will proceed on
Thank you very much.
Robert Frost from nearby Vermont once wrote a poem which I will paraphrase:
"I will hitch my wagon to a mule

For I have promises to keep

And miles to go before I sleep."
Thank you. [Applause.]
John F. Kennedy, Remarks of Senator John F. Kennedy, Troy, NY Online by Gerhard Peters and John T. Woolley, The American Presidency Project https://www.presidency.ucsb.edu/node/274787