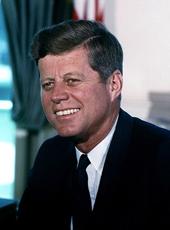 Remarks by Senator John F. Kennedy, Street Rally, Phoenix, AZ - (Advance Release Text)
I believe a strong America is a growing America - a nation that is developing all its resources - economic, human and natural - to the fullest extent.
In the past 8 years we have neglected the development of these vital resources. And nowhere has this neglect been more glaring than in the development of our abundant natural resources - the water, and power, and timber, and land - which has been the foundation of American greatness in the past, and which is the key to our future strength.
The development of these resources is not just a problem for the West. For the strong America which we all seek can only be built on a foundation of expanding natural wealth. It was because they were building a strong America that two easterners, Theodore Roosevelt and Franklin Roosevelt, led the fight for the conservation and development of our natural resources. And it is because he lacks faith in a strong America that a son of the West, a son of California, Richard Nixon, has failed to support the development of our natural resources. At the end of the next 15 years there will be 230 million Americans, a vastly increased industrial and business plant. And the West will grow four times as fast as the rest of the country.
To meet the expanded needs of our people and our industry we will need twice as much water, 3 1/2 million more acres of productive land, three times as much power and millions more acres for wildlife and for recreation.
If future generations are to have the resources on which their prosperity and strength will depend this generation of Americans must immediately undertake the programs of development which alone can assure the safety of the future.
Yet in the past 8 years we have not only failed to provide for future needs, we have not even met our needs of today.
Today there are 40 million Americans on the edge of a serious water shortage - water tables are falling everywhere. In east Texas, for example, water is being pumped out of the ground 140 times faster than it is being replenished. And industrialization of the West is being held up because water supplies are not adequate.
Today two-thirds of our farmland is not protected by proper soil conservation and half the public rangeland faces severe erosion. As a result millions of acres are washed away by recurrent floods while other millions are burned off by recurrent droughts.
Today nearly every major waterway in the United States is polluted - and the Public Health Service has estimated that we need more than 12,000 waste disposal systems to protect our water and our health.
Today floods take a toll of about a billion dollars a year as well as an incalculable toll in human welfare.
No matter to which of our natural resources you look, the record is the same: Unmet needs, wasted abundance, destroyed timber or power or opportunity for recreation.
And these failures have been the failures of Mr. Nixon and the Republicans. It was Mr. Nixon himself who in 1951 voted to kill the Southwestern Power Administration which supplies power for your REA co-ops. But Democratic opposition preserved the Administration.
It was Mr. Nixon himself, who, in 1951, voted to kill the central Arizona project bill. And Republican opposition ended this project. It was Mr. Nixon himself who voted, in 1952, to eliminate funds for road construction and schools on Arizona's Indian reservations.
It was Mr. Nixon himself who, in the past 8 years, supported Secretary of Agriculture Benson's program which closed all regional offices of the Soil Conservation Service, liquidated all plant and tree nurseries, cut manpower, attempted to reduce conservation appropriations, and, when the Democrats appropriated more money, impounded portions of the additional funds. As a result only one-quarter of vitally needed soil conservation has been completed and at the current rate our present needs will not be met until the year 2000.
It was Mr. Nixon himself who backed Republican reductions in appropriations for flood control work in the 11 authorized watersheds and who supported Republican opposition to a Democratic bill for small watershed management. The bill was passed, but Republican hostility has caused more than a thousand applications for watershed planning assistance to pile up in Mr. Benson's office.
It was Mr. Nixon himself who supported the Republican veto of the Water Pollution Control Act which would have permitted the Federal Government to help the State build badly needed sewage treatment plants.
It was Mr. Nixon himself who helped to formulate the Republican policy of "no new starts" which brought development of our river systems to a virtual halt, and has let 90 million kilowatts of potential power and 675 million acre-feet of water go unused.
And it was Mr. Nixon himself who concurred in administration opposition to the building of saline water conversion demonstration plants, research to turn salt water into fresh; and to research into weather modification to use modern science to bring rain to our arid lands.
This is the record of Mr. Nixon and the Republicans, an unparalleled waste and neglect of our natural resources - waste and neglect which has been justified in the name of economy. Even by the narrow dollars and cents standard of the Republicans these failures have been inexcusable. Investments in forest development have always returned better than 5 percent interest, the $3 1/2 billion we have spent on reclamation has returned more than $5 billion in direct taxes from reclamation projects and the trade areas they support, the $3.8 billion we have spent on flood control projects has prevented an estimated $9 billion worth of floods, and we have paid out, and will pay out, almost twice as much in emergency funds for drought relief as it would cost to end those droughts.
But the failures of Mr. Nixon and the Republicans cannot be measured only in terms of dollars and cents. They have taken an immense toll in the welfare of our people, in the slowdown in our economic growth, and in the weakening of the basic foundation of American strength today and for generations to come.
If we are to have a strong America we must develop our great resources.
First, we must rebuild the historic resource programs which are the proud heritage of Teddy Roosevelt and Franklin Roosevelt, reversing the policy of no new starts, pressing forward with forest development, water development, power development, soil conservation and all the rest, and passing effective legislation to control the pollution of our water and our air.
Second, we must expand research to adapt the new tools of modern science to our resource needs, seeking new breakthroughs in converting salt water into fresh, controlling weather, using atomic energy to increase our oil and mineral resources and developing new techniques of conservation.
Third, we must recognize the increasing interdependence of all our resource needs by establishing, in the office of the President, a council of resource and conservation advisers to conduct a continuous appraisal of our resource needs, inventory our resource potential, and formulate a resource program to meet the needs of a growing population and an expanding economy.
Fourth, we must put the financing of our resource programs on a business-like basis by using accounting methods which reflect the long-term return which investment in resource projects will yield, thus showing the true value of these projects, their real cost, and the nature of our investment in America's future.
A Senator from South Carolina said in 1843 that "To talk about constructing a railroad to the western shore of this continent manifests a wild spirit of adventure which I never expected to hear broached in the Senate of the United States."
That Senator would have felt very much at home with the Republican Party of the past 8 years but the spirit he represents, the spirit of timidity and little faith in the future will be driven from the White House next week and a Democratic administration, imbued with the same spirit of wild adventure will embark upon the great task of building a strong America.
John F. Kennedy, Remarks by Senator John F. Kennedy, Street Rally, Phoenix, AZ - (Advance Release Text) Online by Gerhard Peters and John T. Woolley, The American Presidency Project https://www.presidency.ucsb.edu/node/274274