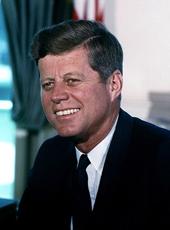 Remarks of Senator John F. Kennedy, Rosen Apartments, Philadelphia, PA
Senator KENNEDY. Thank you. Ladies and gentlemen, Congressmen, Mr. Mayor, I come here today as the Democratic candidate for the Presidency of the United States to ask your support on Tuesday, November 8.
On Tuesday, November 8, a week from tomorrow, you have to make your judgment as to which candidate, which party, which political philosophy you support. Do you see these houses? They are built partly by the public housing program of the Government. Do you know what the Republican Party and Mr. Nixon have done? They voted against it every single year. [Applause.] You don't have to look around you, you don't have to look very far to see the differences between the candidates. In 1949, and most of these housing projects were initiated in the Housing Act of 1949, Mr. Nixon voted against the Housing Act of 1949, and so did most of the Republicans. Public housing has been a Democratic program. Every year your Congressman and those of us in the Senate have tried to increase the program, and every year the Republicans have voted against it.
No. 2, we talk about civil rights. In 1953 and 1954 the Republicans controlled the House, the Senate, and the White House. There was no civil rights bill that ever saw the light of day in either the House or the Senate, and why not? Because the Republican Party was not for it, and neither was Mr. Nixon. [Applause.]
In the late forties, Mr. Nixon and I were both members of the Labor Committee. There were seven votes on FEPC, fair employment. Mr. Nixon voted against it, every single time, and I voted for it. Minimum wage - I see some signs waved around by great supportcrs of Mr. Nixon. I want to ask them three questions. They talk about prosperity:
No.1, Mr. Nixon says $1.25 a hour minimum wage is extreme. Ninety percent of the Republicans voted against it. The average wage for laundrywomen in five large cities of this country, and most of them are Negroes, is 65 cents an hour for a 48-hour week. Mr. Nixon says $1.25 an hour is extreme, and they wave a sign about prosperity. [Applause.]
Secondly, we have fought for medical care for the aged tied to social security. Mr. Nixon says it is extreme. Mr. Nixon leads the same party that voted 90 percent against the social security in the midthirties and vote 90 percent against the medical care for the aged tied to social security in 1960. Anybody who wants that kind of progress, anybody who wants that kind of prosperity, anybody who wants a pafty that is against housing, minimum wage, social security, equal opportunity, civil rights [response from the audience].
And with Martin Luther King in jail Mr. Nixon's headquarters issued a statement "No comment." If that is what you want, you can have him. But I think you will agree with me that it is time that America moved forward. [Applause.] Thank you.
John F. Kennedy, Remarks of Senator John F. Kennedy, Rosen Apartments, Philadelphia, PA Online by Gerhard Peters and John T. Woolley, The American Presidency Project https://www.presidency.ucsb.edu/node/274839