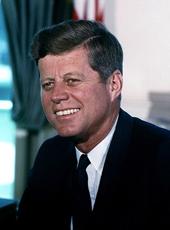 Remarks of Senator John F. Kennedy, Queens County Women's Luncheon, Queens, NY
Senator KENNEDY. Ladies and gentlemen, I want to thank you all very much. This campaign is coming to an end on Tuesday, and I hope that Queens, of all the rest, will be with us. This is an important campaign.
Ladies and gentlemen, I come here at the end of this campaign, we have 24, 48, 72 hours left - about 60 hours left, fortunately, before all of this is over. I hope that in the next few days it is possible for us to keep working, to keep looking forward, to keep progressive, to keep bringing the American people the issues in this campaign, and the issues are not only the Republican and the Democratic Parties, but the issues are between those of us who believe that this country is going to have its best years in the 1960's, is going to meet its responsibilities, and between those in the Republican Party who have opposed progress throughout this century. I come here to Queens and ask your help. This is a district which has been hotly contested in previous presidential elections. It can make a great possible difference in carrying the State of New York. New York is essential for the success of any President, 45 electoral votes. There is no other State to compete with. In the same way that securing the support of New York made it possible to be nominated, securing the support of New York may well make it possible to be elected President of the United States.
So, ladies, I come here and ask your help. Don't keep quiet for the next few days. Speak up and say a good word for your distinguished Congressman, your candidate for the assembly, your candidates for the various local offices, and also a chance to point out that every American, regardless of his job, regardless of his position, his future and that of his family is vitally affected by the good judgment of the President of the United States. And I think in the last week we have had a good chance to assay the good judgment of the two candidates, how they approach this campaign, what their reaction has been to it, how they responded to the pressure which goes with a presidential campaign. We have discussed the issues. We are going to continue to do so. And I believe that on Tuesday night, a majority of the people of this country will decide the same way that we decide, and that is that this country, if it is going to move ahead, if it is going to maintain the peace, if it is going to be strong and respected abroad, it will be because we are strong and vital and secure here at home.
I believe the Democratic Party can do the job best, and I come and ask your help in doing it. [Applause.] Thank you. There is an old saying, never send a boy to do a man's job, send a lady. So I am going to send all of you. [Applause.] These, I understand, are presented to me, but I will also present them to my wife, as we will have need for them in about a month. Thank you. [Applause.]
John F. Kennedy, Remarks of Senator John F. Kennedy, Queens County Women's Luncheon, Queens, NY Online by Gerhard Peters and John T. Woolley, The American Presidency Project https://www.presidency.ucsb.edu/node/274457