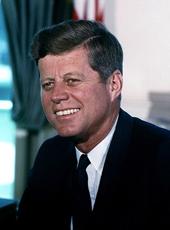 Remarks of Senator John F. Kennedy, Penn Fruit Shopping Center, Philadelphia, PA
Senator KENNEDY. My friend and colleague in the Congress, Mrs. Granahan, who speaks for this district in the Congress, and also speaks for the United States - I am sure she is going to be reelected by an overwhelming margin; Congressman Green, Mayor Dilworth, committeemen, ladies and gentlemen, thank you very much for coming today. We begin today the last week of this campaign, which will come to a conclusion on Monday night, 7 days from now. In the next 7 days, I will travel in 17 states to carry this message, and the message simply is this: This is a choice for the United States not merely between two men, Mr. Nixon and myself, but I think it is a choice really not just between two parties, the Republican Party and the Democratic Party. It is a choice between two different conceptions of the United States, its past history, its need for action, its position in the world, and I take the view that the 1960's can be the best years of the United States or we can continue to slide and drift.
I come here to Philadelphia and to Pennsylvania and ask your help in this campaign. I believe that the United States [applause] - I believe that the United States cannot possibly afford 4 years of Republican leadership under Mr. Nixon [Applause.] On all the great issues of the last 25 years, the issues of progress, of mutual security, of national preparedness, of national strength, the development of our resources, the education of our children, jobs for men and women of working age, security for our older citizens, the Republican Party and the Democratic Party have differed, and we have come down on side of progress. The Republican Party has opposed every action, and Mr. Nixon has associated himself with that opposition to every action for the benefit of our people. [Applause.]
I don't think the United States can be secure in the world, I don't think the United States can lead a great free world alliance, unless it is leading its own people. The people of the world are not so much interested in being allies of the United States as they are in joining a great effort to maintain their freedom, to defeat ignorance, disease, and those enemies of the human race which make life so difficult for people around the globe. That is the great struggle in the sixties. Unless we are prepared to associate with them in their efforts to provide a better life for their own people, they will not associate with us in the defense of freedom, and we cannot hold out a helping hand, we cannot identify ourselves with them, in Latin America, in Africa or Asia, unless we are moving here at home, unless we have an administration and a President and a Congress which identifies itself with our own people, with their needs. I have traveled in the last 3 days in Pennsylvania through some of the most hard-hit areas of the United States, where men have been out of work not for just 2 months, but 5, 6, 7, 8, 9, 10, and a year. I spoke to three unemployed fellow workers who have been out of work since last April.
Mr. Nixon may go through the country saying this is the greatest prosperity we have ever had, but I don't think it is good enough. Mr. Nixon may be satisfied when we build 30 percent less homes this year than last year, Mr. Nixon and the Republicans may be satisfied to defeat medical care for our older citizens, to prevent and fail to support better education for our children, to make it possible for every bright boy and girl to see the inside of a college and develop his talents. [Applause.]
The point of the matter is that the Republican Party and Mr. Nixon in his 14 years of association with it have not stood for progress, have not stood for breaking new ground, have not stood for breaking new frontiers, and I believe in the 1960's if the United States is going to fulfill its potential, if we are going to fulfill the destiny which is in store for us in the sixties, if we are going to be the leader of freedom, we are going to have to move here at home. [Applause.]
I come to Philadelphia and ask your help in this campaign. This election is the means to an end, and the end is a great, stronger, and growing America. I come here to Philadelphia and ask your help. I can assure you that if we are successful that this State and country will move again. Thank you. [Applause.]
John F. Kennedy, Remarks of Senator John F. Kennedy, Penn Fruit Shopping Center, Philadelphia, PA Online by Gerhard Peters and John T. Woolley, The American Presidency Project https://www.presidency.ucsb.edu/node/274837