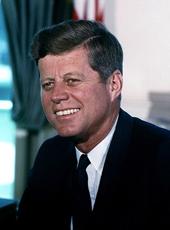 Remarks of Senator John F. Kennedy, Pat Clancy Dinner, Astor Hotel, New York, NY
Senator KENNEDY. My friend Bob Wagner, guest of honor Pat Clancy, Reverend Clergy, Bert Kobler, Frank O'Connor, ladies and gentlemen, I am grateful to Bob Wagner. He and I are graduates of the Al Smith school of dinners of last night. [Laughter.] The Vice President claimed Al Smith for his work in his latter years and I claimed him for his work in the 1928 campaign. Neither one of us indicated what Al Smith would do in 1960. It is possible he would have voted Republican but I think he would have prayed Democratic this year. [Laughter and applause.]
In any case, I am delighted to be here, because Pat Clancy and Bert and the members of the Queens group were generous enough to support me at the convention, and if I had not been supported by New York, I would not have been nominated. [Applause.] And if I had not been nominated, I would not have taken that fine drive with Bob Wagner yesterday, and over there with Joe Sharkey tonight. I want to tell you there are still some Democrats in Brooklyn. I don't know what the New York Daily News will report about Brooklyn but the sample we took tonight is very good.
I come here tonight as the standard bearer for the Democratic Party and that I do with a sense of responsibility. To lead a great party on any occasion is a burden, is an obligation, to lead a great party in an election like 1960 where I think the issues are quite sharp, where I think the matters in dispute are of great importance, where the burdens that the next President will bear are extremely heavy, where the responsibilities that the citizens of this country will meet in the coming year must make us all conscious that to be a citizen of the United States in the 1960's will be a hazardous occupation.
A political campaign, I think, should be more than just a contest between two men or two political parties. In a very real sense, it should be a time of decision for the Nation, and my judgment is that if we are successful, it will be because the American people have decided for their own good and because they are conscious of their responsibilities to the cause of freedom that it is time this country started to move again. That really is the issue of the 1960 campaign. It is not merely a contest between Mr. Nixon and myself. It is not really just a contest between our two political parties. It is a contest between two views of where the United States stands in 1960, and where it must stand in the sixties if it is going to not only endure but prevail as a great, free country. That is why I think this election is important. [Applause.]
I want to pay tribute to the Democratic organization of Queens. This organization made it possible for Franklin Roosevelt in another time to be elected President of the United States. Earlier it made it possible for Woodrow Wilson to be elected President of the United States. By your actions up to the election time of Franklin Roosevelt in 1932 this organization played a part in all the things that he did that were of service to the country.
In 1960, if we are successful, your commitment to the Democratic Party, your efforts in this campaign, do not stop with November 8. All that we do, all that we are able to do in meeting our responsibilities, if I am successful, as President of the United States, you will participate in. [Applause.]
Political action is the highest responsihility of a citizen. I hold the view that any American in these times should be willing to accept the discipline of political action. By your being willing to do it, by your making it possible for us to win this campaign, as I hope we will, you then participate not only in the struggle of election, but you participate in all that is done afterward. And it is my hope that what is done afterward will make you feel that your efforts have been worthwhile. So I come here tonight to join you in paying tribute to a citizen who has met his responsibilities as a citizen, who has shown versatility in meeting his obligation, head of the chamber of commerce, as an attorney, as a political leader. He has met his obligation to Queens, to New York and to the country. And as one who is attempting to do the same in a difficult time, I am honored to have the chance to come and pay tribute to him. I admire him. He has been a friend of mine, and as the mayor said, I feel on these occasions it is a privilege to come and join you.
This is an important election. Whoever wins New York will be the next President of the United States. [Applause.] And I think it is very possible that whoever carries Queens will be the next President of the United States. [Applause.]
Queens is going Democratic in local elections, with Jimmy Delaney and all the rest, but it goes Republican nationally. That is a terrible habit. [Laughter.] I hope you will be voting Democratic locally and nationally. Actually I have been encouraged in the developments this week, particularly with what happened to the New York Yankees. Casey Stengel's experience shows that perhaps experience does not count. I believe that we can win this election. [Applause and laughter.]
So I come to you tonight. We have about 2 1/2 weeks to go but I stand on the right hand of Mr. Clancy on this occasion, whether elected to continue as a Senator in the days to come, I will also stand with him if elected President of the United States. I will consider it an honor to join you on any occasion that you pay him tribute. Thank you. [Applause.]
John F. Kennedy, Remarks of Senator John F. Kennedy, Pat Clancy Dinner, Astor Hotel, New York, NY Online by Gerhard Peters and John T. Woolley, The American Presidency Project https://www.presidency.ucsb.edu/node/274369