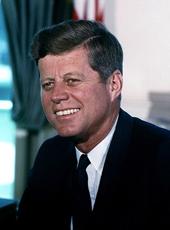 Remarks of Senator John F. Kennedy, New Fieldhouse, Moline, IL
SENATOR KENNEDY. I want to thank Judge Kerner, who I am confident will make a distinguished Governor of the State of Illinois. [Applause.] My friend and colleague, Senator Paul Douglas, who has served Illinois and the country [applause] in war and peace, John Watson, who will he a distinguished Congressman from this congressional district and speak for it, and for the United States [applause]; our neighbor from across the river, Lieutenant Governor of Iowa and the next Governor, Nick McManus [applause]; ladies and gentlemen, we have come to Illinois, which Mr. Nixon keeps insisting he is going to carry, because we have a different view of it. [Response from the audience.] We have come to Illinois because here in the heartland of the United States this election may well be decided, and I believe Illinois and the United States are going to choose to move forward in 1960 and are going to support the Democratic Party on this great occasion. [Applause.] This is not merely a contest between Mr. Nixon and myself. In a real sense, it is not merely a contest between the Republican Party and the Democratic Party. It is a contest between the comfortable and the concerned, between those who say what we are now doing is good enough, and those who wish to move this country in the 1960's. [Applause.]
I believe that here in this State of Illinois, and in the neighboring State of Iowa, all of the problems which the United States has are incarnated in this State, education, the decline in agriculture, unemployment, layoffs at farm implement machinery, civil rights, better housing, a stronger State, a growing State, a growing country, a stronger country, the cause of freedom around the world. They are all linked together. When farm implement workers in this community are laid off it is tied to a decline in agricultural income, which is tied to a decline in steel production, which is tied to a decline in national strength, which is tied to a lack of leadership in our country. [Applause.]
They are all tied together. There are no domestic issues and foreign issues. There are issues which are tied together, tied together to bring a stronger America, and if this country is strong then we are strong around the world. All of the speeches, all of the statements, all of the propaganda that we send around the world means nothing next to our own record. What we are speaks louder than what we say, and if we are moving here at home, if we find imaginative solutions for the problems that disturb us, if we are providing full employment for our people, if we are providing the best educational system in the world, if we are developing our natural resources, if we are holding out a hand of friendship to people who look to us for help, then we are not only secure but freedom, itself, is strong and growing. Mr. Khrushchev's power in the world rests on the economic productivity of the Communist system. The strength of freedom in the world and its vitality rests upon the economic productivity of the United States, and one of the great issues of this campaign, an issue which up to now Mr. Nixon has not discussed, is how this country is going to provide full employment for our people in the sixties, how we are going to find 25,000 new jobs a week every week for the next 10 years; how we are going to find a rising income for our farmers; how we are going to build a stronger America. I believe the record of our party and the record of the candidates in this great question is on our side. We have committed ourselves as a political party for the last 25 years to progress. The Republican Party nor Mr. Nixon have made that their best known products. [Applause.]
Now, as a voter in the United States, and your obligation comes on November 8 when you must make the decision yourselves, as to what kind of State and what kind of country you want, all of the things that we now argue about, all of the facts that the two sides bring out, I believe you, yourselves, can make the judgment upon, and it depends really on what kind of a country you want, what kind of a State you want, whether you believe that this country must pick itself up again, whether you believe that we are sliding, whether you believe we are doing enough. Your answer to that question determines which candidate and which party you will vote for.
Now, in making your judgment, I would listen to more than the campaign speeches of all the candidates. As Governor Smith used to say, I would look at the record. The Bible said it even more eloquently. "By their fruits you shall know them."
Mr. Nixon's record is written in 14 years in the Congress and so is mine. We have voted time and again on the great issues which now disturb us. And I believe it a matter of public importance that that record should be spread out alongside the speeches of this campaign. [Applause.]
First on the question of agriculture, Mr. Nixon now puts the blame on Mr. Benson's lack, and I quote him, "of ability and success." But only a few years ago he called Mr. Benson one of the best Secretaries of Agriculture in our history. He proposes in his new farm program a substantial expansion of the conservation reserve, and yet as the Republican Senator from California, and as Vice President, he voted six times in 3 years to cut Democratic appropriations for soil conservation. He says now we should accelerate our efforts in underdeveloped nations to stimulate commercial markets for our farm people. But when in 1952 the Department of Agriculture sought funds for this very purpose, Mr. Nixon voted to cut it. By their fruits you shall know them. [Applause.]
Secondly is the Nixon gap. As an amateur student of American history I know very few candidates for office whose speeches and record are so far apart. [Applause.] A second important problem for the people of this country is how we can maintain the best educational system in the world. Democracy demands more of us than any other system of education, character, self-restraint, self-discipline. How are we going to get the best education in the world? One of the ways is to have the best-trained teachers. The Vice President defeated funds for higher teacher salaries only a few days after he made a speech in Chicago calling for higher teacher salaries. His campaign position on paper supports Federal grants to school districts, burdened by Federal employees or Federal installations. But as a Senator he voted to cut the heart out of the program. He calls now for matching grants to private colleges and universities so that every talented student can go to college. But when that fight was being waged a few years ago he termed such a program, an I quote him, "undesirable." He calls now for a program of loans and grants for college classrooms and dormitories. And we are going to have to build more dormitories and classrooms in the next 10 years in this country than we have in our history. In 10 years we are going to have to build as many classrooms and dormitories as we have built in 170 years in order to take care of the number of boys and girls who will be applying for our colleges in 1970. And yet when this very proposal to provide loans for this purpose passed the Congress, this administration vetoed the bill twice, and Mr. Nixon never said a word. [Applause.]
The third area of concern to us all is the Nation's health, and Mr. Nixon has an interesting experience in that regard. His new position paper calls for matching grants to expand medical schools, dental schools, and medical research facilities, and help for our medical students as well - a wonderful program. But as Republican Senator he voted against that very same program. He calls for increased appropriations for medical research, but he never lifted his finger when that program was slashed for the last 8 years. He insists now that our older citizens have medical care, but he called the bill which Senator Douglas and I fought for in the Senate in August, he called it extreme to provide medical care for the aged under social security, and it was voted against by 32 out of 33 Republicans. He now talks about improving social security coverage, but as a Congressman he voted against it every single time. [Applause.]
This State of Illinois depends upon REA power and so does the United States to light our farms. Mr. Nixon now says we must produce the power we need at the lowest possible cost. But the record shows that as a Congressman and Senator, he voted four times against the appropriations for REA, four times against the TVA, and consistently against the power development and transmission lines in the Missouri Valley, the Grand Coulee, Bonneville, and the Bureau of Reclamation.
The housing - if there is any State in the Union that needs housing more, it is Illinois, unless it is my own State of Massachusetts. [Applause.] There are 15 million American homes, according to the last Bureau of the Census, which are substandard. Mr. Nixon has issued a paper on housing, and this, I think, is most revealing of all and one of the most endearing qualities of the Vice President. In his position paper issued in New York within the last 3 weeks, he says that the Housing Act of 1949 has worked very well, and do you know as a Congressman he voted against it? [Laughter and applause.] In that position paper he called for greater emphasis on middle-income housing and he voted against that in 1950. He calls for a greater flow of housing credit so that the American people can buy homes at low rates of interest. But he neglects to mention his vote as Vice President to increase the interest rates on the GI housing bans.
High interest rates never built a single home and one of the reasons why we are building 200,000 less homes each year than we should to keep up with our population increase is because of the high interest rate policy of this administration. [Applause.]
Seventh, and finally, is the gap between his promise and performance in the field of civil rights. We hear a good deal in the winter and the fall of 1960 about civil rights. Do you know in 1953 and 1954 the Republicans controlled the House, the Senate, and the White House, and do you know no civil rights bill ever came to the floor of either body? It was not until 1957 that we passed the bill on voting, and again this year. Mr. Nixon's own record - he sends Senator Goldwater to campaign in the South and says he does not mean any of the promises he makes, and sends Senator Scott of Pennsylvania, an erstwhile member of the truth squad, who flunks his test, to travel through the North and say he means it all. [Laughter and applause.]
Senator Scott was removed from the truth squad because he told the truth in one of the visits and they could not stand it. [Laughter and applause.]
I must say the Vice President does show some signs of tension. Now he blames me for the increase in the cost of gold on the London market.
Mr. Nixon, if you are listening, I did not do it, I promise you. [Laughter and applause.]
Well, there is the record and I think the people of this country ought to know the record. When I drive by in Washington down Pennsylvania Avenue on the way to the Capitol, you pass the Archives Building, and there is carved in stone the words "What is past is prologue," and I believe the people of this country, the people of this city, the people of this State who are about to make a decision to entrust the leadership of this country to one of two candidates should know the record, and they are entrusting the job of President of the United States in the most difficult and dangerous time in the life of our country, and as a citizen of this country who has served in the Congress for 14 years, I can say not as a Democratic standard bearer, but as an assured citizen, that this country cannot possibly afford to drift in the next few years, cannot possibly afford to stand still. It affects not only our own security - it affects the hope of freedom of all those who look to us for hope. This is an important election, involving a high office, involving the future of this great country, and I come here tonight and ask your help in this campaign. I ask you to join us. [Applause.]
I can assure you that if we are successful on November 8, we will set before this State and country the unfinished business of the American society and this country will move again. Thank you. [Applause.]
John F. Kennedy, Remarks of Senator John F. Kennedy, New Fieldhouse, Moline, IL Online by Gerhard Peters and John T. Woolley, The American Presidency Project https://www.presidency.ucsb.edu/node/274577