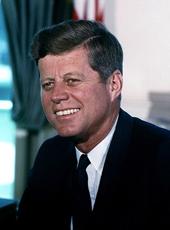 Remarks of Senator John F. Kennedy, Muncie, IN
Senator KENNEDY. Matt Welsh, who I am sure is going to be Governor of this State, Senator Vance Hartke, Mr. Mayor, ladies and gentlemen: I want to express my thanks to you for coming here today. I believe that we have in Indiana a tough fight, but my judgment is that Indiana, which has not supported the national ticket of the Democratic Party since 1936, has had enough. [Applause] I cannot believe that this State, which depends upon its farm economy, which depends upon its industrial economy, I cannot believe that the people of Indiana are going to endorse any program which says you never had it so good. I believe we can do better, and I come here to Indiana today and ask your support as a Democrat, as a Democratic candidate for the office of the Presidency. [Applause.]
The United States throughout its history has moved back and forth like a pendulum between the Republican and the Democratic Party. It has chosen on some occasions the conservative course, and on other occasions it has looked ahead. I believe that this year, like 1912, when Woodrow Wilson ran against Taft and won, and like 1932, when Franklin Roosevelt ran against Herbert Hoover and won, and 1948, when Harry Truman ran against Dewey and won, I believe in 1960 when we run against Mr. Nixon, we are going to win. [Applause.]
Mr. Nixon said the other night in Boston that I was another Truman. I regard it as a compliment, and I returned it to him - [applause] - and I suggested that perhaps he was another Dewey. [Laughter.] I believe the issue is very clear, and the people of this State should understand them. They are between a party which regards $1.25 minimum wage as too extreme, a party and a candidate which regards medical care for the aged tied to social security as too extreme, between a party which vetoes an area redevelopment bill as too extreme, between a party which regards a progressive farm policy which will bring supply and demand into balance as too extreme.
Now, if you regard those programs as extreme, I believe you should support Mr. Nixon and the Republican Party. But if you believe that you cannot have a prosperous town in this State if your agricultural income continues to drop, if you recognize that under the program which Mr. Nixon put forward, which is a continuation of the Benson program, and corn which sold 8 years ago for $1.50 sells in this State at 95 cents today, will sell next year at 80 cents, and down and down it will go, because this administration's farm program provides for a free market price, and the free market price for corn in this country with unlimited production will take that down at least 20 percent below what it is selling at today, and if any merchant in this State feels he can prosper with corn on the downward trend, with unemployment in this State, at 6.8 percent to 7 percent, any merchant in this country who feels he can move forward when steel production is at 50 percent of capacity, which it is in the United States, when 7 out of 8 International Harvester plants in Illinois closed down in the last 2 weeks, and they may open some of them in October - if that is the kind of country you want and that is the kind of economy you believe in, if those are the programs you want, I believe you should vote for Mr. Nixon. But if you believe it is time this country moved forward, if you believe we have stood on dead center long enough, if you believe that the balance of power in the world should shift in our direction instead of against us, if you believe that the United States should be first - not first but, if, sometimes or perhaps, but first, period. I want your help. '[Applause.]
When the United States is second in space, when we turn out one half as many scientists and engineers, the Soviet Union, when their economic growth is three times ours now, and Western Germany, Italy, and France twice the growth, when we have to find 25,000 new jobs a week for the next 10 years to maintain full employment in Indiana and the country, I cannot believe that the people of this State and the people of the United States are going to give an endorsement and continue that leadership.
I ask you to join us in moving ahead. I ask you to put your confidence in our party and in our leadership, a leadership which in this century has produced Mr. Truman and Mr. Roosevelt and Mr. Wilson. I do not ask you to put your confidence in a leadership in this century which has produced Mr. McKinley and Coolidge and Harding and Hoover and Landon and Dewey and now in 1960, Mr. Nixon. I believe we can do better. [Applause.]
This is a hard campaign and it is closely fought, and it is very close, in this State and around the country, and it is going to be closely fought until November 8, but in the final analysis you have to make your judgment, as to what you want this country to be, the kind of leadership which you want, whether you want the President of the United States and the Congress to place before the American people the unfinished business of our society, and then start this country moving again. [Applause.]
I ask your help in this election and ask you to join us in moving ahead to the new frontier. [Applause.]
One hundred years ago, in the campaign of 1860, Abraham Lincoln wrote a friend, "I know there is a God, and that He hates injustice. I see the storm coming, and I know His hand is in it. But if He has a place and a part for me, I believe that I am ready."
Now, 100 years later, in the most trying period in the life of this country, when freedom is undergoing its most severe test, we know there is a God and we know He hates injustice, and we see the storm coming. But if He has a place and a part for us, I believe that we are ready. I ask your help. [Applause.]
John F. Kennedy, Remarks of Senator John F. Kennedy, Muncie, IN Online by Gerhard Peters and John T. Woolley, The American Presidency Project https://www.presidency.ucsb.edu/node/274412