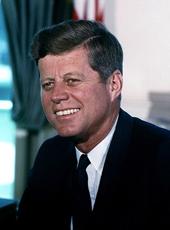 Remarks of Senator John F. Kennedy, Martin's Store, Fulton and Duffield, Brooklyn, NY
Senator KENNEDY. I come here tonight to ask your support in this campaign. I think this campaign in its own way and considering the problems that our country faces is as important as the campaign of 1932 that elected Franklin Roosevelt President of the United States.
Put your thumb down regardless of what you do. We are fighting a candidate, the Republican Party, that for 20 years has opposed what the people need, minimum wage, housing, unemployment compensation. The real issue is which party and which candidate can best strengthen the United States, can best serve the public interest.
I run against a candidate who in 1960 says we have never had it so good. As a Democratic candidate for the Presidency, I run on a platform that this is a great country that must be greater, a powerful country that must be more powerful, and the chief responsibility of the next President of the United States is to build the strength of America, and when we build the strength of America, we build the strength of freedom. We oppose those who wish to stand as we are, and I come over here to Brooklyn, a Democratic county, and ask your support in this campaign. [Applause.]
This is a contest between the comfortable and the concerned, and here in Brooklyn they are concerned as they are all over America. I come over here and ask your help. [Applause.]
John F. Kennedy, Remarks of Senator John F. Kennedy, Martin's Store, Fulton and Duffield, Brooklyn, NY Online by Gerhard Peters and John T. Woolley, The American Presidency Project https://www.presidency.ucsb.edu/node/274346