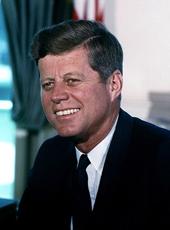 Remarks of Senator John F. Kennedy, Liberty Mall, Cook Memorial Library, Libertyville, IL
Senator KENNEDY. Senator Douglas, Judge Kerner, our congressional candidates, the next Congressman Tyler Thompson - Tyler Thompson is running for Congress from this district, and I would like to introduce my sister, Eunice Shriver, who lives in Chicago, Ill., Mrs. Sargent Shriver. [Applause.] I have sisters living in all the key electoral States in preparation for this campaign.
Ladies and gentlemen, I want to express my appreciation to all of you for coming this morning. I believe that you come here this morning whether you are Republicans or Democrats or independents because this is an important election for a great office in a great country. I run for the office of the Presidency after 14 years in the Congress with full recognition of the responsibilities of that office. Only the President of the United States can speak for this country. Only the President of the United States can place before the American people the unfinished business of our society. And I come here this year on this campaign to ask your support in building a stronger State and building a stronger country. [Applause.]
I want to make it very clear, I want to make it very clear that basic issues - maybe we can put all the signs down. Can we all put the signs down and we will have a chance to see everything - even that Kennedy sign. [Laughter.]
If the Nixon signs would drop also, then we can get in touch with everybody. [Laughter.] Thank you.
Now, can anybody hear anything over this microphone? You can't hear anything? I would like to have you hear what I am going to say, so we will try to get this fixed. [Applause.]
Well, here is what I want to say. It is going to be a 3-minute speech, so let us see if I can get in touch with you for 3 minutes. I think this is an important election for the Presidency because I think the Presidency is important. What are the issues that separate Mr. Nixon and myself? They are briefly this: I don't believe that the United States is meeting its responsibilities to itself and to those around the world who look to it for leadership. Now, why do I say that? I say it because I don't believe that we can possibly be satisfied as Americans with the rate of growth in our economy. We are using today only 50 percent of the capacity of our steel mills. We have seen a sharp decline in agricultural income. We have not maintained a rate of increase in education necessary to provide the best educated citizens in the world. We have permitted our influence and prestige to decline in Latin America, Africa and Asia.
Now, what does prestige mean? Prestige means power and influence, and our ability to persuade people to follow our leadership. That is what is involved in this dispute. The question of whether America represents as strong and vigorous an image as it did years ago goes to the security of everyone who lives in Libertyville. You have to decide as Americans whether you believe what we are doing now is good enough or whether you take the view that we must do better. That is what separates Mr. Nixon and myself.
He campaigns on the slogan, "We've never had it so good." He says our prestige is the highest in history. He says our strength is growing. He says that everything that must be done is being done in good measure. I want to make it very clear that I could not disagree more, and I say that not as a Democrat, but as a concerned citizen of this country. I believe if America is going to maintain its position in the world, if we are going to maintain our freedom, if we are going to maintain the peace, if we are going to prevent the balance of power in the world from shifting from us to the Communists, we are going to have to do much better, we are going to have to set before this country its unfinished business. We are going to have to go to work again. We are going to have to build in this country a strong and vital society that spreads its influence around the world. I don't think we have been doing it. I am not satisfied with our record, and that is the issue which you must determine. You have to decide as citizens of this community whether you are satisfied, whether you feel that the record of the last years is encouraging enough to you that you want to continue it, or whether you feel it is time to start again picking this country up and moving it forward. That is the issue that you have to decide. [Applause.]
This is a contest between the concerned and the comfortable, and you have to decide what you are, comfortable or concerned. Whether you look to the future or whether you wish to stand still. I want to make it very clear that the next 5 years are going to be decisive years in the life of our country. We are concerned in this community of Libertyville not only with your own life here, but with Africa, Asia, the far side of space, and the inside of men's minds. Because I know you are concerned, because I know you share the same view of a great country which must fulfill its destiny, I come to this community, the home of a distinguished American, Governor Stevenson, I come here in 1960 and ask your help in this campaign. I ask your support. I ask you to join me in setting before the American people the image of an America on the move, moving once again, fulfilling its expectations, spreading its influence, demonstrating that we represent the way of the future. On that basis, I ask your support. Thank you. [Applause.]
John F. Kennedy, Remarks of Senator John F. Kennedy, Liberty Mall, Cook Memorial Library, Libertyville, IL Online by Gerhard Peters and John T. Woolley, The American Presidency Project https://www.presidency.ucsb.edu/node/274615