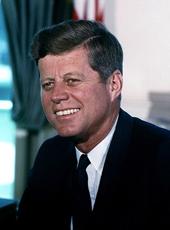 Remarks of Senator John F. Kennedy, I.L.G.W.U. Rally, New York, NY - (Advance Release Text)
The basic Republican argument against oar programs always is: America cannot afford it. They say the businessman cannot afford better schools, better pay for oar teachers, better homes, better medical care for the aged.
The Republican Party says, in short, that we cannot afford prosperity for all Americans. I am not talking about prosperity for our largest banks, our largest defense contractors, or our largest investors who have made record profits under the high interest rate procurement and tax policies of this administration.
I am talking about prosperity for all the people - for the women in some of our largest stores who are being paid 65 cents an hour - for the retired cutter who cannot pay his medical bills on an average social security check of $72 a month - for the unemployed fitter who must support his family on an unemployment check averaging less than $35 a week - for the Negro accountant who has to take a job as a messenger - for the Puerto Rican lawyer who has to drive a truck - the children who have to grow up in overcrowded slums and go to overcrowded schools - they are not sharing in what Mr. Nixon calls unprecedented prosperity.
But to meet their needs effectively, according to Mr. Nixon, would take higher taxes or inflation. I think we can meet these needs and expand our economy so dynamically and run our Government so efficiently that we can secure these goals without either higher taxes or inflation.
In short, the essential difference between the Republican Party and its candidate and the Democratic Party and its candidate boils down to this: We both agree that this is the richest country on earth but they say we can't afford prosperity for all the people and I say we can't afford another recession.
The Wall Street Journal and most leading economists say we are already in our third recession in 6 years. They point to the decline in our gross national product, the decline in the workweek, the decline in carloadings, retail sales, and almost every other major index.
But a third recession would have tragic effects at home far beyond any economic indicator. It would be a tragedy for those individuals and communities who have not yet recovered from the last recession. It would be a tragedy for those who are forced out of work, for the families they cannot support, for the merchants whose bills they cannot pay. It would be a tragedy for the businessman forced into bankruptcy and it would be a tragedy for a whole Nation that can ill afford idle men and idle machines at this hour in our history.
Only a prosperous America can support the defense outlays we need to safeguard the West against a surprise nuclear attack. Only a prosperous America can help strengthen the economies of less stable areas of freedom around the world. Only a prosperous America, in short, can be a strong America - and we cannot afford to be anything but stronger than we are today.
The Republicans are right when they say we can't afford everything. We can't afford poverty. We can't afford to overcrowd millions of families in broken down, neglected, unsanitary fire traps that produce disease and crime and urban decay, and cost the American people hundreds of millions of dollars every year.
We cannot afford overcrowded schools, with inadequate facilities and underpaid teachers. The cost of better schools is repaid a hundred times in political, economic, scientific, and medical progress. But the cost of poor schools, the cost of children who never develop their talents, the cost of voters who are uninformed, the cost of the doctor shortage, the engineer shortage, the teacher shortage and all the rest, is a cost which can never be recovered and which we cannot afford.
Finally, we cannot afford waste, we cannot afford to waste people and that means we cannot afford racial and religious discrimination. Every time a member of a minority group is denied opportunity to work at the job he is capable of doing, every time he is denied an education that will develop his talents fully, every time he is condemned to live in a home that stunts the health and warps the minds of his children, we are wasting our Nation's most precious resource: people.
I say we can do better. I say we can afford prosperity. I say we can make the motto of the New Frontier these words of Thomas Wolf:
To every man, regardless of his birth, his shining, golden opportunity - to every man the right to live, to work, to be himself and to become whatever thing his manhood and his vision can combine to make - this, seeker, is the promise of America.
John F. Kennedy, Remarks of Senator John F. Kennedy, I.L.G.W.U. Rally, New York, NY - (Advance Release Text) Online by Gerhard Peters and John T. Woolley, The American Presidency Project https://www.presidency.ucsb.edu/node/274692