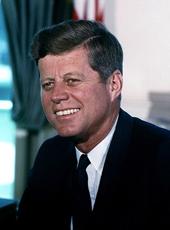 Remarks of Senator John F. Kennedy, Hellriegel's Inn, Painesville, Ohio
Senator KENNEDY. Governor Di Salle, Senator Lausche, Congressman Bob Cook, ladies and gentlemen, I want to express my thanks to all of you and particularly to the Governor, Senator Lausche, to Senator Young and Bob Cook for their kindness in coming with us today and to all of you. This is not a contest merely between the Vice President of the United States and myself. This is a contest between two parties. It is a contest between those of us who believe that the best days of the United States are still ahead, who believe that it is the function of our generation and our time to contribute to the strengthening of the United States. It is a contest between those who believe that the future can be better for our people and it is a contest between those who say "Yes" to the next 10 years and those who say "No" or "Maybe." I think in that contest, the American people want to look ahead. This is a difficult and close fight. There is not any doubt in my mind that Ohio will play a key role in that contest.
In 1948 President Truman carried this State by 7,000 votes. He carried Illinois by 13,000 votes. A change of 3,500 or 4,000 votes might have lost him that presidential election. It may be close again. It is going to be decided in these large States from Illinois east - Illinois, Ohio, Michigan, Pennsylvania, New Jersey, and New York, which have a large number of electoral votes and which any candidate for the Presidency this year must carry. So I come to Ohio again as I did last Sunday, to ask your help in this campaign. I received the support of the Ohio delegation at the national convention, and without it I would not have been nominated. Now, having been nominated, I ask your help once again. I think that there is a real opportunity for all of us to be of service to this country. It deserves the best of us. I think over the next 6 years, if we can meet our obligation to present the issues to the American people so that they have a clearcut alternative, so that they recognize the choice that is before them, then we will have fulfilled our responsibility, and the final judgment is theirs.
I hope that we are successful. But we are meeting our responsibility constitutionally and to the system during the campaign. There are many issues which face Ohio and face the country during the next 5 to 10 years. This is a growing State. The St. Lawrence Seaway can mean a good deal to you. But if we are going to maintain full employment in the State, if we are going to realize the opportunities that are before our people, I think that it requires the Democratic Party, it requires your help and it requires Ohio. I would appreciate it if you would carry it along now in Ohio during the next 6 weeks. [Applause.]
John F. Kennedy, Remarks of Senator John F. Kennedy, Hellriegel's Inn, Painesville, Ohio Online by Gerhard Peters and John T. Woolley, The American Presidency Project https://www.presidency.ucsb.edu/node/274677