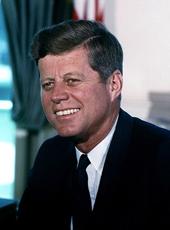 Remarks of Senator John F. Kennedy, Flint, MI, Labor Day Rally
Senator KENNEDY. Governor Williams, distinguished guests, I don't see how the Flint High School football team ever loses any football game with that cheering section. [Laughter and applause.] If you are not busy for the next 2 months in school, we will be glad to take you with us all around the United States. [Laughter and applause.] Senator McNamara, my friend and colleague who sits next to me in the Senate and advises me always right, Lieutenant Governor and Governor-To-Be John Swainson, Governor Church, Otis Smith, and all the Democrats who are here today who believe that we must win this election, ladies and gentlemen. [Applause.] I come here today to participate in this Labor Day and I come here today as the Democratic candidate for the Presidency of the United States, and I come here today and ask your support in that election. [Applause.]
I have served for 14 years on the Labor Committees of the House and the Senate, and year after year, in issue after issue, issues which are important to the working men and women of this country, I have seen liberal Democrats fight for progressive legislation and I have seen the Republican Party vote against them. This is an important election because in this election we are going to determine which way this country is going to go, whether we are going to move ahead or whether we are going to stand still. The record of the Democratic Party in this century is written in the names and the records of four great men, Woodrow Wilson, Franklin Roosevelt, Harry Truman, Mennen Williams, and all the others who carried our banner. [Applause.]
I divide the issues which face us as a country domestically into two categories: First, I think it is necessary that we finish the job which Wilson and Roosevelt began, the fight for medical care for the aged, for minimum wage of $1.25, for Federal aid to education, for housing, for a better life for all Americans under a system of equality for all Americans, and then I say that there are new problems which Woodrow Wilson, Franklin Roosevelt, and Harry Truman never heard of in their generation.
In my race for the Presidency I traveled in many primaries and in many States, in the deserted textile towns ot New Hampshire, in the deserted farms of Wisconsin, in the deserted coal mines of West Virginia, in the lumber fields of Oregon, where men were out of work, even though we needed housing. I saw within the industrial history of those towns one of the great problems which the United States faces in the 1960's and I have seen it in Michigan - and I mean automation. In the county of McDowell, in West Virginia, there is more coal mined than ever before in our history, and in that same county more men and women wait every month for a surplus food package from the Government, composed of a few pounds of rice, some grain, and this summer the Department of Agriculture has announced they are going to add lard. That is what automation means in West Virginia, and it could mean the same across the United States, unless we recognize that machines should provide a better life for people and not a life of desperation for men who are 45 years and 50, and who can't find a job. In the last 5 years in the auto industry in this State you have lost, because of automation, 10,000 jobs, and this has been a matter of indifference to the Federal Government. I do not recall hearing this administration ever discuss it, and unless we begin to attack it, not as a problem in one plant or in one company, but as a national problem which demands our attention, then by 1970 the blight of West Virginia could spread across this country. That is what this election means, issues such as this, where we need to move ahead again, and where we can move ahead if we have vigorous leadership. [Applause.]
First, I think the Federal Government should convene a conference of union leaders and industrial leaders in the basic industries, to discuss with them how they can maintain full employment, whether they move in new machines. Secondly, we must make it plain that the installation of new machinery is a proper subject for collective bargaining. Third, the Government must offer technical assistance to those companies which want to bring in new machinery, but want to do so without undue hardship to the workers. Four, we should expand the activities of the U.S. Employment Service so that we can take care of those people who are hard hit. [Applause.] Fifth, we have to provide job retraining and also decent unemployment compensation standards on a Federal level for those who are thrown out of work. This is an issue which is just beginning, but it is the kind of all issue which I think the Democratic Party recognizes. I am talking about something that can affect the lives of every man and woman in this stadium.
Economic growth, automation, full employment - those are the issues of the 1960's, a decent life for all Americans. And what Franklin Roosevelt attempted to do in the 1930's, in a different scale, facing different problems, we are going to do in the 1960's. I ask your help in this ejection. [Applause.] This is a great country. I think it can be greater. I don't think that there is any doubt that there is no one in this stadium who is satisfied to see the United States "first, but," 'first, when." We want to be first, period. [Applause.]
We need your help in this election. I hope you will get out and register and participate and get your friends out. This election is your election. I can assure you that if you return these Democrats in this State, if you send Pat McNamara back to the Senate, if you elect Jerry O'Rourke to represent you in the Congress, the House, the Senate, and the Presidency will work together. [Applause.]
These are the days of the new frontier. The Democratic Party is ready to lead, and I believe this country is ready to move again. Thank you. [Applause.]
John F. Kennedy, Remarks of Senator John F. Kennedy, Flint, MI, Labor Day Rally Online by Gerhard Peters and John T. Woolley, The American Presidency Project https://www.presidency.ucsb.edu/node/274363