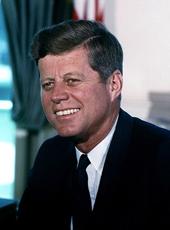 Remarks of Senator John F. Kennedy, First-Time Voters Convocation, University of Southern California, Los Angeles, CA
Senator KENNEDY. Dr. Topping, distinguished guests, ladies and gentlemen, I am delighted to be here again at this distinguished university. As a former student of political science at Southern California in the East, Harvard University, it is a great pleasure to address this body. [Applause.]
Beginning 7 days from now, November 8, the responsibilities of Mr. Nixon and myself will have ceased, and your responsibility as voters will begin. You have to make your judgment between the two candidates, between the parties that they represent, between the two political philosophies that they symbolize, and between their two different of this country and its needs. And let me make it very clear that I think that there are very sharp differences which separate Mr. Nixon and myself. We hold entirely different views. [Applause.] We hold entirely different views of our country's position in the world, of the needs of our time, of the responsibilities of our National Government, of our responsibilities as individual citizens.
You have to make your judgment a week from today of what you believe, of what you see is our role in the world, whether you share Mr. Nixon's view that our prestige in the world has never been higher, and that of the Communists never lower. You have to find out whether you share his view that we have never had such great prosperity in this country, that everything that must be done is being done in its proper time, and that what we need is a continuation of the past. I want to make it clear that I wholly disagree with this view. I don't believe that everything is being done in its proper time. I do not believe that our prestige in the world is at a record high. I do not believe that we have met our responsibilities as individuals and citizens of this great country.
1960 is the beginning of a great new revolutionary period. I cannot believe that in these changing times, these times of hazard and opportunity, that the voters of this country as citizens will choose the status quo. David Lloyd George once said a tired nation is a Tory nation, and I do not hold the view that the United States is either tired or Tory. [Applause.]
You have to decide as young voters, as young voters who have the longest stake in the great Republic, who are the most concerned with the search for truth, who have the least ties to the present and the most ties in the future, you have to decide which party, which candidate, most nearly approximates your judgment of our country, its needs and its future. We are going into problems which are entirely different from any that this country has ever faced. The problem of how a free society, with its freedom of choice, its breadth of opportunity, its range of alternatives - how that free society can successfully compete with a totalitarian society. We believe that our society is the best, but that does not mean that it automatically survives. The whole history of the world, from the struggle of the Athenians against the Macedonians, to the experience of the British before World War II, in their competition with the Nazis, all show that for a free society to survive, to successfully compete, the leaders have to tell the truth. They have to be informed. They have to share their information with the people. I was in England and saw what happened in 1935 when Stanley Baldwin went to the people of England and told them that everything was being done in good measure, that the prestige of the British was at its height, that their security was insured. He won that election, and the British almost lost the war. We are not going to have a repetition of that in 1960. [Applause.]
I don't believe our economic growth is sufficient. I don't believe that the influence of the United States in Latin America, Africa, and Asia is growing - but diminishing. I don't believe that the United States has allied itself with those people in their fight against poverty, ignorance, and disease. We have regarded them as pawns in the struggle against communism, and as a result, of the 16 new nations admitted to the united Nations this summer, not 1 voted with us on the admission of Red China.
The Soviet Union, has 10 times the broadcasts we have in Latin America in Spanish. In 1957 we had more people stationed in West Germany in our embassies than in all of the embassies of Africa combined. We have 100 people working in the U.S. Government on the subject of disarmament. Do you really believe, those of you who hold the signs of Mr. Nixon, do you really believe that this Government, this administration, this party [response from the audience] do you really believe the economic growth, the struggle for security, the struggle for the uncommitted world, the struggle for the minds of men, do you really believe that we have developed in this country a society that augments freedom, that has purpose and growth? Do you really believe that this country is meeting in its own good time all of the problems that it must, that the problems that are suggested by the Republican candidate and his party show an awareness of the future? [Response from the audience.]
I want to make it clear that you must make your decision, you must make your judgment, you must decide yourself, and it is your decision. All I want to do, and my responsibility, is to make clear as the standard bearer for the Democratic Party that I believe the United States, if it is going to maintain its position as the leader of the free world, I believe the United States has to move again. I believe we have to pick ourselves up and start forward into the sixties. I believe we need the best talent we can get to serve this country in a time of change, a time that can be, as Dickens said, the worst of times or the best of times. You have to decide what your judgment is. [Applause.]
I want to make it clear that if I am elected on Tuesday, November 8, this country is going to move again. Thank you. [Applause.]
(Note. - Question and answer period follows in another transcript.)
John F. Kennedy, Remarks of Senator John F. Kennedy, First-Time Voters Convocation, University of Southern California, Los Angeles, CA Online by Gerhard Peters and John T. Woolley, The American Presidency Project https://www.presidency.ucsb.edu/node/274049