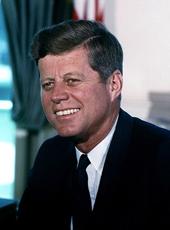 Remarks of Senator John F. Kennedy, Democratic Breakfast, Park Plaza Motel, St. Louis, MO
Senator KENNEDY. Everyone here has been spoken to by me in one speech or another during the last month at least two or three times, so I will not make one this morning. I will express my appreciation to John Dalton, who I am confident will be the Governor, Ed Long, who will be in the Senate, to Larry Carp, running for his seat in the Congress, and I am very hopeful that he will be successful in this fight, because Congress is key. In both the House and Senate I think we need all the good men we can get, so I am hopeful that this State will elect a Democratic Governor, a Democratic Senator and a Democratic Congressman.
I come here really in the last 2 1/2 weeks now of the campaign. I was informed ten minutes ago that we are not taking any more days off and from now on, for the next 17 days, we will be at it all the time, traveling around the United States. I think that is the way it ought to be.
This is a close, hard fought campaign in all of these States, including Missouri, for the Presidential race. I believe that if we can mobilize our resources, if we can stimulate sufficient interest, if we can inform the people exactly what the alternatives are, exactly what the choice is, what the record is of the candidates, what the respective record is of the parties, and what that record promises for the future, then I think we can go to November 8 with hope.
I want to tell you that I am grateful to all of you. Stu Symington has been the greatest possible friend he could be in the last 3 months. So I am most grateful to him as he knows. I hope we can carry Missouri. It really is key. We are trying to put together 260-odd votes which we need. In order to win the electoral vote, you have to put Missouri in the Democratic column. Therefore, this State has to be carried if we are going to be successful. So I come here today and ask you once again, if you can give us one last lift. I am sure John Dalton and Senator Long will he elected, and I hope Larry Carp is, and I think it is possible to sweep the Democratic ticket. I think it can be done. Missouri can be Democratic. You have had a great Democratic President from this State. I think the people know what the Democratic Party stands for, what it can do, what its opportunities are for the early sixties. So I come here today on one last go to see if we can move Missouri into the Democratic column. I think we have to do it if we are going to win this election. I want to express my thanks to each of you, to all of you around the room. This is the smallest breakfast meeting I have spoken to since I became a candidate, and one of the most important. I want to thank you all for coming this morning, and to tell you that I appreciate your help. I am sure we can be successful and that you know that your contributions to this campaign have been in the public interest. Thank you. [Applause.]
John F. Kennedy, Remarks of Senator John F. Kennedy, Democratic Breakfast, Park Plaza Motel, St. Louis, MO Online by Gerhard Peters and John T. Woolley, The American Presidency Project https://www.presidency.ucsb.edu/node/274491