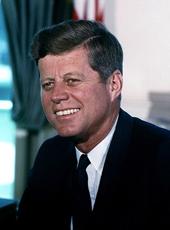 Remarks of Senator John F. Kennedy, Columbia Park, PA
Senator KENNEDY. Governor Lawrence, Senator Clark, Mr. Rice, ladies, and gentlemen, I heard this was the strongest Democratic town in this part of Pennsylvania. [Applause.] My message is a simple one. There have been three Democratic Presidents in this century, Woodrow Wilson, who stood for the New Freedom, Franklin Roosevelt, who stood for the New Deal, Harry Truman, who stood for the Fair Deal. There have been a number of Republican Presidents - McKinley, whose motto was "Stand Pat'; Harding, whose motto was "Return to Normalcy"; Coolidge, whose motto was "Keep Cool With Coolidge"; Hoover, whose motto was "A Chicken in Every Pot"; Landon, Dewey, and the others. [Laughter.]
These slogans, I think, indicate a whole state of mind, and that is the Republican policy which, in my opinion, has prevented the passage or has attempted to block the passage of every single piece of progressive legislation from Wilson's Federal Reserve Board, to our attempt to provide medical care for the aged in the last session of the Congress. Can you tell me one piece of new legislation which benefits our people that has been passed in the last 8 years? I can't name one.
The point is that we pay for that. Every time the President vetoes a housing bill, every time a Republican Member votes against the $1.25 minimum wage, every time we are unable to get any support on our bill to tie medical care for the aged to social security, it is not the Congress that suffers, it is not the administration; it is the people of the United States who require, in my opinion, a progressive, forward-looking government if this country is going to move forward.
It is no accident that 400,000 people in a rich State like Pennsylvania wait every month for surplus food packages from the Federal Government. It is no wonder, with the policies which are restrictive, which fail to look ahead, that the steel mills of this State work 50 percent of capacity.
I think we can do better than that, and I think when this country moves ahead here at home, when oar people are working, when our economy is moving, then our power and influence increases around the world. Franklin Roosevelt was a good neighbor to Latin America because he was a good neighbor of the United States. You cannot separate a strong foreign policy from a strong vigorous domestic economy. So I ask your help in this campaign. I served for 14 years in the Congress, and I can say after that long time that I think this country is powerful, I think it is great, but I think it can be more powerful and I think it can be greater. I am not satisfied to see Mr. Castro and Mr. Khrushchev quarantined in Manhattan and moving around the world. [Applause.] I ask your help in this campaign, I think it is time we recognized that there are new frontiers to cross in the 1960's and we can cross them. Thank you for your help. I can assure you that if we are successful we are going to move in the 1960's. Thank you. [Applause.]
John F. Kennedy, Remarks of Senator John F. Kennedy, Columbia Park, PA Online by Gerhard Peters and John T. Woolley, The American Presidency Project https://www.presidency.ucsb.edu/node/274727