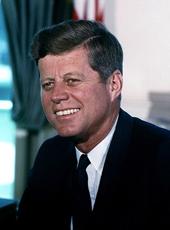 Remarks of Senator John F. Kennedy, City Hall, Chicago, IL
Senator KENNEDY. Ladies and gentlemen, Members of the Congress, Mr. Mayor, my nephew, ladies and gentlemen [laughter], I want to express my thanks to all of you. I came to Chicago today to address an audience of Poles who are also Americans, who believe in the close ties which have always existed between the United States and Poland and who believe Poland must one day be free. [Applause.]
I come here today because in the last 3 weeks in New York City, at the United Nations, speaker after speaker, from Mr. Khrushchev, has spoken about the evils of colonialism. The Soviet Union today is the greatest colonial master in the world, and until they are ready to permit the people of Eastern Europe to have free elections and a free choice, then they stand indicted before world opinion. [Applause.]
I was in Poland in 1939, and I spent a month there, from Warsaw to Danzig, and I saw Poland free. And I was in Poland in 1955, and I saw Poland under the domination of the Soviet Union. But in my visit in 1955 I visited Czestochowa and saw the Mattabuca, and saw the free spirit of Poland. I think Poland will someday be free. But Poland will be free as long as we have the United States and all who believe in the cause of freedom maintain our conviction.
I am a descendant of Irishmen who were under servitude and domination for 700 years. The Polish people will remain free as long as we are free, as long as we believe in their freedom. The Polish national anthem says, "As long as you live, Poland lives." As long as we in the United States retain our conviction that someday not only will maintain our freedom but others shall also be free, whether they live in Latin America, whether they live in Africa, whether they live in Asia, whether they live in Europe, or wherever they may live, they shall be free. That is the policy. [Applause.]
This country's freedom was won by us, by the people of this country and people who came from Europe, including distinguished Poles who came here to fight for freedom. The U.S. Congress gave those people who came to this country each a bequest, each an award, and Kosciuszko, who was the most celebrated of all of them, when he died, he left his entire American estate, all the property he had in this country, to Thomas Jefferson. For what reason? To free the slaves. He believed that he could not be free until all men were free. And that is what we believe here today. [Applause.]
I want Mr. Khrushchev, who spoke about colonialism in the United Nations, and about what has happened in Africa, I want him to look not only at Africa, but also at Eastern Europe. The purpose of our meeting today is a simple one to determine what steps we can take usefully here in the United States, and I have attempted to do so. I do not believe that the United States should turn a deaf ear. There are many things we can do. We can maintain our belief that Eastern Europe will someday be free. We can never agree to any concessions that would recognize Soviet domination. As long as we live, Poland lives; as long as we live, our country lives. As long as this country lives, what Thomas Jefferson called the disease of liberty will be catching. Other people know that until we have been destroyed, their chance of independence is good. The reason the Communists attack us is because they know when the United States fails, the cause of freedom fails. But as long as we maintain our strength, as long as we identify ourselves with the cause of independence with the cause of liberty for ourselves and others, we and our generation can do for Poland what Kosciuszko and Pulaski and the others did for us in 1776.
I ask your help in this campaign. I ask your help in building a stronger America, and in building a stronger America to advance the cause of freedom wherever it may be enslaved, to tell all the people around the world that the United States is on the move again. And as long as we move forward, they move forward. [Applause.]
John F. Kennedy, Remarks of Senator John F. Kennedy, City Hall, Chicago, IL Online by Gerhard Peters and John T. Woolley, The American Presidency Project https://www.presidency.ucsb.edu/node/274033