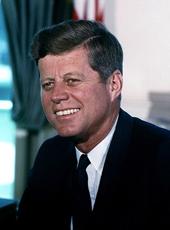 Remarks of Senator John F. Kennedy, Citizens for Kennedy Rally, Philadelphia, PA
Senator KENNEDY. Ladies and gentlemen, Mayor Dilworth, Congressman Green, ladies and gentlemen, I come here to the center of Philadelphia in the last period of this long campaign. I believe that in the last 2 months the issues of this campaign, the differences between Mr. Nixon and myself, the differences between our two parties, the differences between our political philosophies, the differences between what we see in our country and what we see in its future, have been well established, and those differences are twofold.
First, Mr. Nixon believes that the present rate of economic growth and development in this country is highly satisfactory. I do not. I think we have to do better. [Applause.]
I am not satisfied at all to see the economic growth of the United States in the last 9 months go down. I am not satisfied at all to have Western Germany growing twice the rate we are. We are going to have to find 25,000 new jobs a week every week for the next 10 years, and I don't think the Republicans can do it. [Applause.]
The second basic dispute between Mr. Nixon and myself is in our position around the world. He states that our prestige has never been higher, in spite of the fact that in our own State Department there are surveys taken abroad, this summer, which show a sharp decline in the image of the United States as a strong, powerful, decisive country. If we are going to lead the free world, if we are going to meet our obligations to freedom, if we are going to keep Latin America and Africa and Asia free, if we are going to keep Western Europe associated with us, we have to have a strong, vital, growing country that speaks with power and force. And I don't think Mr. Nixon nor the Republican Party can provide that leadership. [Applause.]
Now, you have to decide on November 8; a week from Tuesday, the responsibility of Mr. Nixon and myself to present our views of our society, and what we should do is over. You have to decide what your view is of the United States, what your view is of the world around us, what you think ought to be done - whether you are satisfied. In my judgment, this is a race between the comfortable, the contented, and those who are concerned and wish to move forward. If you are happy now in what we are now doing in the United States and in the world around us, if you are satisfied, Mr. Nixon is your man. [Response from the audience.] But if you share my view that it is time the United States started moving again, then I ask your help. [Applause.] Thank you.
John F. Kennedy, Remarks of Senator John F. Kennedy, Citizens for Kennedy Rally, Philadelphia, PA Online by Gerhard Peters and John T. Woolley, The American Presidency Project https://www.presidency.ucsb.edu/node/274842