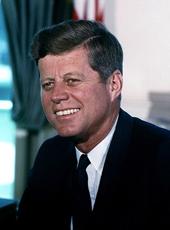 Remarks of Senator John F. Kennedy, Chance Vought Parking Lot, Grand Prairie, TX
I've just been presented this hat, but I don't have the guts to wear it. I want to express my thanks to all of you for being generous enough to turn out. This is a long and hard campaign but I think it comes at a most important part of the life of our country. The purpose of this campaign, of course, is for the American people to be given alternatives by both the Republican and Democratic parties, and then make a choice which direction the country wants to go. I'll make it very clear and precise which way we go in the Democratic party. We want to go forward the same way that Wilson went forward in his time, and Franklin Roosevelt and Harry Truman.
We want a defense second to none. The Democrats every year since 1953 in the Congress have made an attempt to secure the appropriation of more funds, to provide for the national defense. Unless the United States is second to none, this country's survival is in danger and so is the cause of freedom around the world.
We want a country moving ahead here at home. Last year the Soviet Union exceeded the economical growth of this country by three times. Last year we had the lowest rate of economic growth of any major industrialized society in the world. We've got a million and a half people coming into the market every year seeking jobs. Unless this country moves ahead, unless we continue to grow, unless our defenses are strong, unless we're educating our children, unless we are showing in every way, in science, in space, and here in Texas, that this country is first, not to follow when or where, but first - and that's what the Democratic party wants to do in the 1960's.
We ask your help in this campaign. I come today with a Texan and a son of Massachusetts running on the ticket of the older party, but in a sense the younger party. We ask your help in this campaign. Thank you.
John F. Kennedy, Remarks of Senator John F. Kennedy, Chance Vought Parking Lot, Grand Prairie, TX Online by Gerhard Peters and John T. Woolley, The American Presidency Project https://www.presidency.ucsb.edu/node/274552