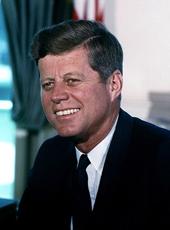 Remarks of Senator John F. Kennedy, Boulevard Restaurant (Outside), Queens, NY
Senator KENNEDY. I want you to meet Mayor Wagner of the city of New York [applause] and Governor Ribicoff, of Connecticut [applause]. Is there anyone else who wants to be introduced? [Response from the audience.] And here is Senator Thomas Mackell [applause] and Frank O'Connor, the district attorney [applause], Assemblyman Lou Walleck [applause] and Mr. Thomas Duffy, and here is Marsha Gurstein [laughter] and my name is Kennedy, and I am running for the Presidency. [Applause.]
I wanted to come here to Queens which has not been known as the strongest Democratic county [response from the audience] up to this year. [Applause.] I wanted to come here and ask your help for this campaign. This campaign is coming to an end on Tuesday, and then the United States selects the next President of the United States. [Applause.] About a month ago I had an opportunity to go to Independence, Mo., to see the library which President Truman has set up, and in that library he has a section in which he describes the five different functions, the five different responsibilities, of a President of the United States; Commander in Chief, the party leader, the legislative leader, the leader in foreign policy, the leader in domestic policy - he is, in short, the center of action under the American constitutional system. There is no decision that we make as citizens of the United States that reaches a longer shadow over the life of every citizen than who we choose to bear this great responsibility.
I come not because I believe after 14 years in the Congress that the Presidency is an easy task. I think the next President of the United States will face problems at home and abroad far overwhelming, with a greater impact on the lives of every citizen, than any President since Lincoln. But I do believe that it is vitally important that this country start to move forward again. [Applause.] And I do not believe that Mr. Nixon or the Republican Party is committed to progress on their record. [Applause.] Any party which opposed, when it began, social security, 90 percent, who voted 95 percent against the 25-cent minimum wage of the midthirties, who voted 90 percent in the House of Representatives against $l.25 an hour in 1960, any party which has opposed housing legislation, medical care for our aged tied to social security, any party which goes to the people in 1960, saying we never had it so good, that our prestige has never been higher - I don't believe that they are the party or the candidates to lead this country in the dangerous sixties. [Applause.]
This has been a long campaign, but we have tried to make two points in it. First, that this country is as strong abroad, it speaks with the kind of vigor abroad, depending on how it reflects the vigor of our society here in the United States. All our propaganda, all the Voice of America, does not mean anything unless it accurately reflects a strong and vital society here in the United States. To be strong abroad, we must be strong at home. To be respected abroad, we must build the kind of society in this country that commands respect, that gives every citizen an opportunity to develop his or her talent, depending on their skill and their desire to serve. I come here today to Queens and ask your help in moving this country forward in building our strength, in building our influence abroad, in identifying our selves once again as the great defender of freedom at a time when freedom is under attack all over the globe. In short, I come to Queens in the State of New York, in the United States of America, and ask your help. Thank you.
(Senator Kennedy moved to the other side of the platform.)
I am not going to make another speech, but I do want you to know that I am very grateful for all of you to come out. It is not a good time to hold a rally at 2:15 in the afternoon. It is cold, rainy, and there are many other things you would want to do. But I am grateful to you for being able to stand and say "Hello." I think you are here for the same reason that I am, because this is an important election, because we are Democrats, because we believe in progress, and because we are going to win. [Applause.]
John F. Kennedy, Remarks of Senator John F. Kennedy, Boulevard Restaurant (Outside), Queens, NY Online by Gerhard Peters and John T. Woolley, The American Presidency Project https://www.presidency.ucsb.edu/node/274462