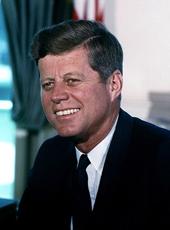 Remarks of Senator John F. Kennedy, Bonds for Israel Dinner, Philadelphia, PA
Senator KENNEDY. Madam Chairwoman, Mrs. Harman, Mayor Dilworth, Congressman Green, distinguished guests, Mrs. Meir, ladies and gentlemen - ladies, rather. [Laughter.] I want to say it is a pleasure to come to this luncheon. As a bondholder in Israel myself, I think that you serve the United States, and the cause of freedom generally around the world in your efforts here today. One of the great sources of strength of the United States has been that the people who came to this country to establish their homes all came seeking freedom and opportunity, but they have always felt as a country, as a national policy, we have always been concerned with the spreading of freedom around the world. We have benefited from these ties which have been maintained with other countries. The great fight for Irish freedom was maintained in many years, during years of difficulty, by Irish men and women who had come to this country seeking freedom. The great fight for Polish freedom is maintained even today, as it has been in the past, by Polish men and women, who are strong Americans, devoted to this country, who also wish freedom for their own country of origin, for their families' origin, and who believe with Thomas Jefferson that the disease of liberty is catching, and it is our function to help spread it. So your work on behalf of Israel serves the United States. It serves Israel; it serves the cause of freedom.
There is no area of the world that is older than the Middle East. It is more significant, is is more ravaged by time, but which presents greater opportunities and greater hazards. One of the most inspiring examples, of course, of the devotion of people to their independence has been the whole story of the birth of Israel and the maintenance of its freedom, in spite of being surrounded by those who have not, unfortunately, always wished it well. I hope in the coming years, regardless of who may be the President of the United States, and regardless of which party may be in control of the national administration, that we will continue our national policy, which has been supported by bipartisan efforts on both sides, of extending the hand of friendship to all those nations, independent, who desire to be free, who desire to associate with us in a great international effort to extend freedom to all people.
Israel has devoted itself to that effort. It is small, living in a hard land, living in a land which is tied to them by time and history and religion, they have built a strong and dynamic country, which now is helping countries of Africa and the Middle East and Asia demonstrate what a new people can do. I hope that the United States will hold out the hand of friendship to Israel. I hope that we will make it clear that we stand by our commitments and by our friends and by the United Nations, that we will defend those who wish to be free and independent; that we will work for peace; that we will use our influence through the United Nations, through the World Bank, through our own effort, to provide for the spreading of peace in the Middle East. The Bible says, "Blessed are the peacemakers." We shall pursue peace, and that shall be our objective, here in the United States, in the Middle East, in the relationship which Israel has with the surrounding countries. Justice and peace is our objective, and those who share those objectives in their domestic and foreign policy shall find friendship here in the United States. [Applause.]
I believe that we have some special obligations through the United Nations. The victory of 1956 was relinquished by the Israel after the Sinai campaign, with the understanding that the United Nations instructions and resolutions would be carried out, particularly those providing for free transit of the canal. Israel met the United Nations request and retreated to its own borders and surrendered its success. It has a fair right to expect that those members of the United Nations who insisted that they should do so should also be just as insistent, just as vigorous, just as firm in requiring that all other nations meet the commitments of the United Nations. [Applause.] You have been generous to provide shelter to a candidate of one of our two parties. [Laughter.] But it is as a member of my party, a source of satisfaction to me that those who, in other years, have led this party, as I now try to do in the 1960 campaign, have all been identified with the same cause with which you are identified; Woodrow Wilson, Franklin Roosevelt, and Harry Truman. I stand where they stood in other years. I emphasize that the policy of the United States in this area, I hope, is not a party matter, but is a national matter, and regardless of the outcome of the election, I hope that the next administration is committed to the security of small nations, to the best of the world, to the development of freedom around the globe. Thank you. [Applause.]
John F. Kennedy, Remarks of Senator John F. Kennedy, Bonds for Israel Dinner, Philadelphia, PA Online by Gerhard Peters and John T. Woolley, The American Presidency Project https://www.presidency.ucsb.edu/node/274844