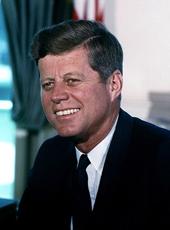 Remarks of Senator John F. Kennedy, Armory, Akron, Ohio
Senator KENNEDY. I want to thank that band. One more chorus of "Anchors Aweigh" and we will just float this building right out. [Laughter and applause.)
Governor Di Salle, distinguished guests, Mrs. Price, vice chairman of the Democratic National Committee, ladies, and gentlemen, I want to express my thanks to you for a very generous welcome tonight. I owe a good deal to Ohio. Governor Di Salle endorsed me at a time that I had few supporters, away back last January, and there isn't any doubt that without that support given to me on that occasion and later at the Democratic convention I would not be standing here tonight. [Applause.]
I want to thank an old friend of mine, the mayor of your city, for his warm welcome, he and Senator Dugan and the Congressman-to-be, and others really turned out, and the reason they turned out was because they know it is important for this district and it is important for the State of Ohio, and it is important for the United States that we get Democratic leadership back in this country again. [Applause.]
Forty years ago next month we returned to normalcy with Warren G. Harding of the State of Ohio and wages dropped 44 percent 2 years later. Thirty-two years later Herbert Hoover was elected and the next year the stock market dropped out of sight. [Response from the audience.]
Now we come to another election, with over 4 million Americans unemployed, many of them for longer than 4 months, another 3 million that work part time; here in this one county of Ohio, which is a great industrial county, we have more than 10,000 unemployed and 11,500 on relief.
I know that this is a great and prosperous country, but I am not satisfied until we have everyone who searches for a job able to find it, whether they live in Boston, Mass., or Akron, Ohio, or San Francisco, Calif. [Applause.]
The difference between Mr. Nixon and myself is the same difference that has existed for many years between the Republican and the Democratic Parties. I said on Sunday in Cleveland that I could not think of a single idea which the Republican Party had produced that constituted major new legislation on behalf of the people. The Cleveland paper today attempted to correct the record, and they mentioned the child labor work that President Taft had done 50 years ago. [Response from the audience.]
They mentioned the antitrust suits that had been brought in at the time of Theodore Roosevelt. I think Theodore Roosevelt was a great Republican President. But I want to know what they have done in the last 4 years that has been of benefit to the people. [Applause.] I don't mean that they have not come up with new legislation. The fact of the matter is that every piece of major legislation which is the hallmark of Franklin Roosevelt's administration from social security to minimum wage, from the Securities and Exchange Act to TVA, every one of those pieces of legislation was opposed - at the time they were written - by the Republican Party. They say our goals are the same. Of course, the goals of all Americans, since the beginning of this country, has been the same: a better life for our people. But it is a question of the means by which we achieve those goals. I am not satisfied, and I don't think it is significant to say our goals are the same. Our goals were the same in the thirties and in the twenties, and before that, and in the fifties. What counts in a country, what counts in a system, what counts in political parties is the means by which you achieve those goals, and I think it is on that basis that the people of this country are going to select the Democratic Party once again. [Applause.]
There is some value in brand names. When you buy something at the store, you buy something you know something about. Mr. Nixon says, "Don't pay any attention to the party labels. Vote for the man." The party labels tell a story. They tell a story of this country. They tell a story of the division between the Republicans and the Democrats on the great issues of benefit to our people. Whether they are Federal aid to education, whether they are better unemployment compensation, whether they are fiscal and monetary policies which stimulate our economy, whether they are housing legislation or roads or whatever it maybe, I think our record is clear.
We have come down on behalf of the people, and I therefore am proud, as the standard bearer for a party which in this century has produced Woodrow Wilson, Franklin Roosevelt, and Harry Truman - I am proud to come to this city tonight and ask your support. [Applause.]
This contest is between those who say, "You never had it so good" and those who say, "We can do better." This contest is between those who say that the power and prestige of the United States has never been higher and between those who say we can be better around the world. We can stand as we used to stand, for freedom, for a better life for all people. Franklin Roosevelt did not pour billions of dollars into Latin America and Africa, and yet every young man of those countries who looked for a future for his country looked to Franklin Roosevelt, because they felt he served the people, because the Democratic Party and Roosevelt were identified with the aspirations of people, regardless of their race or their creed or their color. And what we are in this country speaks much louder than what we say we are. If we are building a better society here, if we are meeting the problems here in the United States, if we are moving ahead, if we demonstrate that a free society can be a productive society, then I think we serve ourselves and the cause of freedom, and all those who are attempting to decide which road they will take.
I want people to say the way of the future is freedom. I want people to say that we want to travel on freedom's road. The Communist system will be dead, we hope, if we meet our responsibilities by the turn of the century. It does not represent, as we do, a basic aspiration of the human nature. The only thing they have been able to do is by organizing their society by the police power of the state, they have been able to move their society ahead physically. Therefore, we have to do the same; we have to do more. We have to be not only free but strong, and therefore I come to you tonight asking your support, not saying that if I am elected life will be easy, but I can assure you that if I am elected, the light which constitutes this country, the light which stands for freedom, the light which comes when a society moves, I think will burn in the United States again. I ask your help in this campaign. [Applause.]
During the American Constitutional Convention there was behind the desk of General Washington a picture of a sun low on the horizon, and many of the delegates wondered whether it was a rising sun or a setting sun. At the conclusion, Benjamin Franklin stood up:
Because of what we have done here, because we have adopted the Constitution, we now know it is a rising sun and the beginning of a great new day.
I think for us, for this country, for the cause of freedom, if we meet our obligations, it can be a rising sun, and the beginning for us all of a great new day. Thank you. [Standing ovation.]
John F. Kennedy, Remarks of Senator John F. Kennedy, Armory, Akron, Ohio Online by Gerhard Peters and John T. Woolley, The American Presidency Project https://www.presidency.ucsb.edu/node/274661