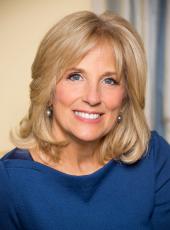 Remarks by Second Lady Jill Biden at Universidad Tecnica Nacional in San Jose, Costa Rica
[As Prepared for Delivery]
Hola, buenos días!
Mr. President, Madam First Lady — I'm honored to be here with you today. Thank you for welcoming me to your country.
I'd like to wish you, Mr. President and all of the fathers here, a Happy Father's Day. This is a day to celebrate the important role that fathers play in their sons and daughters lives; to be there for them, provide for them, and help give them every shot at success.
Madam First Lady, it's so lovely to see you again. I truly appreciated your support in Paris for the UNESCO Teach Her STEAM initiative and I'm so thrilled to be here with you today.
I'm also pleased to be joined by Ambassador Haney — we are so grateful for your service here in Costa Rica.
I'd also like to thank, Valeria, for that kind introduction. Let's give her a round of applause.
As a teacher, one of my favorite things to do when I travel is to meet with students and young people who are furthering their education — whose future is growing brighter. That's exactly what's happening to all of you. Because of the education you are receiving here, you are being put on an upward trajectory for life.
On my trip through Central and South America over the next few days, education is one of the areas I will be focusing on. I'll emphasize my country's commitment to making sure girls and young women all around the world have the opportunity to go to school, get the education they need, and become whoever they aspire to be. Because, when women and girls are included, they expand our economies, enrich our communities, and our countries are better off for it. It's really that simple.
I look forward to meeting with teachers and students — like all of you here today — in Peru, Argentina and Panama. And in each of those countries, I'll also meet with government leaders, women entrepreneurs and civil society partners. We'll discuss how we're leveling the playing field to ensure that our daughters have the same opportunities in life that our sons are given. Because the success of a nation is measured by the success of its women — by your success; your equal opportunity. And, this is a region of expanding opportunity and shared prosperity.
Of the Western Hemisphere, President Obama has said, and I quote, "We're not just nations, but we're also neighbors. Millions of people in the United States are bound to the Americas through ties of commerce and family." So, from day one of our administration, President Obama and my husband Joe, the Vice President, have made improving relationships in the Western Hemisphere — based upon mutual respect and equal partnerships — a foreign policy priority. It was time to turn the page on the past and begin a new chapter.
Conflicts remain. Crisis and important issues still need to be addressed. But together, our region is moving toward a more prosperous future. We all have a stake in the success of our nations; a stake in the success of our corner of the world.
As a lifelong educator, I believe that education is one of the keys to securing that success. You —the students here today — are our hope for the future. And it's our responsibility to make sure all girls and boys — equally — have opportunity to learn and to grow.
Yet, too many girls don't have that opportunity — they're denied their full potential. Over 62 million girls around the world are not even in school — half of them are adolescents. They're deprived of the opportunity to learn just because they're girls. It's not that girls don't want to go to school. They know an education is the foundation to build a better life for themselves and their families.
That's why the Obama-Biden administration launched Let Girls Learn — an initiative to help girls all around the world attain a quality education that empowers them, lifts up their families, and transforms their communities. As part of Let Girls Learn, the Peace Corps here in Costa Rica will also sponsor a camp for students to learn more about science, technology, engineering and mathematics (STEM) later this year; to connect with mentors, and to gain confidence and skills that will help them succeed in these fields.
Costa Rica is a leader in Latin America in ensuring that women and girls have access to a quality education and equal opportunities. Organizations like Women in Science and Technology — also known as MenTe — are encouraging girls to study and work in STEM fields, giving them a chance to experiment with robots and create their own apps.
I just met one young female MenTe participant named Maye. Maye suffered from depression and dropped out of school. But she continued to attend the MenTe camp every Saturday to work on her own app that helps students also struggling with depression. Not only was Maye's app selected for development, but she returned to school in January and is now considering a career in engineering.
I've been inspired by so many girls just like Maye who I've met throughout my travels around the world — in Africa, Asia and the Middle East — who have overcome significant obstacles in life to go to school, to get an education.
Together, by removing some of these obstacles, we are investing not only in them but in our shared future. So, we're going to keep pushing until all children —girls and boys — have pathways to success and the chance to go as far as their dreams will take them.
As I mentioned earlier, just last week, I joined First Lady Peñas at UNESCO in Paris to launch the Teach Her STEAM initiative — a global public private partnership to help close the gender gap for girls interested in STEM and art/design education and careers.
This program will train teachers to develop STEM and arts and design courses, create afterschool programs, and inspire all students to realize their full potential. It will also provide girls with employable skills and give them access to successful women leaders as mentors.
Your country, which is setting the standard in Latin America in supporting girls interested in STEAM, will host the first Teach Her training in our region later this year. So, thank you to the First Lady for your commitment to this cause. It means to so much to so many in your country and in our region. And thank you, President Solis, for taking such an active role fighting for women and girls here in Costa Rica and at the United Nations. It's going to take all of us — educators and community leaders, women and men, boys and girls — to make progress for gender equality.
Our administration also started an initiative five years ago called 100,000 Strong in the Americas. The idea is simple: by the end of this decade we want 100,000 students from the Americas to study in the United States; and we want 100,000 students from the U.S. to study abroad in the Americas. It's an exchange of ideas and cultures that will enrich the lives of people on both sides. It will bring our countries closer together.
An amazing example from this program is a student named Lourdes, who grew up in Argentina, where there is a high indigenous population. Today, she studies geology at the National University of Tucuman. As part of the 100,000 Strong program, Lourdes was able to explore hundreds of miles of the Navajo Nation in Arizona. Now, she's comparing the sustainable energy practices of indigenous communities in northern Argentina and northern Arizona. The United States and Argentina will certainly benefit from Lourdes' work. That's the kind of connection and innovation that this program is bringing to our students, our countries, our region.
We're also working together to cultivate the next generation of women leaders and business owners. In 2012, our administration launched the Women's Entrepreneurship in the Americas Initiative. We're bringing together governments, companies, civil society partners, and individual entrepreneurs to break down barriers women face when starting their businesses to give them the tools they need to grow their businesses.
In Peru, for example, this initiative has connected entrepreneurs to supply chains. One entrepreneur who sold jewelry now has a relationship with a major retailer. Today, she's partnering with other women entrepreneurs to expand her business and sell other products. I saw a similar project last year when I traveled to Guatemala — those women, their determination, truly moved me.
It's clear that when women are given the opportunity, not only do they succeed, but they also mentor and empower other women to do the same. It's only when women have the freedom to fully participate in the economy that we will truly achieve prosperity. And these partnerships are making a real difference for thousands of women and girls in your community, in your country, and in the lives of hundreds of thousands of more women and girls throughout the Western Hemisphere.
On my trip, we'll also discuss a challenge that no woman should have to face, a challenge that exists in Central and South America as well as the United States. Gender-based violence is a problem that no country has solved. But the fact is that these forms of violence — whether it's violence at home or in the community — holds back families, countries, and economies.
That's why, years ago, my husband Joe, the Vice President, wrote the international Violence Against Act — which would cut off foreign aid and assistance to those countries that engage in practices that are simply inhumane. As Joe has said, "Violence against women is a stain on the moral character of a society. And it is a stain on the conscience of a country." [END QUOTE]
It is an issue of basic human rights. And we are committed to tackling this challenge so that everyone — women and men — is safe and able to fully participate in society. Not only is it good for our country when our neighbors are secure and successful — it's in our shared interest — but because you deserve nothing less.
My husband often says that we want to work with Latin America to build a hemisphere that is democratic, middle class, and secure. A hemisphere where the rights of citizens are fully respected and elections meet the highest test of transparency and accountability, including welcoming international observers. A hemisphere where men and women can harness the power of entrepreneurship and education to provide for themselves and their families. A hemisphere where the streets are safe, communities are free from fear, and businesses can operate without the threats of crime and violence. And empowering women and girls is vital to the economic, political and cultural success of every country.
The opportunities in our hemisphere — for all of you here today — are real. And I want you to know that the United States is committed to continuing our work together to achieve them.
Thank you so much for welcoming me here today. You all are my inspiration and I'm excited to see what you do in the future.
Muchas gracias.
Jill Biden, Remarks by Second Lady Jill Biden at Universidad Tecnica Nacional in San Jose, Costa Rica Online by Gerhard Peters and John T. Woolley, The American Presidency Project https://www.presidency.ucsb.edu/node/336779