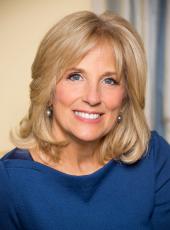 Remarks by Second Lady Jill Biden at the Virginia Community College System's 2015 New Horizons Conference in Roanoke, Virginia
[As Prepared for Delivery]
Good afternoon! Thank you so much, Glenn, for that warm introduction.
I can truly say I feel right at home with all of you. You are not just an audience of community college educators, faculty members and administrators – you all are my peers!
Many of my students are just like yours—determined to improve their lives, to provide for their families, and make a difference in their communities. So, being here today is particularly exciting for me.
Community college teachers are a special breed of cat. We take this responsibility home. It doesn't end when you walk out of the classroom. We're invested in our students' future, like they are our own children. We cajole, we counsel, we mentor. We try to do it all.
Six and a half years ago, as all of you know, my life changed dramatically. Within the span of a semester, I went from planning my syllabus at Del Tech to planning a move to Washington, D.C.. So many things were bound to change, but I was determined to keep one thing constant: teaching. I often say teaching is not what I do; it's who I am. Whether I was living in Delaware or D.C., I knew I had to teach. I cannot imagine not teaching. I have taught for over 30 years and 20 of them have been at a community college.
What I love most about teaching is the students. Like many of you have experienced, students arrive in our classrooms, eager to create a brighter future for themselves and their families. We have taught veterans who return to the classroom to complete their education as they look to transition to civilian careers. We have seen workers return to school to retool their skills to reach the next level in their fields.
As we have all seen, more and more people are realizing that a high school degree is just not enough—and they are turning to community colleges to provide them with the opportunity they deserve to reach their full potential. Currently, nearly half of the 18 million undergraduate students attend one of America's community colleges. But, let's be honest—simply enrolling in a community college isn't enough. It is important that we retain students and help them earn their degree, because by the end of this decade two-thirds of all job openings will require some form of higher education.
There's also a new reality for most returning students—they go back to school, while maintaining a full time job or raising children, and in many cases both.
I remember what it was like to go back to school under the best circumstances—with a supportive husband, coworkers and friends—it wasn't easy. So, it should be no surprise then that less than half of the students who attend a community college will either graduate or transfer to a four-year school within six years.
But, we must do more to help our students succeed. I believe the responsibility for educating students is not the student's alone. It is a responsibility that belongs to all of us.
That's one of the reasons why my dissertation focused on student retention in community colleges and why, when I started teaching at Northern Virginia Community College, I wanted to help women who were returning to school. And I wasn't alone. So, we started the Women's Mentoring Project, which pairs women who are over 30 years-old with a faculty member. As part of the program, I helped one woman who was writing her scholarship essay for admittance to a 4-year college. Her path had not been easy. She left an abusive relationship and was homeless, living in her car with her two children. Once she got into a homeless shelter, she was encouraged to attend a community college, where I met her as part of the Women's Mentoring Project. She went on to earn her accounting degree at that 4-year college and is creating a better life for herself and her family.
That is what community college is all about. Community colleges do not pick and choose their students; we work with all students to help them become who they aspire to be.
As a teacher, I felt that I was in the right place at the right time to be part of an Administration that is committed to strengthening community colleges. Five years ago, at the President's request, I hosted the first-ever White House Summit on Community Colleges. Thought leaders, educators, and policy makers gathered to discuss the increasing role community colleges play in educating America's workforce. Tom Sugar from Complete College America summarized it well, and I quote:
"Time, choice and structure are the essential optics through which all higher education reforms must be viewed in order to maximize the likelihood of graduating more of today's students." In other words, "…access without success is an empty promise."
As Second Lady, I have traveled all across the country to see firsthand the transformative change that has occurred on college campuses to improve student success. In fact, just last month, I visited two community colleges—Santa Fe College in Gainesville, Florida, and Austin Community College in Texas—both of which are using innovative strategies and technology to increase retention, completion and overall student success.
As a result, the completion rate for students at Santa Fe College is twenty percent higher than the national average. And, students at Austin Community College are twice as likely to complete their developmental math course compared to a student enrolled in a traditional one.
These two schools are meeting students where they are, and guiding them to where they want to go. They are also good examples of what makes community college so special—they have the flexibility, and innovation, to adapt and meet students' needs. They truly are the community's college.
I am proud to be part of an Administration that is committed to investing in our students, and restoring the promise of the American education system. Earlier this year, the President announced his plan to make the first two years of community college free for all responsible students. If you work hard, and maintain a good GPA, you should have access to the education you need.
We believe all students—new and returning—should be able to graduate, ready for the new economy, without the burden of debt. I've said it before, because I truly believe it—this is the moment for community colleges to shine.
The work that you are doing is so important in the lives of so many Americans—the students in your classroom, their children at home, and their community that is being lifted-up by having a well-educated and well-trained workforce.
I look forward to continue working with all of you to ensure education is accessible, affordable, and attainable for all Americans.
Thank you.
Jill Biden, Remarks by Second Lady Jill Biden at the Virginia Community College System's 2015 New Horizons Conference in Roanoke, Virginia Online by Gerhard Peters and John T. Woolley, The American Presidency Project https://www.presidency.ucsb.edu/node/336806