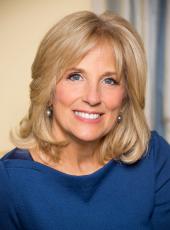 Remarks by Second Lady Jill Biden at the United Nations Educational, Scientific and Cultural Organization (UNESCO) in Paris, France
[As Prepared for Delivery]
Bonne après midi! Good afternoon.
I would like to begin by asking you to join me in continuing to offer thoughts and prayers for the victims and families of the shooting in Florida. I'd like to thank the President, the Prime Minister, the people of France, and all those around the world for your love and support. To see the Eiffel Tower lit up last night in rainbow colors with the American flag flying beneath was heartwarming. We are one people.
This morning, we awoke to news of another tragic incident here in France. I'd like to offer my condolences to all those affected.
Thank you, Ambassador Nix-Hines, for that kind introduction, and for inviting me back to UNESCO to be part of an event highlighting two issues that are so close to my heart: the importance of girls' education around the world; and the difference teachers can make in the lives of their students. Your passionate support of STEAM initiatives, a comprehensive approach to STEM education including related arts and design programs is so important. As Steve Jobs once famously put it, and I quote, "technology alone is not enough. It's technology married with the liberal arts, married with the humanities, that yields us the results that make our hearts sing."
I would also like to thank you, Madam UNESCO Director General; the First Lady of Costa Rica; all of the assembled permanent representatives; distinguished guests, TeachHer partners, and UNESCO senior staff for joining us today.
This is personal for me. I have a daughter and four granddaughters — one of whom, Natalie, is here with me today. I hope she's inspired by what she sees — by what you all have committed to doing at UNESCO and in your communities back home, to help close the gender gap in STEAM education and careers. Because all children — regardless of gender — deserve the opportunity to follow their dreams and be successful in rewarding careers.
I'd also like to acknowledge a group of students I just met who are here today showing off their STEAM projects. Let's give these smart young women and their teachers a round of applause.
As Second Lady of the United States, I've had the incredible opportunity to travel all around the world. One of my favorite things to do when I travel is meet with students and their teachers.
Two years ago, I had the opportunity to visit a girls' school in Zambia. Before joining one of the classes — where students were learning their vowels — a colorful board hanging in the hallway with the words "Our Dreams" caught my attention.
Students at the school posted what they hoped to become when they grow up.
These students dreamed big. They aspired to be doctors, pilots, and lawyers. My favorite was the student who dreamed to become a teacher. Every dream posted on the board had a common purpose; every girl showed a desire to help her community and country.
And, I believe it's our responsibility to make sure all girls are given the same opportunity to learn and grow into confident and independent women, so they can realize their dreams and help contribute to the success of their nations.
All around the world today, too many girls' dreams are deferred. Too often girls are discouraged from pursuing their ambitions — they're told they can't dream big because of who they are; because they're girls. Even more alarming, over 62 million girls worldwide are not even in school — and half of them are adolescents. Those girls are not learning the basic skills they need to get ahead and provide a better life for their families.
This is unacceptable. That's why the Obama Biden administration launched Let Girls Learn — an initiative to break down barriers that keep girls out of school, and to open the doors of education for girls around the world.
And, I'm proud to be part of an administration that since day one has prioritized making quality education, especially STEM education, accessible for all kids. We've made strides to strengthen the pre-school through 12 STEM teacher corps; dispel gender stereotypes; and celebrate the achievements of students pursuing these fields. But, despite the progress we're making, there's more work to be done.
Today, there's a high global demand for skilled science, technology, engineering and art/design experts. Yet, women continue to remain severely under-represented in that workforce in every region of the world. Women in the United States represent 57 percent of the workforce but only hold one-quarter of the jobs at the top tech companies. And these numbers are even lower for women when you look at careers in engineering and computer sciences. We need to hire more women in STEAM fields if we're going to get ahead.
In the U.S. alone, there will be more than 1.4 million computing-related job openings by 2020 — that's just four years from now. But at the rate we're going, we can only fill about 30 percent of those jobs with U.S. graduates. We have to do better.
Students of both genders are equally interested in STEAM education and careers. But a gap begins to open up and by the time college rolls around, young men are almost twice as likely as young women to graduate with a degree in those fields. Somewhere along the lines, we are losing these girls. They're becoming convinced that these careers are not for them. We believe we can, and we must change this. We have to encourage more girls that these careers are not just for boys.
There's an obvious economic argument to be made as well: women are economic catalysts, especially in the most critical and marginalized areas around the world. Advancing women's equality in the economy could add $12 trillion to the global GDP by 2025.
So, investing in girls' education is good for the bottom line. But, more importantly, women have a right to equality of opportunity. We have to do what we can to level the playing field — to make sure that our daughters have the same options that our sons are given. Because our nations cannot reach their full potential until its women and girls reach theirs.
That's why we're here today. Because it will take all of us — policymakers and business leaders, educators and community leaders, women and men, boys and girls — to make progress for gender equality. We're here to launch TeachHer — a global public private partnership led by UNESCO and the State Department — to close the gender gap for girls in STEAM education and careers.
The new TeachHer initiative is designed to work with your governments and your educators to ensure teachers have the training they need to support all students — girls and boys — to encourage and inspire them to realize their full potential. Through this new initiative, UNESCO will provide best practices on how to develop STEAM courses and afterschool programs. These programs will provide girls with employable skills and access to inspiring women leaders as mentors. I want to thank the Governments of Costa Rica and Ethiopia for hosting the first TeachHer trainings later this year.
UNESCO will be working with the Ministries of Education in countries from both regions to train teachers from the surrounding countries. After the training, these teachers and administrators will return home to pass on that knowledge not just to students, but to their colleagues as well. As an educator, I know the benefit of collaborating with my colleagues on curriculum. They will implement these programs in local schools and develop afterschool programs to sustain girls' interest in STEAM fields.
I'm excited to return to Costa Rica next week and to Ethiopia in July. I'll visit students, teachers and government officials to see firsthand the progress they're making in the region to advance girls education. And I look forward to continuing my conversation with you, Madam First Lady, while I'm in Costa Rica.
In 2013, Rita Pierson, an American educator from Texas, delivered a TED Talk on what makes teachers so special. She said, and I quote, "every child deserves a champion — an adult who will never give up on them, who understands the power of connection and insists that they become the best that they can possibly be."
That's why we're here, and that's why I love being teacher. I love seeing the difference I hope to make in the lives of my students. I make an effort for my students — many of whom are from all over the world — to let them know that I care about them. I try to impart a sense of confidence in my students — to help build their self-esteem — that will give them the strength they need to move in a positive direction. Because an education can help students become who they aspire to be — it unlocks the door of opportunity for students to achieve their dreams. And I strongly believe, the committed teachers in the classroom are the key. Teachers know education is the great equalizer.
If we invest in our teachers today; if we invest in women and girls today; if we give girls the opportunity to go to school and graduate; recognize their value and welcome their contributions; and make sure women have a seat at the table today, then tomorrow, no little girl will grow up in a world where her dreams are denied; her potential unrealized. It's not just words that are going to make a difference. We need your commitment. We need you to act. We must act.
Merci beaucoup! Thank you very much.
Jill Biden, Remarks by Second Lady Jill Biden at the United Nations Educational, Scientific and Cultural Organization (UNESCO) in Paris, France Online by Gerhard Peters and John T. Woolley, The American Presidency Project https://www.presidency.ucsb.edu/node/336761