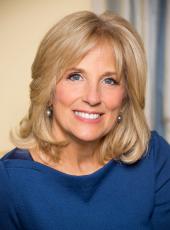 Remarks by Second Lady Jill Biden at the Office of Juvenile Justice and Delinquency Prevention National Conference: "Children's Justice & Safety: Unite, Build, Lead" in National Harbor, Maryland
[As Prepared for Delivery]
Thank you, Eric, for that kind introduction. And, thank you for inviting me to be a part of this important conference. And, thank you, General Odierno. You and Linda have been a military family for 35 years, and you have become good friends to Joe and me. Thank you both for your leadership.
And I am especially grateful to the military families here today – you are our true heroes. Thank you for being here, and thank you for your service.
Good morning everyone. I am thrilled to join so many individuals who are committed to improving the lives of our children and teens.
Earlier this week, the Department of Justice announced a partnership with the Department of Defense to award a total of 20 million dollars to organizations providing mentoring services to military children. As a teacher and a military mom and grandmother, I have seen first-hand what a big difference a great mentor can make in the lives of our nation's military children.
These mentors and so many other individuals and groups across this country are showing all Americans that there are countless ways to help our military families – some large and many small, but all important.
Last year, President Obama directed all government agencies to develop a coordinated Federal Government-wide approach to supporting military families. This mentoring initiative represents a powerful response to that call to action. This partnership also embodies the spirit of the Joining Forces initiative that the First Lady and I launched earlier this year. Our goal is to encourage all Americans to reach out and show appreciation for our military families.
As those of you here on the stage know, military children endure many unique challenges and stresses. Many military families move several times during their tours of duty. And, of course, deployments are especially challenging for children and other family members left behind.
I saw with my own grandchildren just how difficult it is to carry on while you are worried about a parent who is serving in a war-zone.
Most military children will move 6 to 9 times in their school career. That means transferring schools, moving their homes, and leaving their friends every 2 to 3 years. When I meet with our service members who are serving around the country and around the world, their top concern is always the well-being of their family members back home.
Last summer, I visited with Illinois National Guard families and the Chicago organizations that support them. During our visit, a teenager named Angela gave me an essay she had written about her father's deployment to Afghanistan. Her story has stuck with me ever since. She wrote: "It was just a normal day of school. Then, during my 6th period art class, my teacher told me to go to the office. The first thought in my head was that something bad had happened, so I got very nervous. When I got to the office, I saw my mom was there, and she was crying – which made me start crying right away. Something bad had happened. I asked what was wrong, and she told me that my dad was okay, but we had lost four of our soldiers.…. I remember crying for days."
Angela and her brother were the only military children in their school. And unfortunately, their story is not unique. There are approximately 700,000 children throughout the country who have parents serving in the National Guard and Reserves – and so many of them do not live anywhere near a military base.
As a mom of a National Guardsman– I know just how important it is for a teacher, a counselor or a fellow classmate to reach out and show support and understanding.
In my travels, I have seen many teachers who are making a real difference for the military children in their classrooms….teachers who arrange parent-teacher conferences by Skype so deployed parents can participate...or teachers like the one in my granddaughter's classroom who hung up a photo of my son's deployed unit so the whole class would know that Natalie's dad was at war.
All military children, even in the face of many challenges, are resilient. They are strong and brave, and they are proud of their parents' service -- and they deserve the very best.
OJJDP has a long history of providing mentoring services to youth – and a strong mentor can make all of the difference in the lives of our military children.
Chances are that all of you in the audience touch military families in one way or another. While they don't wear uniforms, they too are on the front lines. They make daily sacrifices in support of their country.
So, think about how you can take part in bringing some stability, guidance, and friendship into their lives.
So congratulations and thank you to the recipients of these grants, for committing your time, expertise, and resources to provide mentoring to these young heroes. Your work is truly what Joining Forces is all about.
Thank you.
Jill Biden, Remarks by Second Lady Jill Biden at the Office of Juvenile Justice and Delinquency Prevention National Conference: "Children's Justice & Safety: Unite, Build, Lead" in National Harbor, Maryland Online by Gerhard Peters and John T. Woolley, The American Presidency Project https://www.presidency.ucsb.edu/node/336733