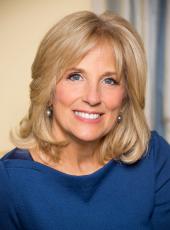 Remarks by Second Lady Jill Biden to the Military Child Education Coalition Conference (MCEC) in National Harbor, Maryland
[As Prepared for Delivery]
Thank you everyone. It's an honor to be with you today.
Thank you, Patty, for your kind introduction. And a special thanks to you and your husband for all that you do to support our nation's veterans and their families.
And to Dr. Mary Keller and everyone here at MCEC - thank you for bringing us all together this afternoon, and for your continued efforts to ensure quality educational opportunities for our military children.
As a military mom, I am grateful for your efforts on behalf of military children and their families.
As a lifelong English teacher, I admire your commitment to education - because we all know that a solid education is the key to the future success of all our children.
Each one of you – counselors, teachers, students, parents, education and military leaders – has shown tremendous dedication in helping families, schools, and communities become better prepared to support our military children.
Thank you all.
You know, one of the best parts of my job as Second Lady is working with Michelle Obama on the critical issues related to military families.
And together, we are committed to not only creating awareness of the sacrifices being made by the military, but the sacrifices being made by their families as well.
As we know, military children serve too.
The First Lady and I have been visiting military bases in the United States and abroad to better understand how military service impacts families. During these visits, we hear from service members and military spouses about their experiences – the successes as well as some of the challenges.
One of the things we hear over and over is what an important role schools play in the lives of military children - and how challenging it can be for families when children change schools due to a parent's re-assignment.
This often means transferring credits, getting to know new teachers, and navigating different school systems.
These are complicated issues - and with approximately 2 million of our military children having experienced a parental deployment since 2001 - they are issues that affect many families.
Last fall, during a visit to Nellis Air Force Base, I met a family – a mother, father and four children. I asked the kids what was the most difficult thing about having a parent deployed, and the two teenage sisters told me, "When mom is deployed, we worry every single day about her safety."
We all know how hard it is to be a teenager.
Imagine having to worry about the safety of your mom or dad - on top of all the normal stresses that come along with being an adolescent.
School faculty and staff are in a unique position to support children while they cope with having a parent deployed.
But sometimes even they cannot solve a child's problems.
Earlier this month, my husband Joe and I traveled to Iraq to celebrate the Fourth of July with our troops stationed there.
Just after we arrived at Camp Victory, my staff and I took a walk– we had been on a plane for almost 15 hours and we wanted to stretch our legs and get sense of what the base was like.
We found ourselves walking through one of Saddam Hussein's old palaces where we happened to cross paths with an Army General heading to a meeting.
He thanked me for the work Michelle and I have been doing on behalf of military families and for raising awareness about the challenges they face at home.
The General then shared with me a story about his own family.
During the middle of a music concert at his 6-year old daughter's school, one of her classmates burst into tears as the song "Ave Maria" played.
The little girl explained to the teacher that, "This is the song they played at my daddy's funeral. He died in Iraq."
I've thought about this story every single day since my trip.
It is just one example of why we need to make sure our teachers and school systems can identify military children in their classrooms, and are trained to meet their needs.
That is why your work is so important.
I want you all to know that our government is working hard on this issue, too.
A few weeks ago, Secretary Duncan and I visited with parents and teachers at Fort Belvoir Elementary School so we could hear directly from them about what their children need in school. They raised the importance of teacher sensitivity and awareness of military children in their classrooms.
Last May, the President ordered all Federal agencies to work together to support military families. General Jones is leading this effort, and I keep him updated on what I hear from the families I meet on my visits.
As part of that effort, the Department of Education and the Department of Defense are working together to make sure we offer quality educational options for all military kids.
The idea is to focus our efforts in four areas:
1. Collecting data and conducting research about military kids and their schools;

2. Supporting quality education;

3. Addressing the impact of the stresses of military life on school children;

4. And finally, hearing from military families about what changes would best serve them.
The concerns of our service members and their families are a top priority for this administration.
The Department of Defense is leading these efforts.
Many of you here today are DOD School Liaison Officers, working in partnership with military commanders, parents, and schools to make sure military children succeed in school.
The work of your coalition has been critical to these efforts. Working with the Department of Defense and state governments, you helped develop the interstate compact which helps alleviate the challenges that come with transitioning between schools.
So far, 35 states have adopted the compact, and it now covers almost 90% of active duty families in the United States.
MCEC is also working to raise awareness about the unique challenges faced by children of members of the National Guard and Reserves, and you are giving communities tools to meet their needs.
As the mother of an Army National Guardsman, I know from experience the unique challenges their families face. These children live in communities throughout the country, not just on or near military bases.
Educating people in the communities including business leaders, church groups, civic leaders, and service organizations is critical to making sure these children and families do not fall through the cracks.
These are just a few of the ways the Federal government, states, and organizations like the Military Child Education Coalition are working to improve the lives of military children and families.
But I know there is much work to be done.
That is why the First Lady and I have issued a national challenge to all Americans to support and engage our military families.
Each and every one of us shares a responsibility to never forget or ignore their service.
And we want to hear your story about how you're supporting those who serve us every day.
We're working with the Corporation for National and Community Service to create a page dedicated to military families and veterans on serve.gov.
This project is still a work in progress – but you can go on serve.gov right now and share your story about supporting a military family - whether it's offering to mow the lawn or babysit the kids - or organizing a care package event in your neighborhood.
As a military mom, I have seen first-hand how acts of kindness and service can improve the life of a service member. These are small acts, but they mean so much to our service members and their families. And the best part is, every American can lend a hand and make a real difference.
I promise to continue to do all that I can in our mission to support our military families.
Thank you for your time this afternoon, and may God continue to bless our troops and their families.
Jill Biden, Remarks by Second Lady Jill Biden to the Military Child Education Coalition Conference (MCEC) in National Harbor, Maryland Online by Gerhard Peters and John T. Woolley, The American Presidency Project https://www.presidency.ucsb.edu/node/336796