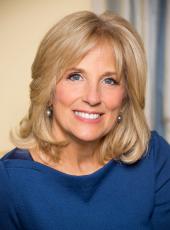 Remarks by Second Lady Jill Biden at the Joining Forces: "Operation Educate the Educators" Celebration in Fairfax, Virginia
[As Prepared for Delivery]
Good afternoon! It's great to see all of you here today.
Thank you, Felicity, for that kind introduction and for sharing your story with all of us about what it's like to be a military child. I'm glad you and your sister Abigail could be here today.
Dean Ginsberg, thank you for hosting us this afternoon.
I also want to thank General Odierno and his wife Linda, for your leadership, as well as Patty Shinseki, who has been a great friend and partner, along with everyone at the Military Child Education Coalition.
Thank you to Sharon Robinson and everyone at the American Association of Colleges for Teacher Education for all their hard work to make this happen.
I want to give a special welcome to the third graders who are here from Fort Belvoir Elementary School! Fort Belvoir was one of the first schools I visited as we started going around the country hearing firsthand from military families about their experiences.
Most of all, thank you to all the military families here today, and to the teachers' colleges who have signed onto Operation: Educate the Educators!
Many of you know me as Second Lady – and some of you might know I'm a military mom. But I am also a teacher. I continue to teach full time at a community college not far from here. In fact, I was in the classroom all day yesterday, and I will be again all day tomorrow – so I feel right at home on a college campus.
I love being in the classroom and seeing the difference I can make in the lives of my students. That's why this effort holds such a special place in my heart.
One of the best parts of my role as Second Lady is spending time with so many veterans and military families. As I travel to bases across the country – and the world – I am always inspired by their strength and resilience.
But they have also told me about the many challenges they face – long deployments, frequent moves, and the stress of having a loved one in harm's way.
When I ask them what their priorities are, almost everyone mentions education. I've heard over and over from military families how important it is that school be a supportive environment for military children.
There are military children in every school district in the country. And there are more than 1.3 million school age military-connected students whose parents are on active duty, members of the National Guard or Reserves, or military veterans. Eighty percent of these students attend public schools.
On average, military children attend six to nine different school systems. Through each transition, they have to leave their friends, and adjust to a new school.
We all want to support these children whose parents are doing so much for our country. And I have met teachers around the country who are meeting these challenges in creative and heartwarming ways.
Earlier this year, I met a principal from San Diego who has worked with her staff to create transition rooms that offer military families a one-stop-shop for resources.
I've met teachers in Illinois who are using writing and art therapy to help National Guard kids with deployed parents express their fear and anxiety. And I met a teacher in Georgia who arranges parent-teacher conferences by Skype so that a parent deployed in Afghanistan can participate.
These are all ways to help families stay connected during a separation and can help allow children to show their pride in being a military child.
When my son Beau was deployed to Iraq for a year, my granddaughter Natalie's teacher hung a photo of his unit on the wall of her classroom, so everyone would know her dad was away. That meant so much to our family – just as every simple act does for all military families.
I have also heard some heartbreaking stories about military children's challenges. Last year, I told one of these stories to members of the American Association of Colleges for Teacher Education and the Military Child Education Coalition.
In 2010, when I was visiting troops in Iraq for the Fourth of July, a general told me a story I'll never forget. During a concert at his six-year-old daughter's school, one of her classmates burst into tears when the song "Ave Maria" was played.
She told the teacher it was the song they played at her daddy's funeral. He died in Iraq.
That story is heartbreaking for all of us, and it is the story that inspired all of you.
You formed Operation Educate the Educators and set the goal of having 100 colleges of education sign on to a set of guiding principles to raise awareness about military children on your campuses.
I'm so pleased we can celebrate that you have surpassed that goal – moving us closer to the day when all teachers will better understand military children and have the skills to support them.
Thank you for what you have done – and what you continue to do – to make a difference in the lives of so many students.
Jill Biden, Remarks by Second Lady Jill Biden at the Joining Forces: "Operation Educate the Educators" Celebration in Fairfax, Virginia Online by Gerhard Peters and John T. Woolley, The American Presidency Project https://www.presidency.ucsb.edu/node/336738