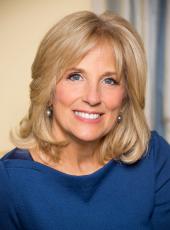 Remarks by Second Lady Jill Biden at the Colegio de Alto Rendimiento in Cusco, Peru
Hola! Buenos dias!
Thank you, Diana and Alioska for that kind introduction. I was so glad you were able to join me and Ambassador Nichols—who's here with me today and is doing such a terrific job here in Peru—along with your teacher, at Machu Picchu yesterday.
And it's truly a pleasure to be here this afternoon with all of you. I've heard such great things about COAR Cusco. I've also heard that you spend a lot of time studying, and I don't want to keep you, so I'll just say a few quick words.
As Second Lady of the United States, and as an English teacher, my visit to Peru has been very special. Over the past few days, I've been fortunate to experience something that you all know well – the depth and the beauty of Peruvian culture.
In Lima, I tasted traditional cuisine at Surquillo Market with Peruvian Chef Flavio. This morning, I met with the talented and inspiring women at the Chinchero weaving cooperative and learned how the Center works to preserve the textile traditions of Cusco, while providing fair trade support to the indigenous people who create them.
I toured CoriCancha Temple and the Church of Santo Domingo—a magnificent representation of the country's rich religious tradition and the mystifying craftsmanship of the Incas, only to be exceeded by their most significant tangible legacy: Machu Picchu. One of the greatest artistic and architectural achievements in the world, Machu Picchu was breathtaking. Few places in the world convey the same kind of perspective.
All along the way, I've been inspired by the young people I've met—like all of you—who are putting their education first. Your classmates, Diana and Alioska, spoke highly of you all. They told me that your school allows you the opportunity to meet and share ideas with students from across the country and across the many cultures that make Peru's history so rich. That you live among people with different points of view, different customs, and different dreams. And with education as the common thread, you are given opportunities to learn not just from your classes, but from one another.
After visiting your classrooms, it is clear to me that you understand the importance of your education. You should be proud of the paths you are setting for yourselves, and I urge you to be confident, to always believe in yourself and to never forget that education is the key to success. If you continue to work hard and study, to constantly challenge yourselves, there's no limit to how big you can dream.
I believe that, because I see it in students like Alioska and Diana—both brilliant and passionate young women who plan to continue their education in order to change their communities, and thereby change the world. Alioska credits her family—especially her brother—for motivating her to follow her dreams. I know what that's like and how important it is. My sister Bonnie, who is here with me today, has been a great source of support. They encouraged her attend your school to focus on the subjects that she loves—biology, math, chemistry, and my favorite, English. Diana also loves her school and likes to say it changed the trajectory of her life.
I trust you all have different, but equally inspiring stories and reasons for being here. Or perhaps, it really is true, that your parents just know what's best for you! And that's why I'm traveling across Central and South America this week—to shine a spotlight on the importance of education, especially for girls and women. But this isn't just about girls. It's about everyone. It's about making sure all students have the chance to learn and to grow, so they can give back to their communities and contribute to the success of their country.
You have a unique opportunity here at your school that allows for an advanced kind of learning. The kind of learning that most people do not encounter until they are adults with careers. That is, that there are many different kinds of people in the world, that empathy and compromise are essential, and that all of our knowledge, as Diana has said, is required to make the world a better place for future generations.
Your education allows you to learn from your teachers, from your independent studies, and most importantly, from each other. You have the set of keys that unlocks the door of opportunity. But it's up to you to seize the opportunity—to rise to the occasion. You are already making a difference in your own life and in the lives of your family members. Continue to challenge yourselves to make a difference in your school, your communities and your country.
I've been impressed by what I've seen in Peru. I've been impressed by you. Keep going. Always believe in yourself.
Thank you so much for opening your school to me. Muchas gracias.
Jill Biden, Remarks by Second Lady Jill Biden at the Colegio de Alto Rendimiento in Cusco, Peru Online by Gerhard Peters and John T. Woolley, The American Presidency Project https://www.presidency.ucsb.edu/node/336785