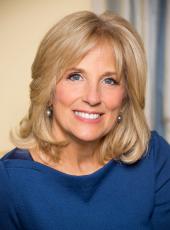 Remarks by Second Lady Jill Biden at The Cable Show 2011 in Chicago, Illinois
[As Prepared for Delivery]
Good Morning.
Thank you, Bob, for that very kind introduction. And a special thanks to you and your colleagues who produced that wonderful public service announcement.
I am Jill Biden. And I am delighted to be here today. As Bob said, I am a Blue Star mom, which means that I have a family member who serves in the military. My son Beau has been a soldier in the Delaware National Guard for 10 years, including a year-long deployment in Iraq in 2008.
I can honestly say that not a day passed during his deployment that I didn't worry about his safety. That year gave me a small insight into what some of our military families have experienced for years, through multiple deployments in two different war zones.
When their loved ones are called to serve, these families serve too. They carry on month after month, through deployment after deployment – juggling the carpools and ballet recitals, celebrating birthdays and anniversaries, coping with emergencies and everyday problems – and they do it with pride and with no complaint. Without the steadfast support of their families, our military personnel could not do what they do.
Over the past two-and-a-half years, I have been honored to meet so many of these families and hear their amazing stories. Some of the most moving are about the people who live around us in our neighborhoods and communities – our National Guardsmen and Reservists.
These citizen-soldiers are our firemen, teachers and doctors, and they live right next door. But they always stand ready to deploy into harm's way on a moment's notice. And that can sometimes mean their families are left home, relatively isolated, far from the support and community of a military base.
Last summer, my husband and I traveled to Iraq to celebrate the 4th of July with some of these brave troops. And during our visit, I heard a story that has stuck with me ever since. An officer told me about a little girl in his daughter's class who broke into tears when she heard the Ave Maria sung during a holiday program.
As the teacher comforted her, the young girl explained that that song had been played at her father's funeral. Her father had been killed in Iraq.
As a lifelong teacher, I knew that all teachers would want to understand that little girl's experience. So I shared that story with a group of educators who responded by developing a plan to teach other educators about the unique issues that military kids are facing.
These teachers and the other individuals and groups across this country who are supporting our troops and their families are showing all Americans that there are countless ways to help – some large and many small. But all important. And I can tell you from personal experience, all appreciated.
And that's actually the idea behind a new initiative that the First Lady and I launched earlier this year. We want all Americans to understand and appreciate what our troops and their families do for our country every day.
That's why we started Joining Forces, a nationwide campaign to rally all Americans to recognize, honor and support our military families.
It's only been a few months since we launched Joining Forces, but we have already been so gratified by the overwhelming response to our efforts.
Groups, individuals, and businesses are joining forces in the areas of employment, education and wellness, including mental health, to help military families. Companies like Sears and Siemens Corporation, as well as the Chamber of Commerce, the PTA, the YMCA, the American Heart Association and many others have stepped up with exciting programs to employ and support these families.
And I've seen through my work with a small grassroots organization in Delaware the difference that organizations and companies like this can make.
Delaware Boots on the Ground tries to meet whatever needs our military families might have – whether it's repairs around the house, a fun night out for the kids, or just a babysitter to give a tired mom or dad a break.
There are small, but highly effective groups like this all over the country. For example, there's an organization in Minnesota that collects top-brand hockey equipment for military children. And there are lawyers, accountants, and other professionals all across this nation who provide their services for free to military families every year.
These stories show that all of us have something to offer, including the government. Over the past year or so, the Obama-Biden Administration has been working to implement nearly 50 specific commitments by the federal government to improve the lives of military families – everything from protecting families from financial scams, to improving education for military kids and spouses, to stepping up our fight to end homelessness among veterans. And the President has said that he will not be satisfied until we meet every last one of these commitments.
So the government is doing its part.
And your industry is stepping up to answer the Joining Forces call as well.
Some of you are telling the stories of military families through PSAs and television programming. A&E Television Networks, for example, has produced the Joining Forces PSAs that will air on more than a dozen networks.
Others are extending access to technology so military families can communicate with loved ones during separations and deployments.
Discovery Education is helping teachers of military children share content to boost student achievement. And they've created the "Help on the Homefront Challenge" encouraging classrooms to develop projects supporting military families in their neighborhoods.
Verizon and Comcast have been recognized for their support of their Guard, Reserve, and veteran employees.
And you have involved the First Lady and me in your efforts. On Monday, the First Lady filmed a cameo appearance on the iCarly show on Nickelodeon. And last year, I was an "actress for a day," making an appearance on an episode of A&E's Army Wives show. I can't tell you the number of people who saw that show and expressed their gratitude to the network for broadcasting it.
So make no mistake about it, the cable industry is uniquely positioned to help Americans learn more about the challenges and needs of military families and to showcase the families' strength, resilience and service to our nation.
Your industry reaches millions of viewers through a wide variety of entertainment and information shows. And you employ more than 1.8 million people – some in every single state in this country.
Your reach is tremendous. And I hope you will continue to use it to reflect the military family experience in your programming.
I hope you will continue to educate, entertain, and open our eyes to the lives of those around us.
Because the truth is, our military families represent the very best of our country.
They are your viewers, your employees, and your neighbors. And most of all, they are our fellow Americans who get up every day to protect this country. They ask for so little, but they deserve so much.
So I hope that each of you will ask yourselves what you can do to express your thanks and show your support. And I hope that all of you will join forces with us to serve these extraordinary Americans as well as they have served this country.
Thank you for all that you do.
Jill Biden, Remarks by Second Lady Jill Biden at The Cable Show 2011 in Chicago, Illinois Online by Gerhard Peters and John T. Woolley, The American Presidency Project https://www.presidency.ucsb.edu/node/336883